If you've taken a picture with a squad of Stormtroopers at Costco, or high-fived Darth Vader and a battalion of Clone troopers during a local parade, you may have encountered the 501st Legion.
More than 60 "Star Wars" characters from the Orange County squad marched in front of a spaceship float during Tustin Meadow's annual Fourth of July parade.
"When I'm in a helmet, nobody sees that I have a Cheshire cat grin on my face," Briian Hazelrigg, Orange County's squad leader, told The Epoch Times.
"Nobody sees that I am literally about to burst out of my own skin with the happiness that I see. Then attach that to a charity or some sort of good cause. We cry more than we smile because we're so happy and full of joy."
The 501st Legion is a worldwide organization that brings smiles to "Star Wars" fans of all ages, with the motto "bad guys doing good."
Its members wear the costumes of their favorite "Star Wars" characters while raising money for charities such as Make-A-Wish Foundation, the Starlight Starbright Children's Foundation, Ronald McDonald House, Walk Now for Autism Speaks, American Cancer Association, various regional children's hospitals, and more.
Worldwide, the charity has raised more than $4 million for charity, Hazelrigg said.
"It's only after I do it that I realized the smiles that I had brought," he said. "It's like being the world's greatest cheerleader."
Since 1997, the 501st Legion costuming organization has been approved by Lucasfilm (now a subsidiary of Walt Disney Studios) to spread joy through authentic-looking costumes at fan-filled charity events. The 501st Legion is not affiliated with Lucasfilm.
The Southern California Garrison is the organization's local unit made up of 500 members, spanning the Channel Islands, Inland Empire, Los Angeles, Orange County, and San Joaquin. They volunteer at up to 14 events per week.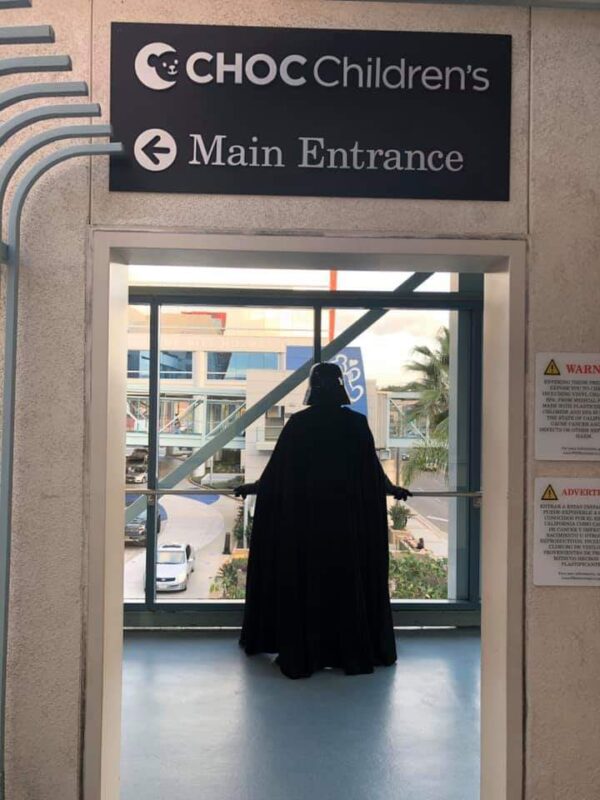 Hazelrigg is in charge of Orange County's squad, which has more than 170 members.
"I'm a hairdresser by week and a plastic spaceman by weekend," Hazelrigg said.
The costumes are hand built by each member, which takes a lot of hard work and careful research, Hazelrigg said.
"It becomes kind of an addiction," he said. "Your first costume … leads to your second. It's a good time that you just don't want to give up because you get into the excitement of this new costume you get to go present to people.
"We've become such a big family and we [like] to see each other because we know what we're doing is so much fun," he said.
Hazelrigg said he's had, on multiple occasions, wedding proposals in front of him while dressed as Darth Vader.
Many times, a man will come up to him and ask if he can hide behind his cape and step out beside him to propose to his girlfriend on one knee in front of Vader.
"You wouldn't think the most villainous of all villains—he's standing there at wedding proposals," he said.
Hazelrigg said his squad frequents CHOC hospital and the Ronald McDonald House to interact with kids in the ward.
Hazelrigg recalled speaking with a wide-eyed, 2-foot-tall boy who had a visible scar on his head from a suspected brain surgery.
"He just grinned, and it just made him so happy, and his eyes were so expressive, like everything I said was the most important thing I ever said," Hazelrigg said.
Hazelrigg has been a "Star Wars" fan since age 9, when the first film came out.
"In 1977, my mom took me to the movies, and I just couldn't get enough for some reason," he said.
Hazelrigg has been a part of the 501st Legion for 3 1/2 years. In his first six months after joining, he volunteered at nearly 70 events.
Standing tall at six-foot-six, Hazelrigg fits the Darth Vader look.
"It's one of the greatest things I have ever been a part of," he said. "It's a community of people that like to do good, and it's kind of beyond my wildest dreams."