'Bachelor's' Day Observed in China
November 12, 2012 4:31 pm Last Updated: October 1, 2015 11:53 am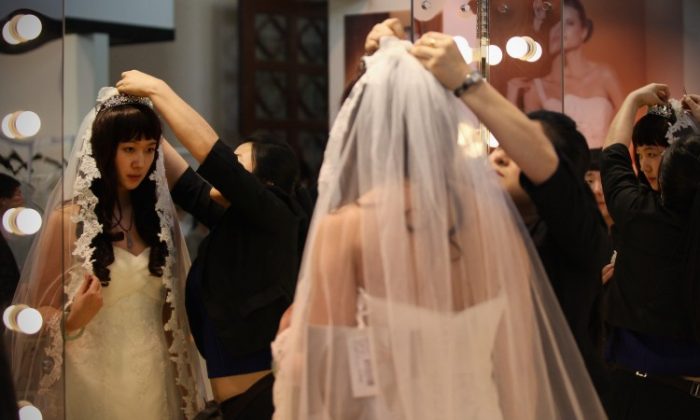 "Bachelor's Day" was observed in China on Nov. 11, with many male Chinese netizens lamenting the cost of getting married and keeping a wife.
The day, which falls on 11/11 each year–each "1" represents the Chinese singe male–is observed as kind of a joke after a post two years ago on the popular Sina Weibo microblogging site drew widespread attention.
The post is a compiled list of costs that men would have to accrue if they were to get married. They include: housing, home renovation, furniture, appliances, and others.
It said that to have a wife and home in top-tier cities like Beijing, Shanghai, or Shenzhen, it would cost some $320,000, over a several-year span. 
In lower-level cities like Guangzhou, Hangzhou and others, that cost would decrease to $160,000. Chengdu, which ranks tenth on the list, requires and estimated $88,000 to maintain a wife and home.
Even though the day is in jest, the rising cost for many ordinary Chinese has risen over the past several years, lamented many netizens. They pointed to inflation, unemployment, and difficulty of registering for a household.
For example, according to a report in 2009, wedding costs in China have increased by 4,600 percent over the past 30 years. Before 1970, nearly 70 percent of Chinese paid under 1,000 yuan ($160), but that cost increased to more than 30,000 yuan ($4,800) for 60 percent of couples. For 10 percent of Chinese couples, weddings can cost as much as 100,000 yuan ($16,000). 
As a result, many Chinese couples partake in "naked marriages," meaning that they refrain from buying a car, apartment, a diamond ring, a wedding ceremony, wedding photos, or a honeymoon. They just get a marriage certificate from the bureau of civil affairs.
In the old days, marriage in China was always done with the "three essentials" of a bicycle, a wristwatch, and a sewing machine. Now, many women expect their husbands to provide a home or and apartment.
Some Chinese Internet commentators on Monday said that the cost of living with a wife in the aforementioned cities is even higher than what is estimated.
"Spending US$320,000 just to get married is simply puzzling," wrote blogger Wang Pansheng. "There is a saying, 'A real heart means nothing compared to dollar bills.'"
For white-collar workers in Beijing, Shanghai, and Shenzhen, who have an annual income of around $16,000, it would take them 18 years to earn enough money to get married and provide a house.
With reporting by Jack Phillips.
The Epoch Times publishes in 35 countries and in 19 languages. Subscribe to our e-newsletter.