A mother's Christmas wish has been granted after her newborn was completely cured of a rare disease, and they get to spend their first Christmas at home after weeks in hospitals.
Ella Vallecalle was born in Arizona in October, but has been living in a Texas hospital since doctors diagnosed her with a rare disease that caused dangerously low blood sugar levels, according to NBC 5.
After weeks of worry convinced that she would be in the hospital for Christmas, Ella's mother, Carol Vallecalle, was finally told her daughter was completely cured and they could go home for Christmas.
An Arizona newborn suffering from a rare & dangerous condition finds help in Fort Worth, and will make it home for her first holiday ever ❤️ Ella's story on #wfaa at 5! pic.twitter.com/cJhBCsVWDA

— Lauren Zakalik (@wfaalauren) December 14, 2017
"For me, it was like her being able to be born again. For me, it was like having my baby all over again," Vallecalle told NBC 5. "This is the best Christmas present, to be able to be home for Christmas."
After being diagnosed Ella was moved to Cook Children's Medical Center in Fort Worth, Texas which has one of only two centers in the country which could treat the condition, known as congenital hyperinsulinism.
Doctors had successfully removed the small lesion on Ella's pancreas that had been secreting excess insulin and causing her blood sugar to be so low.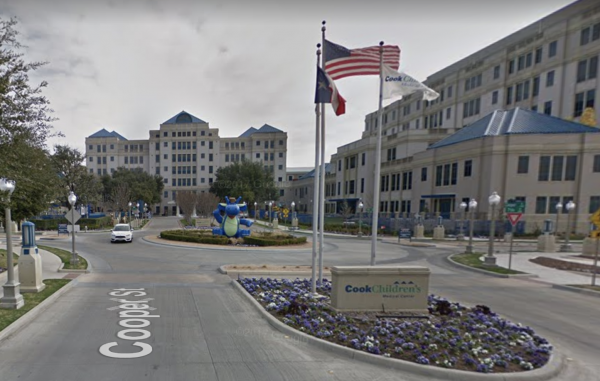 "I know she's going to have a full life" said Vallecalle. "She's going to be able to do whatever she needs to do. She'll be able to walk in the sand on the beach and fall in love and never have problems again of hyperinsulinism,"
"I would hear that song 'I'll be home for Christmas' in my head, and I'm like, 'I'm not going to be home,'" said mother, Carol Vallecalle.
After Ella was born, Vallencalle noticed she was constantly hungry.
"She would get jittery. She would scream," she told WFAA.
Doctors diagnosed her with Hyperinsulinism, found in fewer than 100 newborns in the U.S. each year.
"This is profound low blood sugar causing seizures and brain damage," Dr. Paul Thornton, a pediatric endocrinologist at the Hyperinsulinism Center at Cook Children's Medical Center, where Ella was treated.
The center has a license for a new drug which enables medics to diagnose and pinpoint the lesions in the pancreas which are causing the problem and making too much insulin.
"If there's one part that makes too much insulin, and our surgeon is able to remove it, then we can cure the patients," Thornton said, according to NBC 5.
This is a big change from the past, said Thornton, and now it is one of the rare diseases which can claim to be completely curable.
"In the past, all the babies would end up having 98 percent of their pancreas removed. They'd be in the hospital for 30 or 60 days and would get diabetes by the age of 15," Thornton said.
Like this story? Remember you can comment and share by hitting the button below!