After 14 months in hospital, a baby born with her heart outside her chest is finally going home.
Vanellope Hope Wilkins is thought to be the first ever baby in the UK to survive the incredibly rare condition known as ecto cordis, which was picked up on a scan when her mum was just nine weeks pregnant.
The scan showed that both her heart and stomach were developing outside her body. A later scan revealed that her stomach had shifted to where it should be, but her heart was growing on the outside of her chest cavity.
She was born prematurely by caesarian section, and against the odds, survived a series of operations. On Feb. 6, she was allowed to return home for the first time, reported the Nottingham Post.
Her parents, Naomi and dad Dean Wilkins told the Nottingham Post that said having her home is "a little surreal and daunting".
Her mother said, "It's been at grabbing point for so long now. We've been like yo-yos."
"It's by far from over but we will be travelling on the more normal part of our journey now. She's adapted to home life really easily actually, she knows its her home so she has settled in really well."
Looking towards the future, Naomi emphasised they will be taking "each day as it comes."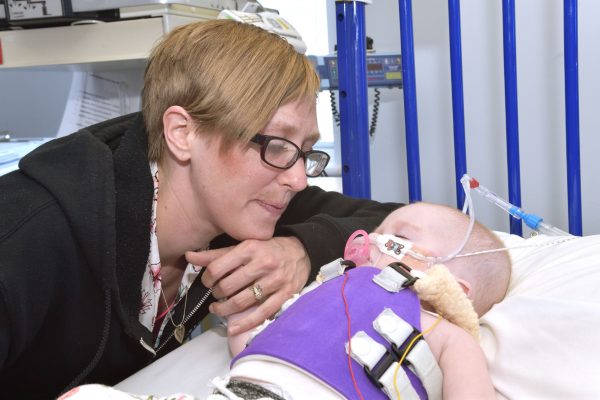 She added: "We're really looking forward to just enjoying family life at home now. Family is most important to us and she's already made a special bond with her older brother.
Venellope will need round the clock care.
A scan at 16 weeks had revealed that the unborn baby girl was developing healthily, apart from having her heart growing outside her chest. The condition affects one in 5 million babies, and only 10 percent of those who make it to birth go on to survive.
The family were undeterred by the warnings of the doctors and paid for a special blood test to check the risk levels of the three most serious chromosomal problems.
Jumping Up and Down
Her father said, in a statement provided by the hospital, "When the results of that test came back as low risk of any abnormalities we jumped up and down in the living room and cried." He added, "At that point we decided to fight to give our daughter the best chance of surviving."
Consultant in Fetal Cardiology Frances Bu'Lock at the University of Leicester Hospital said, "Naomi and Dean understood that for their baby to have any chance of survival outside the womb, Naomi would need to get to as close to her due date as possible, and baby would need to grow well and not to develop any other problems."
"We explained to them that baby would need surgery as soon as she was born where we would work to keep the heart safe so it could go back into the chest cavity and be covered with skin. However, chances of successful surgery and long term survival were very poor; they understood that and wanted to continue with the pregnancy."
The pregnancy didn't go smoothly, but in the end, her mother carried her to 35 and a half weeks, before she was born by caesarian section as a surgical team stood waiting.
Consultant Neonatologist Jonathan Cusack said, "Vanellope was born in good condition. She cried at birth and coped well with the early stabilisation and her heart continued to beat effectively. During the stabilisation, we continually dripped warmed saline solution onto her heart to stop the tissues drying whilst she was under a warmer."
"At around 50 minutes of age, it was felt that Vanellope was stable enough to be transferred back to the main theatre where she had been born to the waiting anaesthetists, congenital heart disease and paediatric surgical teams who began the task of putting her entire heart back inside her chest."
Luckily, the actual defect in baby Vanellope's chest wall was quite small.
With just ten percent of babies surviving, the surgeons and family had braced for the worst.
"I had brought an outfit to hospital that she could wear if she died," her mother said, a few weeks after  Venellope was born.
"I genuinely didn't think my baby would survive, but the staff at Glenfield [hospital] have been amazing. They've supported us, explained everything that might happen and involved us in the plans to keep my baby safe.  I can't put in words how grateful I am for everything they have done."