A Rochester couple celebrated the New England Patriots' recent ascent to football victory by naming their baby—born on Super Bowl Sunday—after quarterback Tom Brady.
Margaret Carter Brady Diamond was born on Feb. 3, Super Bowl Sunday, at 12:12 a.m., according to WMUR.
Proud parents and New England Patriots fans Elizabeth and Gary Diamond told the station they had intended all along to name their newborn after superstar Tom Brady but held back until victory was certain.
"It was Margaret Carter just to start, but she ended up coming on 12:12 Super Bowl Sunday, and we held off on filing the paperwork and making sure that (the Patriots) actually won the Super Bowl," father Gary Diamond told WMUR.
Rochester's Elizabeth and Gary Diamond are huge New England Patriots fans. Their first child's arrival at 12:12 a.m. Sunday matched Tom Brady's uniform number, giving them a Hall of Fame-level birth story.
'Didn't Want to Jinx'
"Right, the thought crossed our mind before, but we didn't want to jinx anything," said mother Elizabeth Diamond.
"I had to hold off until after they won to make the final decision because I was afraid that I wasn't going to be able to watch football ever again because of the baby, but she brought us good luck," Gary joked, according to Fosters.
When the Patriots finally emerged victorious, the Diamonds officially added "Brady" as a middle name for their infant daughter.
And, naturally, they celebrated the occasion.
"We had a little celebration in the hospital room," Elizabeth Diamond said.
"My mom brought a bunch of cookies and buffalo dip," Gary Diamond said. "We bought pizzas so the nursing staff could have a little Super Bowl party."
Baby born Super Bowl Sunday named after Tom Brady https://t.co/khQyXNOLrD pic.twitter.com/l4kzgfX3zO

— WCVB-TV Boston (@WCVB) February 7, 2019
Example of Perseverance
Elizabeth told WMUR that for her the New England quarterback is an icon of grit.
"I teach fourth grade, and I try to use (Tom Brady) as an example about perseverance and never giving up," Elizabeth Diamond said. "Yeah, he's had failures, and he bounces back up from them. It's funny and it's cool, but we'll talk to her about the person that he is and how inspirational he really is."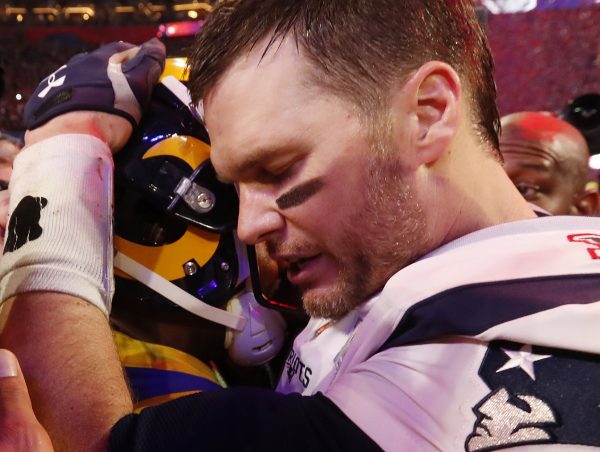 The couple said that friends joked that by bringing another Patriots fan into the world helped catapult the team to a win.
"Everyone on Facebook, our friends and family, they're all like, 'Maggie you did it! You gave them good luck! Brady needed you!" said Elizabeth, according to the Fosters report.
Margaret is the couple's first child.
A reporter asked whether they would try and match Brady's brood of six.
"Oh, I don't know about that," Gary replied. "I did say that we were going to continue until we had a boy, but … I don't have the commitment that Brady does."
Brady, who after Sunday's game has chalked up six Super Bowl victories, was recently asked if he was considering retirement.
When asked during an interview with ESPN if the game would be his last, Brady said, "Zero."
He also curled his fingers and thumb to make a "0" shape to emphasize his point.
"I've said that for a long time," he said, adding, "No one wants to believe me."
"I feel like I'm asked that a lot and I feel like I repeat the same answer, but no one wants to believe me," said Brady, 41.
Previously, the five-time Super Bowl champion said he wants to play until he's 45.
"I've set a goal for myself at 45 and like I said before, it's very hard to make it that far," Brady said.
Meanwhile, the proud parents of Margaret Carter Brady Diamond told WMUR they especially look forward to celebrating those of their daughter's future birthdays that happen to coincide with a Superbowl Sunday.