Victoria Police has apologised to Rebel News chief Australian correspondent Avi Yemini for arresting him while reporting on the COVID-19 anti-lockdown protests in Melbourne.
The apology, which was issued on June 27 and published on Canadian media outlet Rebel News on July 7, comes after Yemini filed his case in the Victoria's Supreme Court in September 2020 to accuse Victoria Police of false imprisonment and imprisonment hindering his ability to report as a journalist.
Yemini was arrested at the "Lockout Law Rally" at Albert Park on Sep 5, 2020, while conducting interviews and recording events.
On Jan. 26, 2021, the conservative commentator was again detained when recording the anti-mandate rally in Melbourne CBD. In both incidents, Yemini protested the police's decisions and insisted that he had media accreditation.
The commentator was also arrested and escorted while reporting on the "Pay the Rent" protest on Jan. 26, 2020, for interrupting a speech by an Aboriginal speaker. The protest saw Aboriginal activists rallying against Australia Day, which commemorates the arrival of the British in 1788.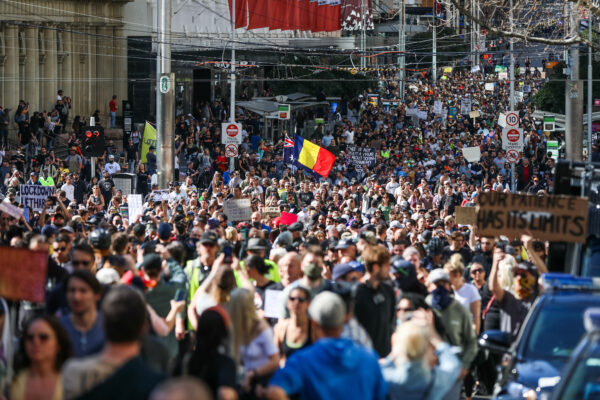 Victoria Police said they "sincerely apologise for the hurt and embarrassment suffered" by Yemini on those occasions "as a consequence of the arrests and subsequent detention."
"On each occasion, Mr Yemini was wrongfully arrested and detained by members of Victoria Police whilst reporting for Rebel News," the statement said.
In response, Yemini said that all he wanted was "a simple sorry so that it wouldn't happen again."
"I was never after a payout, and I consistently demanded an apology," he told Rebel News.
"My objective from the start was to ensure that I could do my job like any other reporter, even if people are threatening me and they don't like what I'm saying."
Legal Fight for Media Access
A former Israeli soldier, Yemini has also sued the Victoria parliament for denying him media access to the parliament and presiding offices.
His solicitor, William Houghton QC, argued that Yemini being allowed into parliament was in the public interest.
"It seems his application was refused because he's not employed by conventional or traditional media outlet," Houghton told the Supreme Court on Dec. 8, 2021.
"He's not a member of the mainstream media. If you are a mainstream journalist, it seems almost as a matter of course that you get media accreditation to the Parliament of Victoria if you are reporting on political news."
Victoria's COVID-19 lockdown, which was regarded as one of the longest in the world, has seen more than tens of thousands of people hitting the streets in Melbourne in 2020 and 2021 to oppose the restrictions and mandates.
While the rally was conducted in a largely peaceful fashion, some police responded by using pepper spray and firing rubber bullets at protesters.