The Australian government is in the process of reintroducing a piece of legislation that enhances the powers of the immigration minister in cancelling visas and deporting non-citizen criminals.
An amendment to existing migration laws supposed to "strengthen the character test" permits the federal government to terminate the visas of individuals who are guilty of a crime punishable by more than two years in prison but only receive a less than a 12-month sentence.
In addition, non-citizens can get their visas cancelled if authorities consider them a threat to the broader community.
Prime Minister Scott Morrison said the changes were necessary to fill up the loopholes in existing laws.
"There are foreign citizens who have been convicted of very serious crimes against Australians, who have been jailed, and as a result of the law as it stands today … we are unable to deport," he told the parliament on Feb. 15.
However, opponents of the bill said if it passed both houses of the parliament, the new laws would cause more people to be detained, including people who came to Australia as children and have lived most of their lives in the country.
"The bill would lower an already excessively low threshold for the minister to be able to rip a person away from their families, lock them up in a detention centre and deport them to a country that is not their home, even when that person has lived in Australia for decades," Human Rights Law Centre senior lawyer Scott Cosgriff said.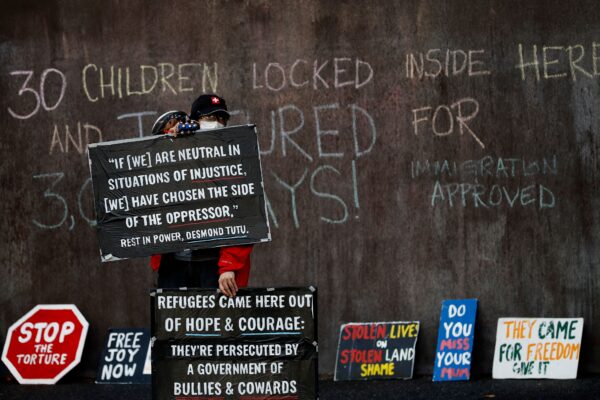 The Asylum Seeker Resource Centre (ASRC) predicted that the bill would drive up the number of visas cancelled by five times in addition to an existing hike of more than 1,000 percent since 2014. At the same time, the organisation believed refugees would suffer the most under the changes.
Jana Favero, the spokeswoman of ASRC, referred to the bill as a racist law.
"It explicitly subjects non-citizens and refugees to a separate legal system, where some serve light sentences of community service and others are indefinitely detained for exactly the same offence," she said.
The coalition proposed the legislation to the parliament in October 2021, but it did not pass the Senate.
At that time, the Labour and the Greens parties said that the changes brought by the bill would result in deportation for visa holders who were charged with minor offences.
The coalition government has shown its willingness to negotiate with the opposition to resolve the deadlock and allow the amendments to pass.