Austin 'Gus' Deeds, Son, Reportedly Stabs Senator Creigh Deeds; Kills Self
November 19, 2013 11:11 am Last Updated: November 19, 2013 3:51 pm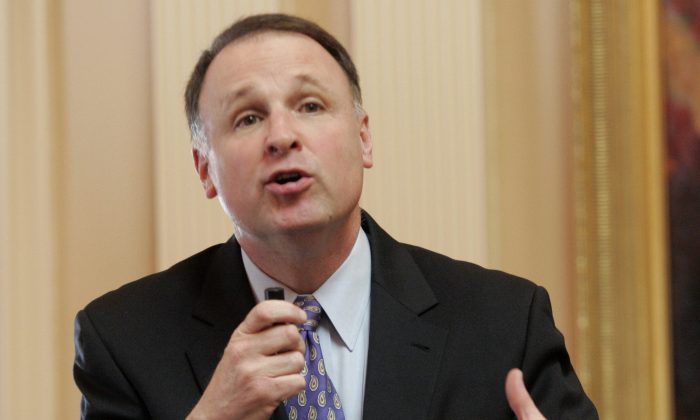 Austin 'Gus' Deeds, the son of Virginia state Senator Creigh Deeds, stabbed the senator before shooting himself, according to reports.
Virginia state police said that his son attacked him on Tuesday before he turned the gun on himself, News4 reported, citing unnamed sources. Later, CBS Evening News cited law enforcement official in saying that Gus Deeds stabbed his father.
Gus Deeds, 24, died on the scene of a gunshot wound, officials said. Police were sent to Deeds' home at around 7:25 a.m.
Virginia State Police spokeswoman Corinne Geller in a press conference said that Sen. Deeds was stabbed multiple times in the head and chest. Officials would not say whether the son was the suspect in the case, but they are not looking for a suspect.
State police said that Sen. Deeds, who is talking to police, "has made some statements to our folks, to the investigators."
A local newspaper, The Recorder, which cited unconfirmed accounts, said that Gus Deeds "stabbed his father, Sen. Creigh Deeds, this morning, and then shot himself."
Deeds was taken to the University of Virginia Hospital in Charlottesville after he was stabbed at his residence in rural Bath County, located in western Virginia. His wounds are said to be critical.
Gus Deeds was a student at William & Mary College. In 2009, when his father ran for governor, he was arrested for alcohol possession, the Virginia Pilot reported. He was 20 at the time.
According to the Times-Dispatch, Gus Deeds had a mental evaluation on Monday. Sources told the paper that he was released following the evaluation that was performed under an emergency custody order.
"The news from this morning is utterly heartbreaking," said Virginia Gov. Bob McDonnell in a statement. "Creigh Deeds is an exceptional and committed public servant who has always done what he believes is best for Virginia and who gives his all to public service." 
"I urge all Virginians today to join me in praying for a full and complete recovery for Creigh and for many more years of his public service to the commonwealth. At this moment, our state unites in prayer for Creigh Deeds and his family."
 Deeds ran against McDonnell in 2009 for governor, losing the race. In the race, he also defeated current Virginia Gov.-Elect Terry McAuliffe during the Democratic primary.
"Dorothy and I are praying for the Deeds family at this difficult time," McAuliffe wrote on Twitter.
Sen. Deeds has been with the state Senate since 2001.
Deeds, a former Bath County prosecutor, was elected to the House of Delegates in 1991 and to the state Senate in 2001, in a special election after the death of Emily Couric. He ran for attorney general in 2005, but lost to McDonnell, a Republican. The margin of victory was fewer than 400 votes out of nearly 2 million cast.
Deeds, who drafted a constitutional amendment guaranteeing Virginians' right to hunt, long enjoyed support from the National Rifle Association and other gun-rights advocates.
Deeds and his wife, Pam, divorced shortly after the 2009 campaign.
The Associated Press contributed to this report.