The owners of a pub in Australia have announced on social media that they will welcome all customers whether they have been vaccinated for COVID-19 or not.
The Grand Hotel is a popular venue in the town of Healesville, north of the state's capital, Melbourne.
"Jab or no jab, everyone is welcome at the Grand Hotel Healesville," the post read.
The message soon went viral, being shared 2.9 thousand times and with over 13 thousand likes and hearts—and only 95 negative reactions.
Amongst the 5.3 thousand comments, responses to the post were mostly positive.
One user wrote: "Love this. Good on you guys. It's such a delight to see not all are discriminating [against] those who chose not to have a jab. I'll absolutely be there to support your amazing business."
Many people thanked the establishment for not discriminating against people who are not vaccinated.
"I love how you are not discriminating [against] anyone. Good on you guys great to see," another user wrote.
Another user wrote: "Awesome to see your stance to not discriminate will definitely make a point of visiting and supporting you."
At least one person expressed concern that government policies that allow more freedoms only for the vaccinated would create two classes of society.
"I do not want to live in a two-tiered society, so thank you, Grand Hotel Healesville, for making this stand," one user wrote.
But not everyone was happy about it.
Another user wrote: "I certainly won't be going there in a hurry if this is the way they think about the community."
One user identified herself as a healthcare worker from a hospital nearby to the Grand Hotel and called the post "disappointing."
"I will not dine or drink in a business that actively promotes non-vaccination … and I will encourage my family and friends to do the same," she wrote. However, the post did not contain any phrasing that directly promoted or discouraged individuals from getting vaccinated.
"I hope that none of your unvaccinated patrons ever collapse, get in a fight or have a heart attack and need my services one day in the ED / ICU I work in … because like their choice to not get vaccinated, I would like to choose not to treat them also … but I have no choice, and I will be there to treat them alongside the other highly contagious, unvaccinated patrons of the emergency department."
In a follow-up post, the Grand Hotel Healesville said they didn't expect their post to go viral.
"We just want to let you all know that we are not anti-vaxxers or non-covid believers. We believe in people making the right choice for them, and we will not discriminate those, for whatever reason, who choose not to get the jab.
"The post was simply to say that when we finally are able to open up, we won't discriminate against anyone. If, however, the law changes and it becomes mandatory to enter a business with a passport! then we will have no choice and will abide by the law," the post read.
The posts come after the state's leader, Premier Dan Andrews, said people who are not vaccinated might be locked out of society when businesses require COVID-19 vaccination as a condition of entry.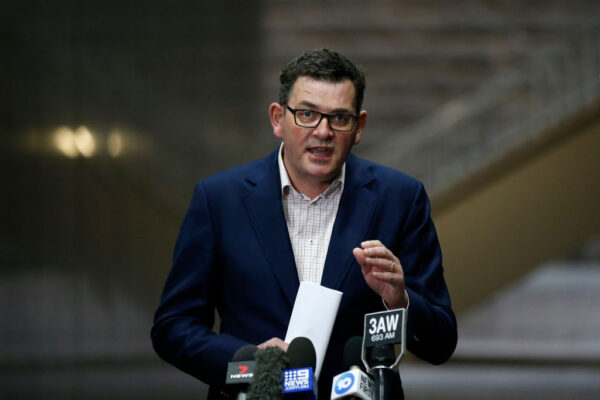 This has become a common warning among state leaders, including in the neighbouring state of New South Wales, as the premiers follow Australia's national plan to reopen the country once 70-80 percent of people are fully vaccinated.
The state of Victoria is currently enduring a severe COVID-19 Delta variant outbreak in the metropolitan Melbourne area, as well as the single regional town of Shepparton.
The Victorian government announced on Wednesday that it would ease restrictions in the regions, except for Shepparton, from Friday, allowing venues like the Grand Hotel to once again open their doors to the public, albeit with patron caps.
Under the new rules, venues can only allow 10 customers inside and 20 customers outside.
The owner of a pub in Bendigo, another regional town, described the newly eased rules as "mindboggling," 3AW radio reported.
"I just cannot believe that someone would come up with these numbers," he told 3AW.
"I honestly thought, with 10 inside and 20 outside, they'd missed a zero on each of them."