The widow of legendary children's book author Dr. Suess passed away this week.
Audrey Geisel was 97 when she died peacefully at her home in La Jolla, California, Random House Children's Book said.
Geisel was born in Chicago in 1921. Her father died soon after her birth and she was raised by her mother Ruth Benson, a Norwegian immigrant, along with a "hodgepodge" of family friends, according to her obituary.
Geisel entered a nursing program at Indiana University when she was 21 and met her first husband there. She had two daughters during the 25 years of marriage.
Geisel married Ted Geisel in 1968 after he had been married to his first wife for 40 years.
"Ted's marriage to Mom brought him a second wind: 24 years and 20 books, including 'The Lorax,' 'You're Only Old Once,' and 'Oh, The Places You'll Go.' I thank you so much, Mom, for these two wonderful Pops," her children wrote in the obituary.
Geisel was hailed as an extraordinary whistler who loved to read the dictionary.
"Mom was petite, beautiful, strong-willed, charming and fun. She never looked back only forward and she had a great spirit for life. She sailed forth with that distinctive walk: head up, shoulders back, jaunty, as if she had just twirled her baton," according to her obituary.
"Mom was curious throughout the years. At age 93, she declared, 'I love breakfast! You have the whole day in front of you!'"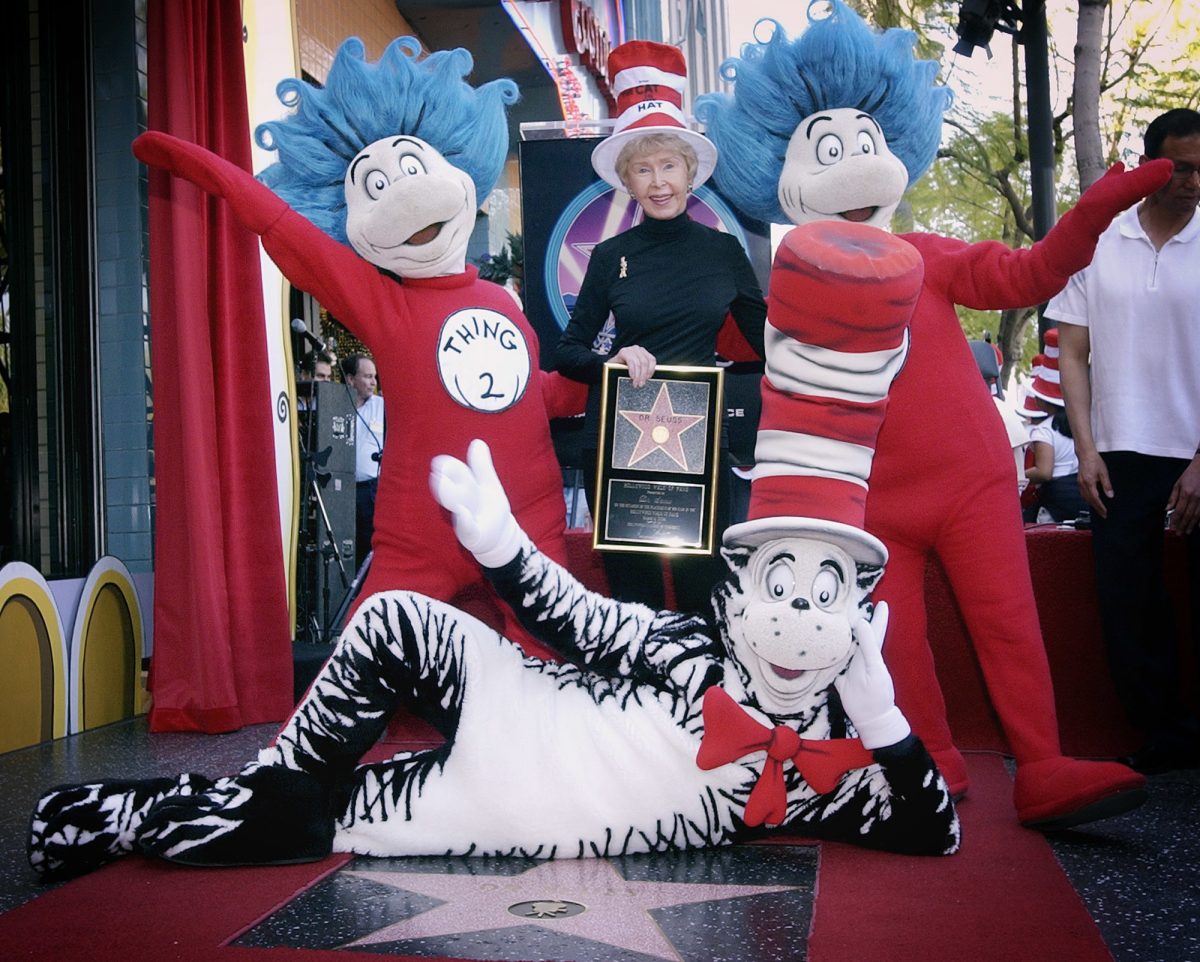 Projects
Two years after Dr. Seuss, whose real name was Theodor Geisel, died in 1991, Audrey Geisel founded Dr. Suess Enterprises, which has helped circulate her husband's work through different projects, including a Broadway show "Seussical."
She was credited as executive producer on 2018's "The Grinch," along with three other films on IMDB.
She told Reading Rockets that she was Dr. Suess's sounding board.
"I was a sounding board, and I think a very intuitive, important sounding board. And I also became the colorist as we went further and further into color charts—that sort of thing. And I was a confidant, of course. And I was the very loving caregiver. Keep the systems going. Maintenance," she said.
She also helped establish the Dr. Seuss National Memorial Sculpture Garden and The Amazing World of Dr. Seuss Museum in Springfield, Massachusetts.
"Audrey Geisel was integral to the sculpture garden, stepping forward with a $1 million donation that kicked off a major fundraising effort for the project," Springfield Museums President and CEO Kay Simpson told Mass Live.
"And she was also in full support of creating The Amazing World of Dr. Seuss Museum, granting us permissions to use Dr. Seuss assets. Audrey helped make it all happen."
David Starr, president of The Republican Co., and the Springfield Museums, called her "a very strong, forceful woman and a wonderful partner for Ted."
"She wanted America and the whole world to know the influence he had on children and adults through his writings," Starr said.
From NTD News