OTTAWA—Canada's temporary foreign worker program is rife with oversight problems that appear to have allowed lower-paid international workers to take jobs that out-of-work Canadians could fill, the federal auditor general says.
Some companies have effectively built a business model on the program that could be having unintended consequences that the government doesn't know about, including wage suppression or discouraging capital investment and innovation, said Michael Ferguson's report on the program, part of a fresh batch of federal audits tabled May 16.
Ferguson's report says the government approved applications for temporary foreign workers even when employers had not demonstrated reasonable efforts to train existing employees or hire unemployed Canadians, including those from under-represented groups, such as First Nations.
Nor did officials effectively crack down on companies that were found to have run afoul of the rules; few on-site inspections or face-to-face interviews with the foreign workers themselves were conducted, the audit found. Even when corrective action was recommended, it took months for all the necessary approvals.
Ferguson is calling for better oversight of the program and more pushback from federal officials to ensure companies applying to hire temporary foreign workers are doing so for the right reasons.
Ferguson is calling for federal officials to ensure companies applying to hire temporary foreign workers are doing so for the right reasons.
The department overseeing the program, Employment and Social Development Canada, says it plans to implement all of Ferguson's recommendations.
Ferguson's report comes months after a Commons committee recommended an overhaul to the program, and three years after the previous Conservative government made changes in a bid to ensure the program worked as intended: to help companies fill job vacancies only when qualified Canadians couldn't be found for the work, and only when it didn't negatively affect the local labour market.
Between 2013 and 2015, the number of temporary foreign workers in Canada dropped from 163,000 to just over 90,000, a result of the 2014 changes and the economic downturn.
Despite the drop in numbers, the audit team said it found numerous cases where employers gave inadequate reasons for needing a temporary foreign worker that departmental officials failed to challenge in 40 percent of the cases reviewed as part of the audit.
One person was allowed to hire a caregiver for their elderly parent even though they had not tried to recruit a Canadian, as required, because they wanted "someone who is trustworthy and with the ability to work without supervision."
Some fish and seafood processing plants told officials that they needed temporary foreign workers because Canadians had quit their positions because of the conditions or difficulty of the work. The auditors were blunt in their response: "In our opinion, this type of situation appeared to be a retention problem and not a labour shortage problem."
The fish and seafood industry came up frequently.
Ferguson's team found that over 80 percent of laid off Canadian workers at companies in the sector were claiming employment insurance at the same time the companies were employing temporary foreign workers.
Auditors say Employment and Social Development Canada could have used departmental databases like employment insurance information to figure out if a Canadian could fill a job, but did not. Nor did the department give officials assessing applications full access to such information that could have helped in their decision-making.
From The Canadian Press
---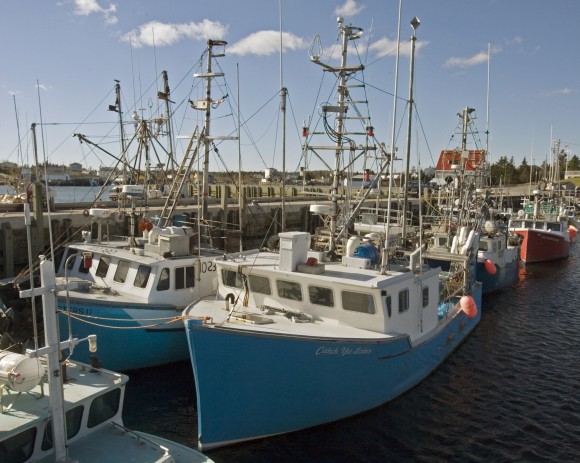 Report Highlights
Following are some of the highlights from auditor general Michael Ferguson's spring 2017 report.
The RCMP is failing to meet the mental health needs of its members, with new mental health programs only partially implemented, poorly staffed, and inadequately funded; one in six members in need of help failed to get it in an easy and timely way.
RCMP supervisors and health services staff often failed to properly support members returning to work from mental health sick leave; one in five who sought mental health support from a health services office did not return to work or was discharged.
Five federal organizations and departments—the Canadian Food Inspection Agency, Global Affairs, Indigenous and Northern Affairs, Health Canada, and Public Services and Procurement—should be doing more to assess and mitigate the risk of fraud, and to ensure employees get mandatory training on values, ethics, and conflict of interest.
Neither the Canada Border Services Agency nor Immigration, Refugees and Citizenship Canada are sufficiently monitoring or evaluating the controls they have in place to mitigate the risk of corruption among agents and officials.
Out of 9,082 warnings issued to border agents about potential threats entering the country between April 2015 and March 2016, 56 were overlooked or missed, and the required follow-up was not completed as required. Some of them "involved organized crime and contraband drugs," the audit found.
Among 3,125 temporary resident permits issued at land border crossings between March 2015 and April 2016, 113 of them were approved "without appropriate justification," including in some cases to people with criminal convictions.
Staff shortages, a "self-assessment" system and incomplete or incorrect paperwork mean the Canada Border Services Agency doesn't know whether or not it is collecting all customs duties owed on goods being brought into the country.
Due to lax paperwork, the border agency and Global Affairs failed to levy $168 million of customs duties on quota-controlled (supply-managed) goods in Canada in 2015, including dairy, chicken, turkey, beef, and eggs.
About $131 million worth of such goods were brought in duty-free under the Duties Relief Program, but were sold inside Canada despite the fact the supply-management system requires that they be exported. Six importers had their licences suspended after a 2016 compliance spot-check found all six had been diverting products into the Canadian market.
Source: The Canadian Press