SEBRING, Fla.—Every year since the advent of the Audi R10 TDI turbodiesel, fans have wondered if the ACO (Automobile Club de l'Ouest, the organization which stages the Le Mans 24 Hours and all Le Mans-style racing around the world) have properly adjusted the equivalency between gasoline-powered and diesel-powered cars. Every year the ACO adjusted the diesels—but every year the diesels were the fastest cars on the track.
This year it seems the ACO has come very close to getting it right.
Two of the three R18 TDIs Audi brought to Sebring are the fastest cars on the track, two seconds quicker than the two gasoline-powered Rebellion Lola-Toyotas, 4.5 seconds quicker than everybody else.
The No.3 Audi, driven by Timo Bernhard, Romain Dumas, and Loic Duval, turned a lap of 1:49.264, .05 faster than the No.2 R18 of Dindo Capello, Tom Kristensen, and Allan McNish.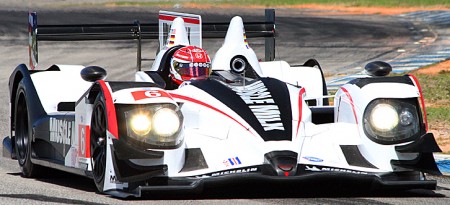 Third on the timesheet is the No.6 Muscle Milk Pickett Racing HPD ARX 03a, only 0.46 seconds off the pace of the lead Audi. This normally aspirated gasoline powered car, driven by Lucas Luhr, Klaus Graf, and Simon Pagenaud, proved faster than the third Audi by .03 seconds.
True, it is only testing. Audi might have some speed it is not showing, or might be doing fuel mileage runs or testing tire compounds. Still, the same could be true of the Muscle Milk car.
Add to the mix the fact that the ACO has reduced the size of the diesels' fuel tanks, which will probably require an extra pit stop in the course of a twelve-hour race, and suddenly it seems that things might be fair at last.