What was said during the tense exchange between Sen. Elizabeth Warren (D-Mass.) and Sen. Bernie Sanders (I-Vt.) after the Democratic presidential debate Tuesday night was revealed about 24 hours later.
Warren and Sanders clashed during the debate over Warren's claim that Sanders told her privately that a woman can't become president. They did not shake hands after the debate.
Warren approached Sanders, ignoring his outstretched hand while speaking to him. It wasn't clear what was said until CNN, a host of the debates, released the audio Wednesday night.
"I think you called me a liar on national TV," Warren tells Sanders immediately after approaching him.
"What?" Sanders said.
"I think you called me a liar on national TV," Warren said.
"You know, let's not do it right now. If you want to have that discussion, we'll have that discussion," Sanders said.
"Anytime," Warren said.
"You called me a liar," Sanders continued. "You told me—all right, let's not do it now."
Tom Steyer, a billionaire activist who is running for president, was standing nearby as the pair spoke.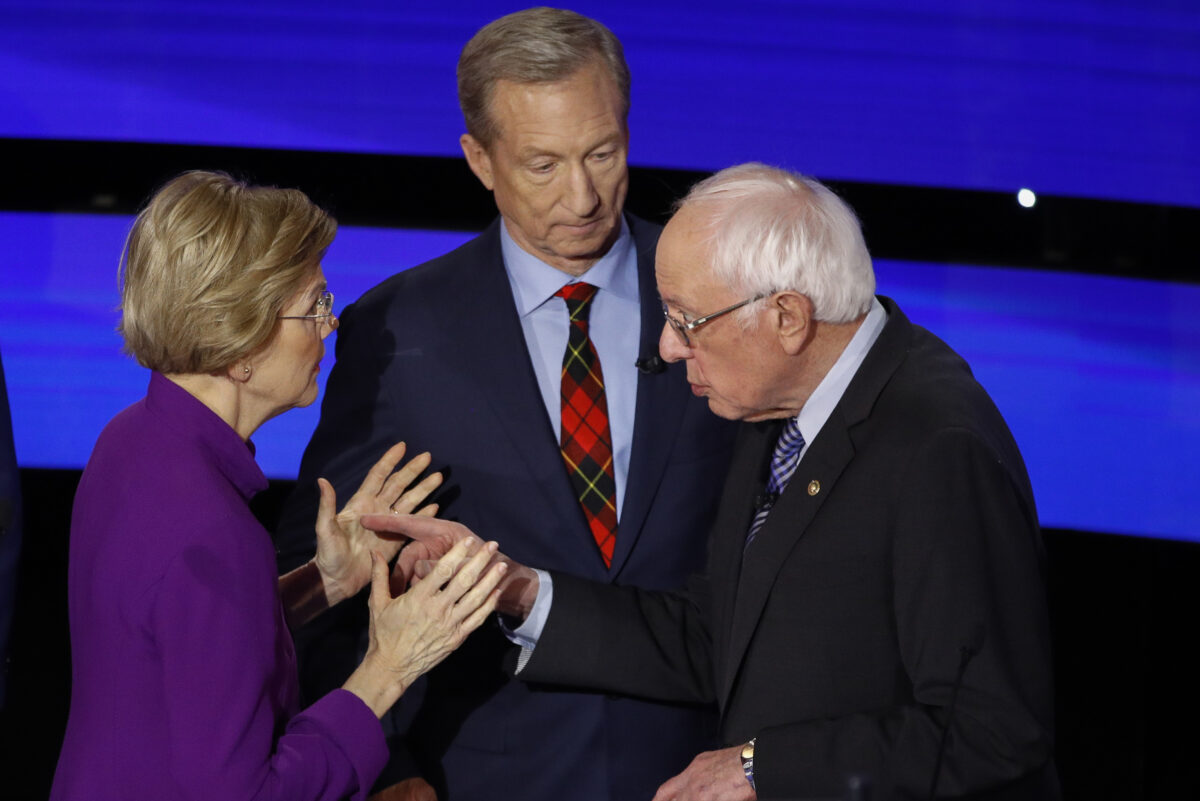 "I don't want to get in the middle. I just want to say 'Hi Bernie,'" Steyer said.
Sanders' campaign declined to comment to The Epoch Times. Warren's campaign has not responded to a request for comment.
The post-debate meetings between presidential contenders have been largely cordial during the Democratic primary race, which features a number of longtime friends and allies. Warren and Sanders have refrained from attacking each other during the race until the claim was leaked that Sanders told Warren in a 2018 meeting that a woman couldn't win the presidency. Sanders issued a statement denying the claim while Warren said in a statement that Sanders did tell her that.
Asked by a debate moderator if he told her a woman couldn't become president, Sanders said no. "I didn't say it," he said. He laid out why people shouldn't believe the claim, referencing how he was saying 30-plus years ago that a woman should be president and that Hillary Clinton, the Democratic nominee in 2016, won the popular vote against then-candidate Donald Trump.
"You're saying that you never told Senator Warren that a woman could not win the election?" CNN moderator Abby Phillip asked.
"That is correct," Sanders said.
Phillip then turned to Warren.
"Senator Warren, what did you think when Sanders told you a woman could not win the election?" Phillip asked.
The camera showed Sanders laughing in disbelief while Warren answered: "I disagreed" before calling Sanders her friend.