A phone call allegedly placed by Oath Keepers founder Elmer Stewart Rhodes III to President Donald Trump on Jan. 6, 2021, never happened, one of Rhodes' former attorneys said.
"I confirmed from multiple sources that the phone call did not happen," said attorney Jonathon Moseley.
He previously represented Rhodes in a civil suit and in Rhodes' appearance before the U.S. House of Representatives' Jan. 6 select committee. "The report is yet another fantasy about protests on Jan. 6, 2021."
Moseley said he spoke with Rhodes, held at the Alexandria City Jail in Virginia pending trial on five criminal counts related to Jan. 6 unrest at the U.S. Capitol.
Rhodes is one of 16 Oath Keepers charged with an alleged plot to scuttle the certification of Electoral College votes by a joint session of Congress on Jan. 6.
"Stewart Rhodes directly told me when asked specifically about this report that he completely denied the claim that he had tried to call Trump through an intermediary, directly or indirectly," Moseley told The Epoch Times.
The allegation that Rhodes tried to reach President Trump was contained in a plea agreement signed by Oath Keepers member William Todd Wilson, 44, of Newton Grove, North Carolina. Wilson pleaded guilty on May 4 to seditious conspiracy and obstruction of an official government proceeding—both felonies carrying sentences up to 20 years in prison.
Wilson told prosecutors he was in a room at the Phoenix Park Hotel in Washington D.C. in the late afternoon of Jan.6.
He claims Rhodes made a call to an unnamed person to "repeatedly implore the individual to tell President Trump to call upon groups like the Oath Keepers to forcibly oppose the transfer of power," according to his plea agreement statement of offense (pdf).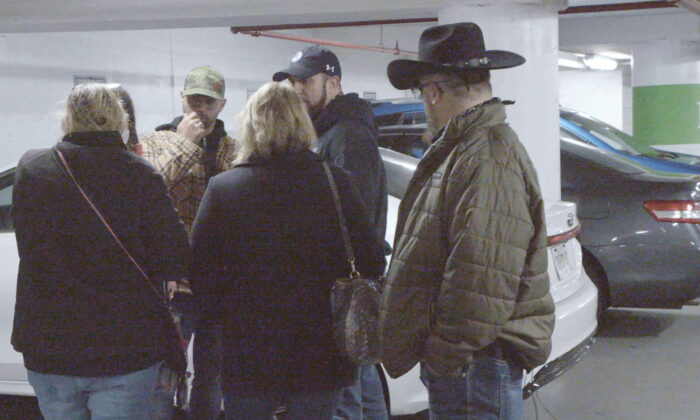 The individual refused to forward Rhodes to President Trump, court documents said. Rhodes told the group in the hotel suite, "I just want to fight," prosecutors allege.
Moseley said the claim might have come from Wilson confusing Rhodes' previous public comments.
"First, the allegation itself proves that the Oath Keepers had no ability to communicate with Trump," Moseley said in a statement.
"Rhodes, in December 2020, posted an 'open letter' publicly on the Oath Keepers' website encouraging Trump to invoke the [Anti] Insurrection Act of 1807. This is 100-percent legal. But Rhodes had no way to send it directly to Trump."
'Time to Honor That Oath'
The Dec. 14 letter told President Trump he was the last line of defense against election fraud by his oath of office.
"It's time to honor that oath by defending the Constitution against all enemies, foreign and domestic," Rhodes wrote, according to a cached version of the Oath Keepers web site stored on the Wayback Machine.
"This is your moment of destiny. Will you take your place in history as the savior of our Republic, right up there with President Washington and Lincoln?" Rhodes asked.
"Or will you fail to act, while you still can, and leave office on Jan. 20, 2021, leaving We the People to fight a desperate revolution/civil war against an illegitimate usurper and his Chicom puppet regime?"
In a March interview with The Epoch Times, Rhodes said the only reason the Oath Keepers brought firearms and ammunition to the D.C. area in January was in case President Trump invoked the Insurrection Act as a response to election fraud and threats of violence against the White House by Antifa. No arms were brought into D.C. on Jan. 6, he said.
Rhodes said he believes the Department of Justice leaned hard on Oath Keepers member Joshua James, who pleaded guilty on March 2 to seditious conspiracy and obstruction of an official government proceeding.
James, 34, of Arab, Alabama, will likely testify against Rhodes and other Oath Keepers, though Rhodes describes it as "testi-lie."
"They've convinced or coerced Josh James, a member of Oath Keepers, to testify, you know, bearing false witness to allege this massive conspiracy beginning back in November," Rhodes said. "Absolute fabrication."
Oath Keepers member Brian Ulrich 44, of Guyton, Georgia, pleaded guilty to seditious conspiracy and obstruction of an official proceeding on April 29.
Five other Oath Keepers will go on trial on Sept. 26 and four other defendants on Nov. 29 in U.S. District Court.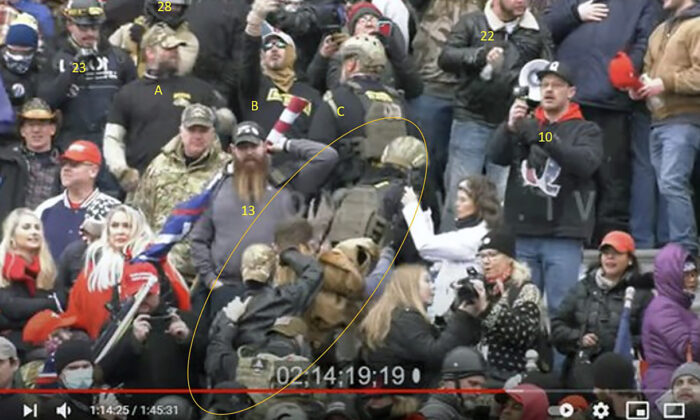 Moseley said the Wilson plea deal seemed unusual because of the scant amount of information on the official court docket.
There is no arrest warrant, no affidavit of facts by an FBI agent, no grand jury indictment and no record of an arraignment hearing.
On May 4, Wilson waived indictment and consented to be charged by a criminal complaint filed with the court. Wilson signed his plea agreement on April 20, court records show.
After pleading guilty to two major felonies, Wilson was released on his own recognizance.
The plea-agreement documents were not posted to the court's electronic records system until hours after the May 4 plea-agreement hearing.
'Beyond Comprehension'
"How would anyone plead to 20-year felonies? It's insane," Moseley said. "So he pleads to two 20-year felonies. No one can imagine that conversation. It's beyond comprehension. A plea deal is you plead to lesser charges."
William Miller, public information officer for the U.S. Attorney's Office for the District of Columbia, said there would be no comment, in keeping with department practice in criminal cases.
A Department of Justice letter (pdf) sent to defense attorneys on May 2 might offer insight into Wilson pleading guilty to major felonies.
Prosecutors Kathryn Rakoczy and Justin Sher wrote that if Oath Keepers defendants are convicted at trial, they could face life in prison under sentencing guidelines related to terrorism. A copy of the letter was obtained by The Epoch Times.
Federal judges rely on sentencing guidelines when determining the most appropriate penalties for criminal convictions. There is no guideline specifically for the seditious-conspiracy charge.
The Department of Justice believes the "most analogous" sentencing guideline is for the charge of treason, the letter said.
Moseley rapped the allegation that the Oath Keepers intended to "oppose by force" the peaceful transition of power from Trump to Joe Biden.
"No Oath Keeper ever sought to 'oppose the transfer of presidential power' forcibly or otherwise," Moseley said. "The term of every president ends at noon on Jan. 20, under the 12th and 20th Amendments. No exceptions. The transfer of power cannot be stopped. No force was used or implied."
The Epoch Times reached out to Rhodes' criminal-defense attorney, Phillip Linder, but did not receive a reply by press time.