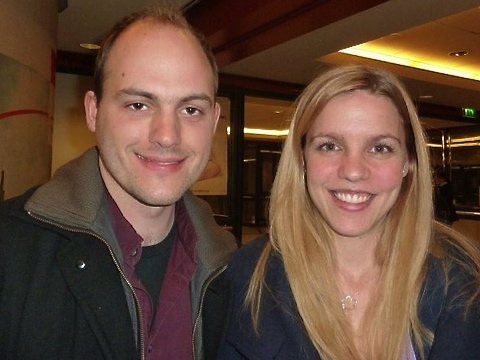 ZURICH—Dr. Stephan Eschmann, an attorney, and his wife, Susanne Eschmann, an economist, attended the Shen Yun Performing Arts International Company's third performance at the Kongresshaus in Zurich on March 23.
New York-based Shen Yun, founded in 2006, takes as its mission the revival of the genuine traditional Chinese culture, which has as its essence universal themes of morality and spirituality such as compassion, courage, justice, faith, and reverence for the divine.
"The various scenes that were performed were fascinating and very interesting. All we have seen was very graceful," said Dr. Eschmann.
"I was very impressed by the connection to gods, the supernatural, those above us that came when there were hardships and when there was a need for them to appear. They came in support of those in need," he added.
His wife agreed and said, "It is probably very difficult to bring tradition and perfection to the stage. … [and] to address an audience that lives during these modern times. This is not a simple undertaking."
Dr. Eschmann also enjoyed the projected animated backdrops, calling them "beautiful pictures." "It all speaks to the heart and mind."
Shen Yun tours with a live orchestra, which combines two great musical traditions, seamlessly blending sounds from the East and West. The company's orchestra has a Western philharmonic orchestra as its foundation, combined with classical Chinese instruments such as the erhu, dizi, pipa, and suona, something Ms. Eschmann enjoyed.
"The Chinese music is very traditional and very temperate. This appealed to me. I truly enjoyed this type of music," she said.
Dr. Eschmann enjoyed seeing the spirituality of the ancient, divinely inspired culture. "The depiction of a certain spirituality, in many ways a religious art, impressed me deeply. I was impressed by the thought of having a belief system that provides protection."
Ms. Eschmann was in full agreement: "I found it very impressive that these young people take on the Chinese regime. This is very difficult and very impressive."
The Shen Yun on-stage hosts note that Shen Yun cannot currently be seen in China, due to the current communist regime's attempts to abuse and damage traditional culture, including the arts, but Shen Yun is working to change that.
Reporting Nina Hamrle.
New York-based Shen Yun Performing Arts has three touring companies that perform simultaneously around the world. Shen Yun Performing Arts International Company will next perform in Frankfurt, Germany from March 30-31.
For more information, please visit ShenYunPerformingArts.org.