Attorney Gao's Wife Threatened, Daughter Again Under House Arrest
August 28, 2006 12:00 am Last Updated: August 28, 2006 12:00 am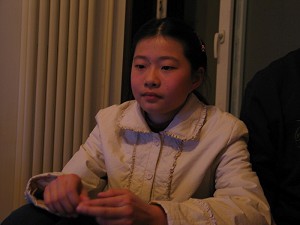 On the evening of August 27, Attorney Gao Zhisheng's daughter Gege was forced to return back home, less than 48 hours after she escaped from police supervision. A friend of the family believes that Gao's wife Geng is also under tremendous pressure and feels threatened since her husband Gao was arrested and taken away.
Gao is in police custody on manufactured charges, while his family is under house arrest and constant monitoring.
Daughter's Escape Reveals Family's House Arrest
Gege, Gao's 13-year-old daughter, eluded police oversight on her way to school on the morning of August 26. Gege was able break the news to the world that after her father Gao was arrested on August 15, his wife and two children were placed under house arrest, with police stationed in their house 24 hours a day.
A friend of Gao took care of Gege during the 48 hours of her freedom. He has stated that at 8:30 p.m. August 27, Geng, Attorney Gao's wife, called them. Gege started to cry when she heard what her mother said on the phone, and then she explained to her mother, "I did not say anything."
Judging from the conversation between mother and daughter, Gao's friend deduced that at least two police were standing beside Geng during the phone call. They also reminded Geng that she had written a guarantee to the police before that she would not expose being monitored by 4 police over the 11 days of her house arrest, while at the same time threatening her if she did not get Gege back home immediately.
On 9:00 p.m. Gao's friend sent Gege back to her home. When she arrived, Geng immediately brought Gege into the house; there was no conversation between Geng and Gao's friend. Gao's friend said he was later questioned by the police, but would not disclose any other information.
Gao's Family Threatened
Gao's friend told journalists he believed Geng was being threatened, because Gege had told Gao's friends that her mother had said, "If you can run away, just do it, don't come back."
Gao's friends also noticed the police had repeatedly forced Geng to guarantee in writing that she would not disclose her situation about being under house arrest to the outside world. In several conversations with Gao's friends, Gege had said, "Police do not allow Mom to tell anyone, otherwise they say they will do something to my dad!"
A nephew of Gao also visited Gao's home on the night of August 27. He confirmed that there were two police in the house. The police even tried to convince him that attorney Gao was being used by other people, while Mrs. Geng sat crying quietly.
Currently, our journalist has lost contact with Gao's family again.
Gao's friends in China are very worried about the Gao family, especially his daughter Gege, who is monitored by the police 24 hours a day, even while she is at school two police sit just behind her.
Gao's friends will continue to appeal to international society to condemn the communist regime's unscrupulous actions, and are demanding the release of Geng and the children as soon as possible.