Attorney Gao's Wife Finally Receives Notification of Gao's Arrest
October 3, 2006 12:00 am Last Updated: October 3, 2006 12:00 am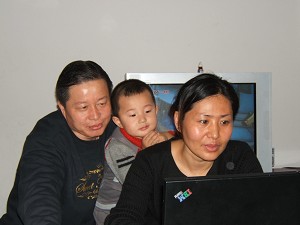 CHINA–On September 30, 2006, police from the Beijing Public Security Bureau, who were responsible for attorney Gao Zhisheng's arrest, officially informed Gao's wife, Geng He, that Gao was under arrest. Up to now, Gao's attorney Mo Shaoping had not received any official confirmation regarding the official arrest from the police.
Gao was arrested on August 15 and up to October 2 had been detained for 48 days, which far exceeds the 37-days detention limit which is defined by the so-called "law" in China.
When Gao's representing lawyer Mo made an application to meet with Gao, the police first used the excuse that they could not find the department responsible for this case.
One week later, the Beijing police again came out with a second excuse to refuse Mo meeting with Gao by saying that Gao Zhisheng's case involves "national secrets".
On September 28, the police sent Mo notification in writing denying Mo's application for Gao's bail.
During the 48 days of Gao's incarceration, his wife Geng He, their daughter Geng Ge (13 years old,) his elder sister Gao Yanfang, his eldest brother Gao Zhiyi, three of his nephews working in Beijing and his relative Huang Yan have all been subject to official abuse, including illegal detention, house arrest, being repatriated back to their hometowns, threats and interrogation..
When I (Hu Jia) was subpoenaed to assist in the criminal investigation on September 7, the police claimed that I was the only suspected accomplice in Gao's case.

When I was subpoenaed the second time, I asked on what basis did they commit 20 police to live in Gao's home; why did they put Gao's wife and children under long-term house arrest and surveillance; why did they threaten and terrify friends who visited Gao's home; why had they illegally detained Gao's three nephews and other relatives; why did they build a mobile house under Gao's apartment building to facilitate long-term surveillance in the winter, …At that point the police unexpectedly changed their previous claim and said Gao's wife Geng He was also a suspect in the case.
Gao's case reminds me of what happened to blind rights activist Chen Guangcheng's case on August 18. Chen's attorney team was obstructed, harassed, and detained on August 18. They had to apply for an application to postpone the case, but the court illegally acted on Chen's behalf and appointed two local attorneys and forcefully opened the court session despite Chen's strong objection. The two local attorneys were only a front, because the local Party's Political and Legal Committee had already decided Chen's outcome.
As a result Chen was heavily sentenced not for any crime but solely to send a strong warning to all civil rights protesters of the birth control policy to keep quiet otherwise the same fate will become yours. These outrageous "Rule of Man" dramas are all directed by the Party's Political and Legal Committee and Public Security Department. Let us wait and see when a similar show for Attorney Gao will stage in Beijing
October 2, 2006 The 77th day under house arrest in the my home in Beijing, China, Beijing