Attorney Gao Zhisheng Begins Hunger Strike to Protest Persecution
February 6, 2006 12:00 am Last Updated: February 6, 2006 12:00 am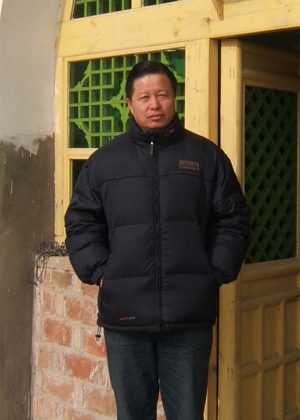 Upon learning that human rights lawyer Guo Feixiong had been beaten by police in Guangdong Province, renowned Chinese human rights lawyer Gao Zhisheng began a hunger strike on February 4 to protest the Chinese communist regime's illegal persecution of the Chinese citizens including Guo Feixiong. Gao's friend Ye Shuang who accompanied Gao to his hometown also went on hunger strike.
People both within and outside of China will join the hunger strike at 6 a.m. on Feburary 6, which has now carried on a relay throughout the country and overseas. Gao said, "As a lawyer, I have to take this kind of action. It clearly reflects this most unpleasant and sorrowful era we are living in. To stop the persecution, we must start from ourselves!"
In mainland China, Hu Jia, Qi Zhiyong, Jia Jianying and others have already expressed their support and started taking actions. Overseas people have also begun to participate in the hunger strike.
Gao Zhisheng: Speak Less and Act More; Countering the Persecution Should Start From Ourselves
Earlier, Gao Zhisheng had just appealed to set up a hunger strike organization to support human rights in China. The main thrust was a relay hunger strike for human rights activists and other citizens who had been illegally persecuted and savagely hurt by the government's brutal violence, to peacefully protest the government's lawlessness and unscrupulousness.
Shortly after launching this appeal, Gao learned that Guo Feixiong had been detained and beaten by police after reporting the scandalous intimidation he endured from the police who were following and monitoring him. At the same time, Gao heard that human rights activist Gao Kunlun, who works for the rail system in Shanghai City, had been knifed multiple times in retaliation. Attorney Gao planned to return to Beijing immediately and protest at the Xinhua gate, but met strong resistance from his family and friends and could not go, so he started a hunger strike that day. Attorney Gao said, "It does not matter if it is Guo Feixiong or Li Feixiong or Wang Feixiong. For any Chinese citizen to be subjected to such a barbaric violent beating and persecution, is the most obscene and immoral criminal act. When it gets to the point where someone is dragged out of a police station and then beaten up right then and there in front of police, reporting anything to the police loses all significance. Under such circumstances, Chinese people are now in a state where they have no protection and cannot protect themselves. Hence, we take the form of hunger strike to protest this lawless, terrible living environment.
Attorney Gao said, "We don't need more words. I can only use action to express my anger. Though in the context of an inhuman and gangster government, they will simply sneer at our hunger strike, we will not choose our correspondence based on others' values."
Gao said, "From the start and until the end, we shall always promote a non-bloody, non-violent approach, but this definitely does not mean that we will not protest. When legal means are blocked, we can only use our most primitive form of capital – our physical body, to conduct this struggle – for maintaining the minimum level of morality for human existence, for the dignity of humanity, and the value of human civilization!"
"As a lawyer, a human rights lawyer, I have to use this primitive form to uphold Chinese citizens' rights which are supposed to be protected by law. We have no alternative living in such a society of distorted human nature."
Hu Jia: I Will Take Immediate Action in Support
When being interviewed on the night of the 4th, Hu Jia was not aware of attorney Gao's hunger strike. He said, "We were still discussing this last night and making preparations. I am also involved in the protest, but I did not know that the hunger strike had already started."
Hu Jia said: "The method of hunger strike was used 16 or 17 years ago. In the long history of rights-protection movements, this method has been often used in protest. In case we were arrested or detained, we would also use this method. This time, it is for Guo Feixiong, for rights protection, for everyone who wants to live as a normal person in China."
Hu Jia went on to say, "Using the method of a relay hunger strike gives every Chinese citizen a very appropriate and peaceful way to join the rights protection movement, to express their opinion against the persecution by the evil forces of the rogue regime. This is not limited to the previous method of calling for help via the Internet. Instead, through everyone's concrete action, we move forward one more step. This unified act will place unprecedented pressure on the evil force that is already accustomed to being utterly shameless. It is to let the Communist Party experience the voice of protest."
He also said, "The method of hunger strike will be used for sure. As a matter of fact, the relay hunger strike is still being deliberated. I haven't told anyone but my family because I was not aware of any schedule. As soon as I know the schedule, I will immediately start the hunger strike."
Jia Jianying: If Needed, I Will Support the Action
Jia Jianying, the wife of He Depu [1] stated: "I will support them." Jia Jinying had just received the third "Victims' Family Member Award" from the Foundation for Democracy in the 21st Century on October 6, 2005.
Jia Jianying said, "The hunger strike by attorney Gao is a practical action taken by the rights activists to protest the persecution. When he asked me, I said I would agree (to join). Because lately some rights activists had been brutally beaten, I think this is very inhumane and should be condemned. Because my husband received cruel torture at the hands of the Chinese Communist Party, I resent this kind of thing. I agreed to join once I was asked."
Guo Feixiong: Form a Folk Society and Demand Them to Stop Beating and Killing
Guo Feixiong, who had just been beaten at the police station, told the correspondent at the interview, "We welcome anyone who wants to support this hunger strike action. Factory workers, farmers, those who go to higher authorities to appeal, believers of Falun Gong, Christians; whoever is willing to support these rights activists, willing to protect the rights of those people who were beaten, are all welcome. Together we form a folk society, demanding them to stop beating and killing. We will do what we say, not afraid of any violent threats. If they are capable, they can put all our Chinese people into prison.
Attorney Gao Called for Help, People Overseas Responded Quickly Attorney Gao felt that as this movement was proposed by him, he should practice what he preaches and start the strike himself. He will go on hunger strike for 48 hours. The others can do what they can accordingly. One day is enough.
Attorney Gao called for more people with visions to join; using the most peaceful method to protest this obnoxious living environment, and defend the most fundamental dignity of a human being.
The overseas student Gao Jie in Japan heard this news. She will join the 24-hour hunger strike in Tokyo to support attorney Gao. She said she would like to use practical action to express her support of Gao. To protect the rights of Guo Feixiong, Gao Kunlun and other Chinese citizens is to protect her own rights.
A Canadian citizen, Mr. Qi will also join the 24-hour hunger strike to support attorney Gao in Toronto. He said, "The hunger strike by attorney Gao and other people may seem not worth mentioning on the surface. However, I understand this is a fight between the righteous and evil. I am willing to add my strength to the righteous side.
Another two US citizens, Ms. Yang Fang and Ms. Xiao Xuecheng said they would join the relay hunger strike on February 6.
At present, the hunger strike supporting group has initiated the program for relay hunger strikes. We will continue to watch and report the progress.
Note: [1] Chinese cyber-dissident He Depu, a member of the banned China Democracy Party, was arrested at his Beijing home on 4 November 2002 for signing an open letter to the Chinese Communist Party congress (which was posted on the Internet) calling for democratic reforms. He was sentenced to eight years imprisonment on 6 November 2003.