Attorney Gao Safely Returns to Beijing
April 11, 2006 12:00 am Last Updated: April 11, 2006 12:00 am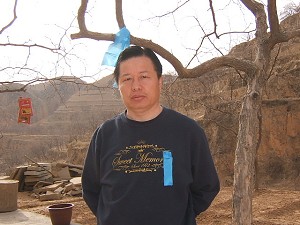 Gao Zhisheng, the renowned human rights lawyer based in Beijing, was forced to leave his hometown in North Shaanxi Province on April 8 because agents of the Chinese communist regime continued to harass him. He drove through North Shaanxi, Shanxi, and Hebei provinces and arrived in Beijing in the afternoon of April 9, 2006. An Epoch Times reporter interviewed Gao upon his return.
During the interview, Gao received many cell phone calls from all over the world. Gao reminded the reporter to thank Epoch Times readers in China and throughout the world who are wishing him well.
Returning to Beijing
At about 11:00 a.m. on April 8, Gao set out from his hometown in North Shaanxi. Some of the town officials shook hands with him when he left. Two or three police cars preceded his car, and four or five police cars, some without license plates, followed his car. Local policemen followed Gao for 50 kilometers to the border of Shanxi Province.
When they arrived at the border of Shanxi Province, cars with Shanxi license plates arrived to follow them. About 10 cars from Shanxi, Beijing, and others without license plates (to avoid identifying their origin) followed Gao's car when it arrived in Taiyuan City .
Gao had planned to stay the night at his sister's home in Taiyuan City. However, harassment by the CCP agents forced him to stay in a hotel. Eight cars, six with local license plates and two with Beijing plates, surrounded the neighborhood, blocking all traffic where Gao's sister lives. They also photographed and videotaped everyone who went in and out of the community. Unable to stay at his sister's home, he found a hotel in Taiyuan City for the night. The agents rented the rooms on either side of and across from Gao's room.
Gao said, "I feel sorry for the common people. How many people does the regime use to watch me? A room costs more than 300 yuan (more than US$36.21); three rooms are more than 1,000 yuan (more than US$120.77). They have five Beijing cars and two Shanxi cars. How many people are in there and how many rooms should they rent? How much of the Chinese people's money are they spending?"
The agents did not close their doors at night in case Gao left after midnight or in the early morning hours. "They dared not close the doors of their three rooms at night, but we dared not open our door," Gao laughed.
The agents took turns watching Gao's room during the night. When Gao got up in the morning, he saw a bald agent in his fifties sitting on a stool in the corridor to watch his room. Gao said "When I saw the old spy following me……alas! I felt sorry for him. Actually, they can talk to me. I can tell them the exact time when I'll set out."
At 8:00 a.m. on April 9, Gao left the hotel. Because they did not find the entrance of the freeway, Ma, the driver, got out the car and asked the Shanxi police who were following them to lead the way. The police were surprised and laughed. We are supposed to follow you, but now you are following us. Gao laughed out loud .
Gao said that everything went okay with the police cars leading the way. When they arrived in Shijiazhuang City, Hebei Province, the Shanxi police cars left, and Hebei police cars began their vigil of following Gao. At 3:00 p.m., Gao arrived at his friend's home in Beijing. Soon a female agent appeared and repeatedly peeped into the room through the window.
Gao Thanks People Who Are Concerned About Him
After the report about the harassment Gao experienced in North Shaanxi, many people in China and overseas called him. A person formerly from China cried on the phone, "You are trapped, but we cannot help you!" Gao replied, "If you can understand the Chinese communist regime's tyranny and evilness, and understand the truth through my articles, you have helped me."
A woman from Melbourne, Australia said that she believed in God, and she felt pained because she could not do anything to help. Gao told her, "You are helping me if you only give me one glance. And you keep blessing me in your heart."
Gao said many officials of the Chinese communist regime also called him to express their concern. At the end of the interview Gao, said, "I wish to express my thanks through the media to so many friends in the world who pay attention to my safety. Thank you for your care, my friends."