Attacks on Judges Reflect Rage Over China's Judicial System
June 19, 2010 2:10 am Last Updated: October 1, 2015 7:50 pm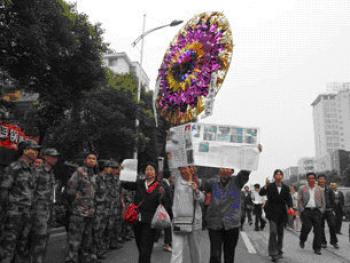 China's judges have become the most recent targets of deadly assaults.
Three judges were shot to death by a postal bank-security officer in Hunan Province on June 1. One week later, in Guangxi Province, a couple splashed sulfuric acid on six court officials, including three judges, inflicting varying degrees of injuries.

These two most recent acts of violence against judges have become the topic of heated debates in Chinese society and on Internet posts.
A vast majority of posted comments express solidarity with the perpetrators and blame judicial injustice as the reason for the attacks. The assaults are seen as desperate acts of revenge by ordinary people in society who feel hopeless after having been let down by a corrupt judicial system.
Zhu Jun, 46, from Yongzhou City, Hunan Province, was the head of security of the Lingling District Postal Savings Bank. On the morning of June 1, 2010, Zhu walked into Lingling District Court with a submachine gun and two pistols.
He went to the fourth floor and fired into an office where people were working, killing three judges and injuring three other workers, before taking his own life.
The incident made headlines on all major Chinese websites. The popular website Tencent alone received nearly 90,000 hits and 6,000 comments in just two hours.
Internet rating of all major websites showed 99 percent of the comments were supportive of Zhu's action. Some said "good job," and some called Zhu a hero.
Hundreds of local residents gathered around the court on the following day, taking the opportunity to voice their own grievances with the judicial system. Some tried to storm into the court holding signs that read "Zhu Jun rest in Peace!" while others shouted, "Zhu Jun is the people's hero!" Police tried to block the protesters.
Motive for Murders Questioned
Official media releases said that Zhu's motive for the murders was that he suffered from an incurable illness and that he was dissatisfied with a divorce settlement.
Another prevalent assertion among local residents was that Zhu had invested in a manganese mine and developed a dispute over property rights with someone. Zhu bribed a judge, but his opponent bribed the judge with even more money, and consequently Zhu lost the case and lost everything.
But according to a June 7 Century Weekly report, Zhu had left a will in which he mentioned judicial injustice.
Additionally, several major Chinese media, including Yunnan Information Times and Century Weekly, reported that a woman named Tang Manyun told them that in 2006 her then 10-year-old daughter, whom Zhu Jun foster-fathered, had been kidnapped.
The child was held by the kidnappers for three months, during which time she was gang raped and forced into prostitution with over 100 "clients." But the Lingling police did nothing to help.
Tang said Zhu helped find her daughter and also helped write appeal letters for the family afterwards. Many people speculate that Zhu's motivation for his assault on the judges had to do with this case.
Radio Free Asia (RFA) reported that police summoned Ms. Tang on the evening of June 7 and took her into custody on charges of spreading rumors. Her husband, Mr. Jiang, was also called into the police station and wasn't released until the following night.
Jiang told RFA that their daughter's case of aggravated statutory rape and forced prostitution went to court in early 2007. Out of the 15 suspects, two were given the death penalties, two life sentences, one 16 years, and another 15 years in prison.
Jiang said the girl had also been raped by some police officers who had protected others who were involved. Consequently, several gang members and over 100 of their "clients" were still at large under the protection of local police.
According to these sources, the judicial corruption Zhu had experienced seems a more convincing motive for his attack on the judges than what was being suggested by the state-run media.
Desperate Measures
While the Zhu murder case was still a hot topic in the nation, yet another attack on judges occurred on June 8, only one week later, in Wuzhou City of China's southeastern Guangxi Province.
China News Service reported that during an assignment to enforce a court verdict, a couple inflicted injuries on six court officials, including three judges, by splashing sulfuric acid on them.
Several thousand Chinese bloggers immediately responded to the news. Most blamed China's unjust judicial system and said this latest attack on judges was another case of ordinary citizens resorting to desperate means because there is no justice from the government.
On Oct. 14, 2009, a knife-wielding man stabbed to death a court police officer and injured three more people in the Zunyi City Intermediate Court in Guizhou Province. The killer is still at large.
On April 5, 2006, a handicapped man detonated explosives in a court in Guangyuan City, Sichuan Province, killing himself and a judge.
On Jan. 6, 2006, a man ignited explosives tied to his body in a county court in Minle County, Gansu Province, killing 5 and injuring 22. He was upset over a court verdict in regard to his son's death.
In 2005, a Yongzhou resident sent a package with a homemade bomb to a court, injuring one and disabling two others. The man was angry over a court ruling regarding his son's work-related injuries.
Rampant Judicial Corruption
According to former Chinese judge Grace Li, China does not have an independent judicial system. The Chinese Communist Party (CCP) acts as an institution that is above the law.
A director of a court is obligated to hold a concurrent post as Party secretary of the court and is supervised by officials of the same level at the Commission of Politics and Law of the Communist Party of the China Central Committee. A court's financing and budget are controlled by the local officials.
Accordingly, courts are submissive to the Party and exercise their judicial functions in ways that ensure their financial survival. Meanwhile, the Party endows judges of all levels with the power to engage in extreme corruption.
Li said that driven by political and economic interests, different levels of judges, just like different levels of local regime officials, are indifferent to the public's welfare and interests.
With power and money, judges often put justice aside. Bribery is rampant in China's judicial system, and officials closely collaborate to protect their vested interests.
In recent years, the Supreme People's Court in Beijing has become a place where many petitioners gather due to the escalated number of grievance cases.
Li said that the court is the last line of defense for social justice. When the last line of defense has collapsed, the court becomes the worst and darkest place of all. The disadvantaged in society are forced to take the extreme measure of using violence to fight violence.
"Chinese people are applauding the recent slayings of judges because people are enraged about the widespread and rampant judicial corruption and lack of justice," Li added.