ABUJA, Nigeria—A series of terror attacks near Nigeria's seat of power has embarrassed officials and threatens to disrupt the country's general elections in 2023.
Three incidents near the capital, Abuja, on July 5 have shocked President Muhammadu Buhari and exposed his administration's failure to end terrorism during his seven years in power.
In 2015, Buhari, a former army general, claimed that Islamist terrorists besieging the country's northeast had been "technically defeated." But in a brazen show of power, a band of about 300 terrorists attacked a prison just 29 miles from the country's presidential house in Abuja.
More than 800 inmates, including Boko Haram and ISIS fighters, escaped from a medium correctional center in Kuje during the assault, according to officials.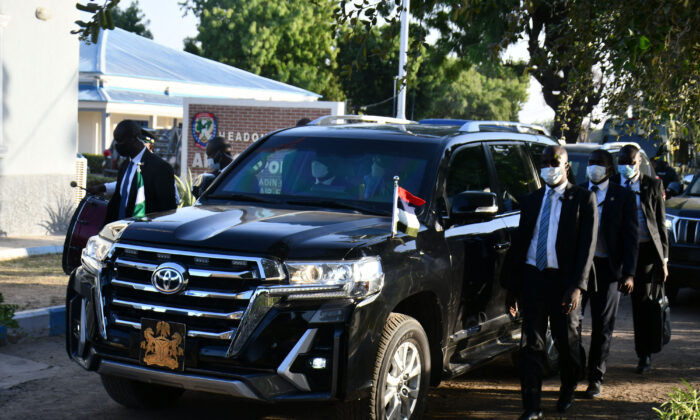 One member of the security team was killed and four others were injured, Umar Abubakar, spokesman for the Nigerian Correctional Service, said in a statement. Four inmates were also killed and 16 others injured, he said.
ISIS terrorists have claimed credit for the breakout—the latest in a series in recent months.
U.S. officials in Abuja have advised U.S. citizens to maintain a high state of personal security awareness in the country amid fears of a terror spike.
"Terrorist groups and those inspired by such organizations are intent on attacking U.S. citizens abroad," the alert says.
Analysts speaking to The Epoch Times have expressed concern that attacks that are displacing hundreds of communities could lead to an anti-West empire centered in Africa's most populous nation.
Police Ambushed
The breakout came hours after gunmen ambushed a fleet of police cars leading a presidential motorcade in Buhari's home state of Katsina earlier on July 5. Two people were injured before the attack was repelled by police and secret service agents. Buhari was traveling to his hometown of Daura when the ambush occurred, presidential spokesman Garba Shehu said in a statement.
That attack occurred located close to a forest where two police officers had been killed hours earlier. More than 300 terrorists on motorcycles ambushed a police team that was raiding bandit hideouts in an area called Zakka, a police spokesman said in a statement.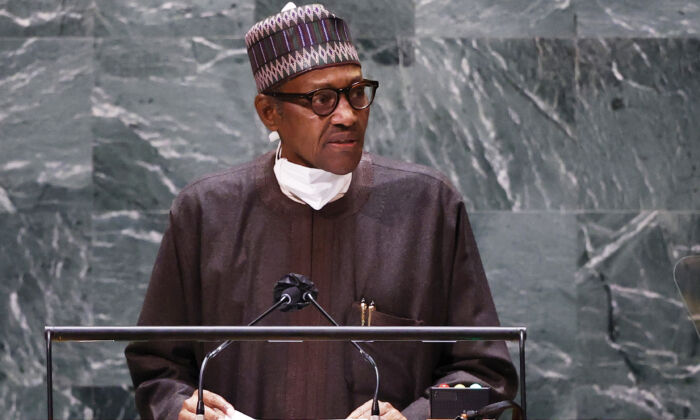 The leader of the police in Dutsinma—Assistant Commissioner Aminu Umar—and another person were killed in that attack, according to the statement.
Both incidents occurred a week after more than 30 soldiers were killed in Niger state, about 180 miles from Abuja.
In preceding weeks, dozens of villagers were killed and many more were kidnapped in attacks in Kaduna state, which also borders Abuja.
ISWAP Claims Responsibility
Hours after the prison attack, the ISIS West Africa Province released a video claiming responsibility.
The terrorists released the video on July 6 with the caption, "Fighters of Islamic State attacked Kuje prison in Abuja yesterday and succeeded in freeing dozens of prisoners."
In the 38-second video, a group of civilians are seen strolling in an open field with cars burning in the background. Male voices are heard in the video shouting "Allahu akbar," accompanied by sounds of gunfire.
As of July 9, 444 escapees had been recaptured, according to police and prison officials. But only one of 69 Boko Haram escapees has been identified.
Boko Haram and its breakaway faction Islamic State's West Africa Province (ISWAP) began a deadly rivalry in 2016 after ISIS appointed Abu Musab al-Barnawi, the son of the late Boko Haram founder Mohammed Yusuf, as its representative in West Africa.
The leader of the Boko Haram group, Abubakar Shekau, reportedly blew himself up during a feud with ISWAP fighters in May 2021.
But shortly after, a new video showed members of the two groups forging an alliance.
'Recruitment Source'
The Kuje attack might prove to be a pivotal moment for ISWAP in Nigeria, according to Tomasz Rolbiecki, a Polish researcher on jihadist extremist organizations in sub-Saharan Africa.
"Now that the terrorists have succeeded in freeing dozens of their fellow fighters, they will be capable of doing more. Not immediately, but I expect a rise in ISWAP attacks in north-central [Nigeria] … some time from now," Rolbiecki wrote in a post on Twitter.
The attack was carried out to free detained terrorists and recruit fighters, David Otto, a London-based military consultant, said in a phone interview with The Epoch Times.
United States, United Kingdom, and United Nations officials in Abuja have warned of a possible terror spike in and around the city.
'Illegitimate Government'
In recent years, bandit terrorists who specialize in kidnappings for ransom have been in charge of armed attacks in the northwest and north-central regions, according to Murtala Rufa'i, a scholar at the Usman Danfodio University Sokoto.
The Epoch Times reported in April how large bandit gangs led by a feared warlord known as Ali Kawaje had set up camps near Abuja.
Members of the gangs, who mainly come from the Fulani tribe, are now in communication with previously northeast-based Boko Haram and ISWAP, according to Greg Stanton, the founding president of Genocide Watch.
Both groups might be aiming to intimidate politicians and influence the outcome of the country's general elections in 2023, Otto said.
"The message they are trying to pass is that if they can attack the president's convoy; if they can attack the symbol of the country's criminal justice system, then they are capable of toppling the government," he said.
"They might not exactly topple the government, but they will push the country to a certain level of uncertainty.
"The implication is that citizens will not have the confidence to select their president in 2023," he said. "And if citizens cannot select their president, what you have is a government that is illegitimate—a government that is not backed by the people."
Government Complicit
Lawmakers who spoke to The Epoch Times have accused Buhari of complicity with the terrorists.
"When some of us insisted from the onset that government should be decisive and swift in tackling terrorism at its formative stage, the calls fell on deaf ears," wrote Istifanus Gyang, a senator from Plateau state.
"The implication is that ISWAP and all the terrorist groups have become more emboldened and determined in their quest and dream to turn Nigeria into an Islamic state as in the manner of Afghanistan."
Simon Mwadkwon, a member of the House of Representatives, said, "He [Buhari] has encouraged them and they are now everywhere in the country."
"This is all linked to the 2023 election. If they cannot have members of their own faith in government, they will want to take the country by force," he said in a telephone interview.
Anti-Western Alliance
If Nigeria becomes an Islamic country, "the oil industry and all the resources [in Nigeria] will be controlled by Islam and Islam has a history of working many times with enemies of the West, enemies of the United States, enemies of NATO," U.S. activist Judd Saul told The Epoch Times.
"And we'll see some very bad alliances happening. There will be government interests from adversaries of the United States, and government interests of people in NATO that find Nigeria a very strategic interest.
"The regime that they would want to cooperate with is definitely going to affect all of Africa. If Nigeria falls, all of Africa falls."