The bombing at the airport in Kabul, Afghanistan last year that left 13 U.S. troops dead could not have been prevented, Department of Defense officials said on Feb. 5.
"Based on our investigation at the tactical level, this was not preventable and the leaders on the ground followed the proper measures, and any time there was an imminent threat warning they followed the proper procedures: they lowered their profile, they sought cover, and at times, they even ceased operations at the gate," Brig. Gen. Lance Curtis, the military official who led the probe, told reporters in Washington.
The Aug. 26, 2021, attack came as U.S. service members controlled the Hamid Karzai International Airport in order to ensure Americans and others could leave the country, which had recently been taken over by the Taliban terrorist group.
U.S. leaders decided to cooperate with the Taliban, which stationed fighters around the outside of the airport at checkpoints and stopped some Americans from reaching the facility.
The ISIS terrorist group was behind the attack, the group and U.S. officials say. It killed 11 Marines, one soldier, and one sailor.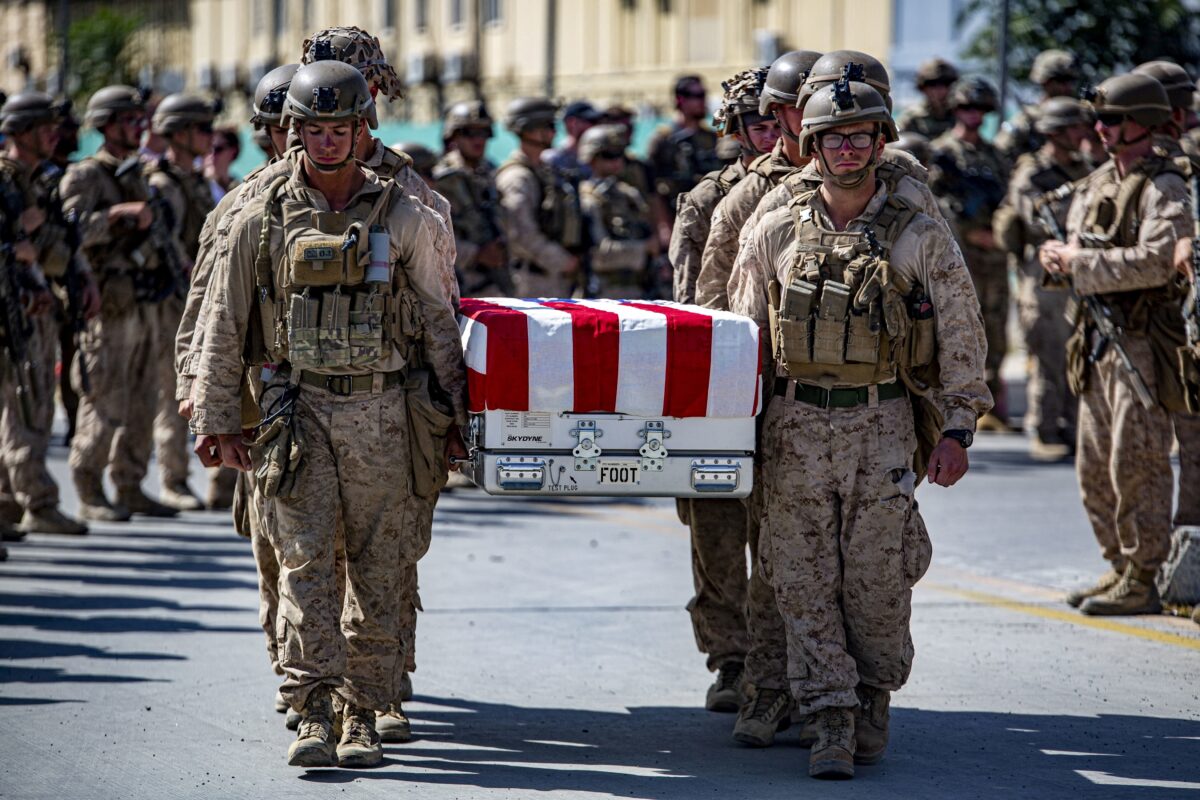 Investigators interviewed more than 100 people and collected other evidence, concluding that the attack was actually the detonation of a single explosive device at the Abbey Gate, one of the entrances at the airport.
"The disturbing lethality of this device was confirmed by the 58 U.S. servicemembers who were killed and wounded, despite the universal wear of body armor and helmets that did stop ball bearings that impacted them but could not prevent catastrophic injuries to areas not covered," said Gen. Frank McKenzie, head of U.S. Central Command.
U.S. officials said last year that during the attack, people on the scene were struck by gunfire. However, the probe "found no definitive proof that anyone was ever hit or killed by gunfire, either U.S. or Afghan," McKenzie said.
"At the time, the best information we had in the immediate aftermath of the attack indicated that it was a complex attack by both a suicide bomber and ISIS-K gunmen," he said. "We now know that the explosively fired ball bearings caused wounds that looked like gunshots, and when combined with a small number of warning shots, that led many to assume that a complex attack had occurred."
The fact the initial portrayal of what happened is different from what investigators concluded shows the investigating team went into the probe with an open mind, officials said.
The United States completed its withdrawal from Afghanistan, ordered by President Joe Biden, on Aug. 30.