One of the Atlanta police officers charged in the death of Rayshard Brooks says he didn't do anything wrong and wouldn't change anything he did during the fateful encounter.
"I have full faith in the criminal justice system," Devin Brosnan told the Atlanta Journal-Constitution. "I really do. I have 100 percent faith the truth will come out. People will see this for what it is. They will understand I didn't do anything wrong. I know the truth is what counts."
Brosnan, 26, responded to a call concerning a man who was passed out in a vehicle in a Wendy's drive-through, blocking traffic, on June 12. The officer smelled alcohol, prompting a call for a certified DUI officer. That officer, Garrett Rolfe, 27, soon arrived on the scene.
After testing Brooks's sobriety for about 40 minutes, the officers tried placing him under arrest. Brooks resisted, leading to a scuffle. At one point, Brosnan struck his head on the concrete, causing a concussion.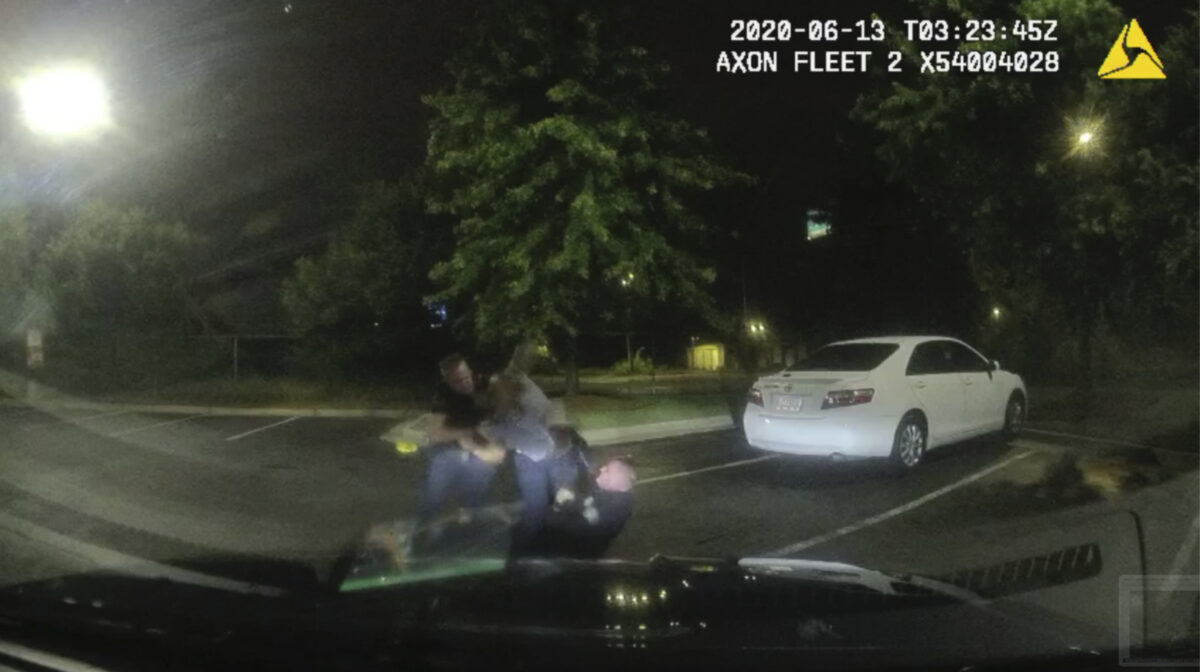 Brooks, 27, stole Brosnan's stun gun, fired it at the officer, and later fired it twice at Rolfe. The second time, Brooks was moving away from the officer but was partially angled at him as he tried hitting the cop.
In return, Rolfe pulled his gun and fired, hitting Brooks twice. According to an autopsy report obtained by The Epoch Times, the Fulton County Medical Examiner's Office declared the manner of death a homicide.
Brosnan told the Journal-Constitution that the death is a tragedy.
"At the end of the day, someone lost their life. To me, it's heartbreaking no matter the circumstances, no matter what. When anybody dies truly is something you never want to see happen, to have happen. I can't imagine what a family would go through," he said.
But he joined others in expressing surprise over the charges leveled by the county's district attorney, Paul Howard, against him and Rolfe. Brosnan was charged with aggravated assault for allegedly stepping on Brooks's shoulder after the shooting while Rolfe was charged with felony murder, which could garner the death penalty. Both men were charged with oath of office violations.
Amid reports of callouts, Interim Atlanta Police Chief Rodney Bryant told reporters over the weekend that a higher than usual number of officers have been calling in sick since Rolfe and Brosnan were charged.
"The explanation for calling out sick vary and include officers questioning their training, officers being challenged and attacked, and unease about officers seeing their colleagues criminally charged so quickly," he said at a press conference.

Rolfe was fired and Brosnan was relegated to desk duty. Rolfe is still in jail after being denied bond; Brosnan posted bond.
Brosnan also challenged Howard's claim that he agreed to become a cooperating witness.
"I just looked at it like, he could have just said I'm doing the right thing—I'm talking," Brosnan said. "But it just seemed like it was more important to make it political than it was to get to the truth of the matter and get to the real facts of it."
"Some person lost their life. It's not something to make political," he added.
Howard's office hasn't responded to requests for comment.
"I'm not a cooperating witness, I'm cooperating. I think that's the takeaway," Brosnan said. "I'll tell the truth to anybody who needs to hear it."