Two at-risk nuclear power plants located directly in Hurricane Florence's path of destruction are among the sixteen plants in Virginia and the Carolinas that are bracing for impact.
"The time to prepare is almost over," North Carolina Governor Roy Cooper told a morning news conference on Sept. 12. "Disaster is at the doorstep and it's coming in."
Hurricane Florence is expected to hit the U.S. East Coast on Sept. 14, the National Hurricane Center (NHC) has warned, with a life-threatening storm surge "now highly likely along portions of the coastlines of South Carolina and North Carolina."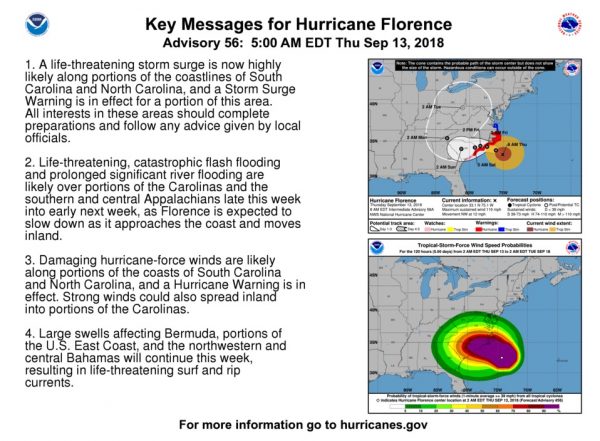 The two nuclear power plants directly in the path of Florence are the Brunswick Nuclear Plant, located about 30 miles south of Wilmington, and the Shearon Harris Nuclear Plant in the town of New Hill. Both are in North Carolina.
#HurricaneFlorence
– Infrastructure Concerns:
•At least 6 nuclear plants at risk
•9 primary steel mills in storm path
•EPA monitoring 9 toxic waste cleanup sites near Carolinas
•Flooding concerns w/ hog manure pits, coal ash dumps
→ Duke Energy operates 24+ coal ash pits pic.twitter.com/PIbEqfziZu

— Fox News Research (@FoxNewsResearch) September 12, 2018
The design of the Brunswick plant's reactors is identical to those in Fukushima, Japan, which leaked radioactive waste in 2011 after an earthquake and tsunami-caused flooding.
The fallout from Fukushima led U.S. regulators to mandate a number of upgrades to American nuclear plants in order to avoid a similar disaster.
The U.S. Nuclear Regulatory Commission said on Sept. 12, that additional inspectors would be dispatched to plants in North and South Carolina, according to Fox News.
The commission also stated that it would activate its regional incident response center in Atlanta and monitor the situation round-the-clock.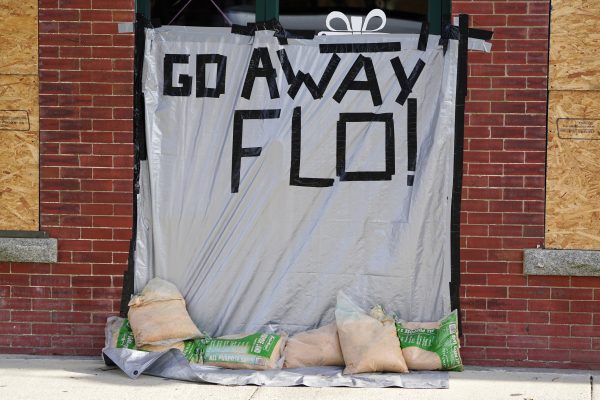 'Catastrophic Flash Flooding'
Besides inundating the coast with wind-driven storm surges of seawater as high as 13 feet along the Carolina coast, Florence could dump 20 to 30 inches of rain, with up to 40 inches in parts of North Carolina, the NHC said.
"Life-threatening, catastrophic flash flooding and prolonged significant river flooding are likely over portions of the Carolinas and the southern and central Appalachians" late this week and into next week, the NHC stated, with "Florence expected to slow down as it approaches the coast and moves inland."
He told Reuters on Sept. 11, that both power plants were preparing for the hurricane by securing any loose material that could get dislodged by high winds. They also have prepared backup generators to ensure enough fuel to keep producing power.Duke Energy spokesman Ryan Mosier said earlier this week that operators of the two plants would begin shutting down the plants at least two hours before the hurricane hits.
"They were safe then. They are even safer now," said Kathryn Green, a Duke spokeswoman, referring to the post-Fukushima improvements. "We have backups for backups for backups."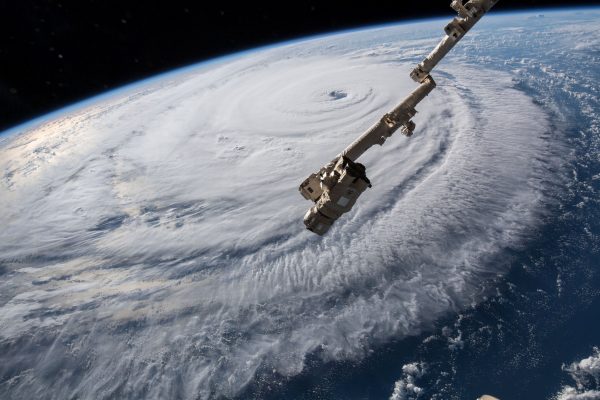 Emergency Declarations
Emergency declarations were in force in North and South Carolina, Virginia, Maryland and the District of Columbia.
Emergency preparations included activating more than 2,700 National Guard troops, stockpiling food, setting up shelters, switching traffic patterns so major roads led away from shore, and securing 16 nuclear power reactors in the Carolinas and Virginia.
The U.S. Coast Guard said it closed the ports of Wilmington and Moorehead City in North Carolina and restricted port operations in Charleston, South Carolina. All seven of North Carolina's ferry routes were shut down.
Utility officials have warned that widespread power outages are likely and that it could take weeks to restore electricity.
The center of Florence, no longer classified as a major hurricane but still posing a grave threat to life and property, is expected to strike North Carolina's southern coast on Sept. 14, then drift southwest before moving inland on Sept. 15, according to the NHC.
Its maximum sustained winds were clocked on Sept. 13, at 110 mph after it was downgraded to a Category 2 on the five-step Saffir-Simpson scale.
But the NHC also said tropical storm-force winds extended outward up to 195 miles from its center, leaving a swathe of the U.S. eastern seaboard vulnerable, much of it low-lying and stretching from Georgia north through the Carolinas into Virginia.
In all, an estimated 10 million people live in areas expected to be placed under a hurricane or storm advisory, according to the U.S. Weather Prediction Center.
More than one million people had been ordered to evacuate the coastlines of the Carolinas and Virginia.
Reuters contributed to this report
Did you enjoy this article? Continue to read more stories  here.
---