At least 50 people were found dead in an 18-wheeler truck carrying suspected illegal immigrants on a remote back road in southwest San Antonio, according to officials.
William McManus, the city's police chief, said that a city worker was alerted to the situation by a cry for help shortly before 6 p.m. on Monday.
Officers arrived at the site of the tractor-trailer rig near the intersection of Cassin Drive and Quintana Road and found a body on the ground outside the vehicle, which had a door that was partially opened.
Another 16 people, four of whom were children, were taken to hospitals with heat-related illnesses, Fire Chief Charles Hood said, adding that they were hot to the touch and dehydrated. He also noted that no water was found in the truck.
"They were suffering from heat stroke and exhaustion," Hood said. "It was a refrigerated tractor-trailer, but there was no visible working AC unit on that rig."
Temperatures approached 100 degrees Fahrenheit in the Texas city on Monday. Temperatures can rise drastically inside vehicles on hot days.
3 Taken Into Custody
McManus said three people were taken into custody but it was unclear if they were linked to any human trafficking efforts. They were not found with the truck and their involvement is not yet clear, he said.
However, he noted that the truck was a presumed migrant smuggling attempt into the United States. A federal investigation has been launched following the find, led by U.S. Homeland Security Investigations, he added.
A spokesperson for U.S. Immigration and Customs Enforcement (ICE) confirmed that the HSI is leading "an alleged human smuggling event" in coordination with local police.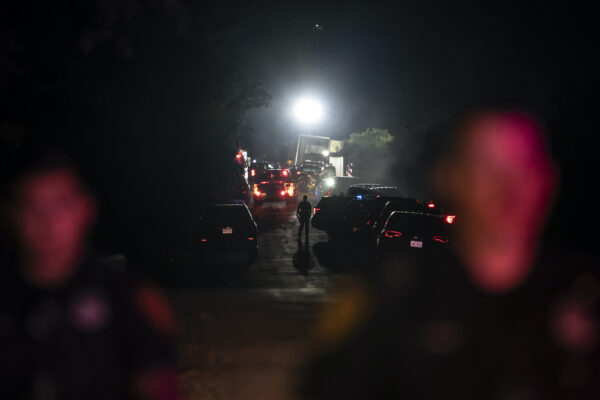 "This is nothing short of a horrific human tragedy," San Antonio Mayor Ron Nirenberg said late on Monday at a press conference near the scene.
Mexico's Foreign Minister Marcelo Ebrard, in a post on Twitter, called the deaths of the migrants in the truck a "tragedy in Texas." He said consular officials would go to the hospitals where victims had been taken to help "however possible."
A spokesman for the Honduran foreign ministry told Reuters the country's consulates in Houston and Dallas would be investigating the incident.
Ebrard said two Guatemalans were hospitalized and Guatemala's foreign ministry said on Twitter that consular officials were going to the hospital "to verify if there are two Guatemalan minors there and what condition they are in."
Immigration Policies Blamed
Texas Gov. Greg Abbott attributed the deaths to Biden's immigration policies. In a blunt post on Twitter, the Republican governor wrote, "These deaths are on Biden. They are a result of his deadly open border policies. They show the deadly consequences of his refusal to enforce the law."
Jack Staton, a former senior official with ICE's investigative unit who retired in December, told Reuters that the I-35 highway near where the truck was found runs through San Antonio from the Mexican border and is a popular smuggling corridor because of the large volume of truck traffic.
He said that illegal immigrants have been intercepted in the area regularly since July 2017, when 10 people died after they were traveling in a tractor-trailer that San Antonio police found in a Wal-Mart parking lot. The driver of the truck was sentenced to life in prison for his role in the human smuggling operation.
President Joe Biden said in a statement on Tuesday that "initial reports are that this tragedy was caused by smugglers or human traffickers who have no regard for the lives they endanger and exploit to make a profit."
"This incident underscores the need to go after the multi-billion dollar criminal smuggling industry preying on migrants and leading to far too many innocent deaths," he said. "In Los Angeles two weeks ago, I announced that the United States has launched a first-of-its kind anti-smuggling campaign with our regional partners. In the first three months, we have made over 2,400 arrests, and that work will only intensify in the months ahead."
Biden said his administration "will continue to do everything possible to stop human smugglers and traffickers from taking advantage of people who are seeking to enter the United States between ports of entry."
The Associated Press and Reuters contributed to this report.