The U.S. Geological Survey (USGS) reported numerous earthquakes in Alaska over the past 24 hours.
At least 25 earthquakes with a 2.5 magnitude or greater struck the state, with many occurring in the remote North Slope area. Some were reported in southern Alaska.
The largest quake registered at 4.0 on the Richter scale. Most were between 2.5 and 3.0. A 4.5 magnitude earthquake struck near Anchorage, the largest city in the state, on Oct. 15, and a number of people reported that they felt it.
Meanwhile, a 5.3-magnitude earthquake struck about 60 miles north-northeast of Kobuk, Alaska, on Oct. 14. The quake was located in the Brooks Range.  In August, a 6.1-magnitude earthquake struck a remote area of the Alaska North Slope area.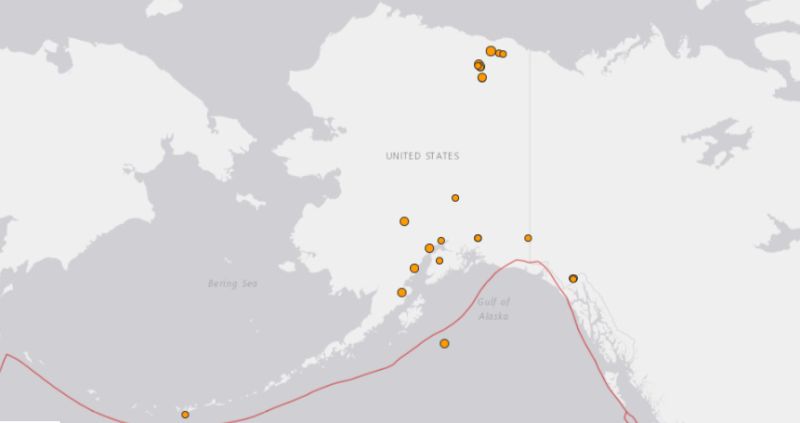 Alaska, like the rest of the west coasts of North and South America, is located on the "Ring of Fire," which is a geologically active region that registers most of the world's earthquakes and has most of the world's active volcanoes.
In March 1964, a 9.2 magnitude earthquake caused tsunamis, ground fissures, and it damaged buildings in Anchorage. In the termor, dozens of people died.
That earthquake is now known as the Great Alaskan earthquake or the Good Friday earthquake. Historically, there have been a number of significant earthquakes recorded around the coast of Alaska.
"The 1964 Alaskan tsunami is the largest and most destructive recorded tsunami to ever strike the United States Pacific Coast. Along the Washington coast, tsunami waves destroyed houses, cars, boats, and fishing gear, causing an estimated $80,000 in damage to roads and bridges alone. At Ocean City, 5- to 6-foot tsunami waves collapsed the bridge over Copalis River. Wave heights at Moclips, Sea View, La Push, and Wreck Creek reached an estimated 11, 12, 5, 7, and 15 feet, respectively," says the University of Southern California's website.
Indonesia Quake Update
The official death toll from several strong quakes, including a 7.5 magnitude one (as seen in the video above), and a tsunami in Indonesia's Central Sulawesi province rose to 2,073, according to reports. Some officials believe that more than 5,000 people died in the Sept. 28 tremor.
"In every disaster, there's always a lesson to be learned," Sutopo Purwo Nugroho, a spokesman for the national disaster mitigation agency, told Reuters.
"We should not forget that there will be many disasters to come. It needs budget," he said. "We need to learn from Japan as they are consistent in preparation."
The earthquakes and the tsunami have impacted a total of 87,725 people, and 78,994 of them have been forced to take shelter in Central Sulawesi province, ABC reported.
"There are plenty of things to be dealt with in the disaster-hit area, including the problem of daily life of victims, the reconstruction of infrastructure, the construction of temporary residences for victims, as well as medical assistance, security problems, garbage disposal and so on," Nugroho added to ABC.