At least 20 people have been killed and more than 100,000 people have been forced to evacuate amid three consecutive days of heavy rainfall that has caused major flooding in central China's Henan Province, according to Chinese media reports.
A state-run media outlet reported in the early hours of Wednesday that 12 people were killed. Radio Free China reported on its official Chinese Twitter account that at least 20 people have died.
Since Monday, the torrential rainfall has caused massive traffic mayhem, as well as flight and high-speed rail line suspensions or delays, per local reports. According to the reports, an unknown number of subway riders and residents have drowned or have been carried away by the strong currents, and cars have also been washed off the streets.
In Zhengzhou city, the capital of Henan and situated on the banks of the Yellow River with a population of over 12 million people, a short video shows subway riders trapped in a waterlogged subway car that stopped moving between Haitansi and Shakou Road stations on July 20.
Most of the passengers were rescued. An eyewitness said that several bodies were carried out from the carriage. Another person appeared to have been receiving CPR (cardiopulmonary resuscitation).
Multiple subway entrances also closed amid the continued rainfall. According to various reports, these included the F to Shilipu East station along the subway Line 4 in the city. Electric buses in the city also suspended service since 2:30 p.m. local time on Tuesday.
A local official microblog said that Zhengzhou's flood control and prevention authority upgraded the emergency response level from 2 to 1, starting at 5 p.m. on Tuesday.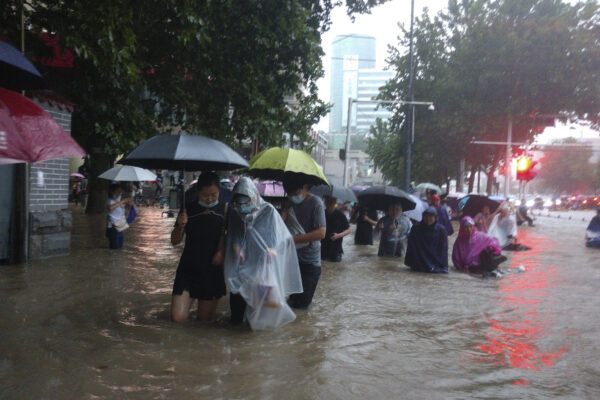 As of Tuesday, the five national weather monitoring stations in the province have all reported record high rainfall amounts: Songshan (512.2 mm), Gongyi (358.9 mm), Xinmi (324.8 mm), Yanshi (290.4 mm), and Dengfeng (288.3 mm).
The water levels in 31 large and midsize reservoirs in Henan exceeded the flood control level. Major flood disasters are likely to take place in mountain rivers as the rain continues.
The provincial emergency response level has been upgraded from 4 to 3 since Tuesday 4 p.m. local time.
According to official data, heavy rainfall affected more than 140,000 people in 17 counties and districts under the jurisdiction of Pingdingshan, Anyang, Jiaozuo, Sanmenxia, Nanyang, Xinyang, Zhoukou, and Zhumadian cities, with more than 9,200 hectares of crops flooded and direct financial losses of more than 72 million yuan (about $11.1 million) since July 16.
In Mihe town, Gongyi city, the road leading to the town was destroyed on Tuesday. A local communications signal tower was also damaged, with parts of the signals cut off.
China's National Meteorological Center issued an orange rainstorm warning at 10 a.m. on Tuesday. It predicted that torrential rain and downpour would hit north, central, and west Henan, south Hebei, southeast Shanxi, among other areas. It said heavy downpour would strike part of north Henan with a precipitation of 250 to 280 mm within 24 hours, from 2 p.m. Tuesday to 2 p.m. on Wednesday.