At least one person was killed following an explosion at an apartment building in Bedford, England, on Monday morning.
Three other people were taken to hospital, including one firefighter.
By Tuesday morning, there were still a number of residents who remained unaccounted for.
Chief Superintendent John Murphy, who is leading the response for Bedfordshire Police, said, "Sadly, there is a possibility that more fatalities will be discovered as the detailed searches continue."
An investigation into the cause of the explosion is underway but is expected to take some time.
One resident's brother-in-law told the PA news agency that there was "no gas in that block" and "it was electric entirely."
According to Bedfordshire Police, the explosion occurred at the three-storey building at about 9:10 a.m. on Monday morning.
The building was "significantly damaged in the subsequent fire, which also caused a large section of the roof to collapse," the police said.
Emergency services were called after the explosion. Six fire engines, two aerial platforms, an incident command support unit, operation support, and a drone were deployed.
One person was confirmed to have died in the fire.
One person who suffered "serious leg injuries" was airlifted to Addenbrooke's Hospital. Two other people, including a firefighter, were conveyed to Bedford South Wing Hospital with smoke inhalation, the police and the East of England Ambulance Service confirmed.
Residents were evacuated to the nearby John Bunyan Sports and Fitness Centre, where an emergency assistance centre was set up.
Those who can't arrange their own accommodation will receive assistance from Bedford Borough Council, police said.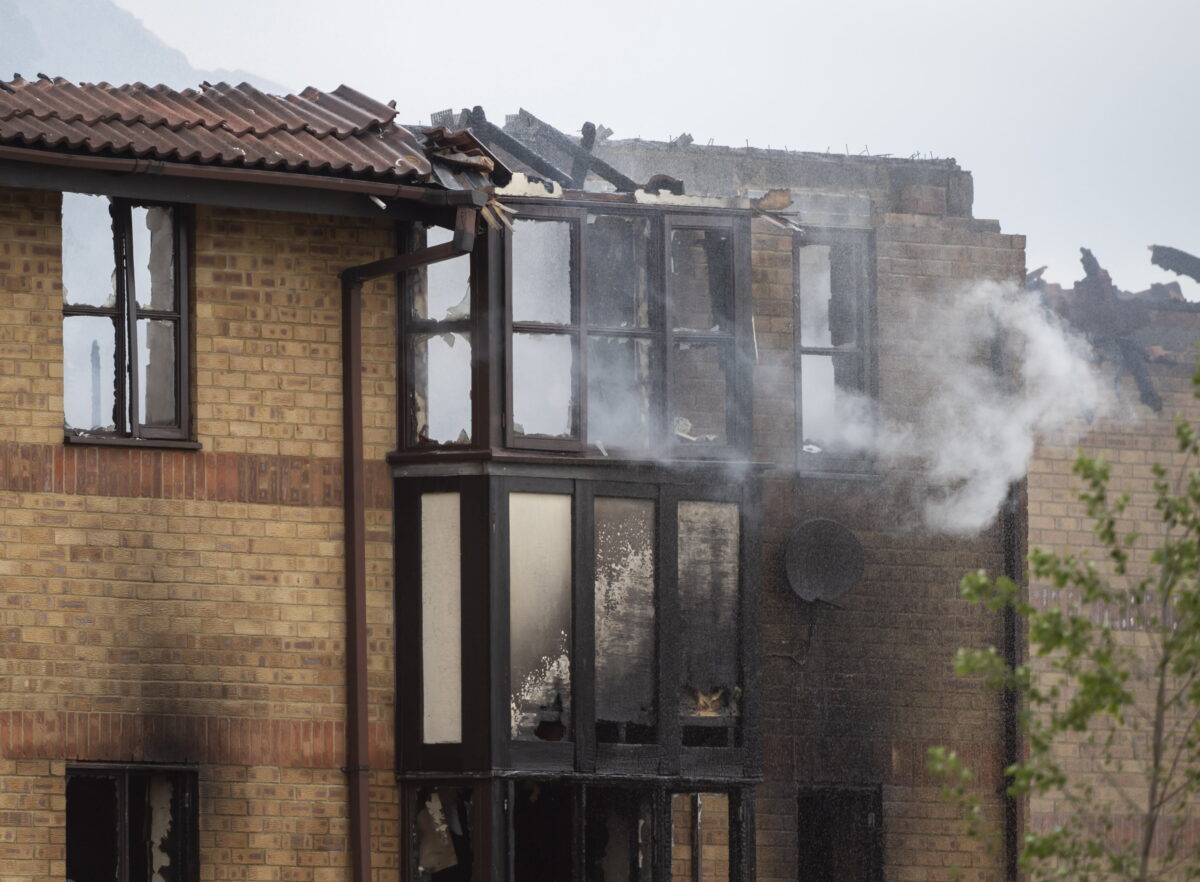 Adrian Mazurkiewicz, 27, told the PA news agency that he had just sat at his computer to start work on Monday when there was a "huge, huge explosion."
"I heard that explosion then I saw debris falling from the sky through my kitchen window," he said.
Mazurkiewicz said he shouted "just get out of the flat as soon as possible" to his partner, and banged on doors on his way down.
He said that he and his partner had little more than the clothes they were wearing and stayed in a hotel on Monday night, but were among the "lucky ones."
"Seeing the terror of this event, coming out of that building and seeing people jumping out of the windows, seeing people bleeding on the floor, just laying on the ground really struggling, I count myself one of the lucky ones," he said.
Daniel Freeman, the brother-in-law of the building's residents, Emily Foster, said Foster and her two daughters were all out at the time, but they had "just lost everything."
Bedfordshire Police said detectives have launched an investigation to identify the cause of the explosion, but added that it is expected to take some time given the complexity of the scene.