At Chinese New Year, a Torrent of Greetings Praising Falun Gong
February 7, 2011 10:01 am Last Updated: October 1, 2015 5:45 pm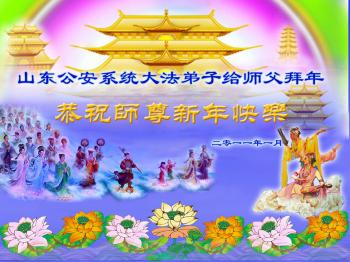 Thousands of Chinese New Year greetings, in prose and poetry, in calligraphy, e-cards, and bright Flash animations, have streamed into the main Falun Gong website Minghui.org ("Clear Wisdom" in English), wishing a happy Chinese New Year to Li Hongzhi, the founder of the Chinese spiritual discipline. The greetings also provide a snapshot of a vibrant community of believers in China [ Original Chinese | English Translation ] who are gaining support among the Chinese people in spite of 11 years of persecution.
Minghui editors report receiving over 10,000 submissions. The greetings come from small towns and big cities and from every corner of China. Some are from individuals, but often the greetings are from groups of practitioners who identify themselves either by their location or their profession. While some of the greetings are very humble—nothing more than an email message, others are elaborate and beautiful productions.
[ Article follows Photo Gallery ]
[etssp 217]
Falun Gong, also known as Falun Dafa, involves practicing five meditative exercises and living according to the principles of truthfulness, compassion, and tolerance. After Mr. Li Hongzhi first began teaching it to the public in China, Falun Gong became extremely popular—in early 1999 the New York Times, citing China's sports commission, reported that 100 million people in China had taken up the discipline.
That popularity scared then paramount leader Jiang Zemin and he set out to "eradicate" Falun Gong. Since then, Falun Gong practitioners have been subject to kidnapping, arbitrary imprisonment, forced labor, torture, and execution through the harvesting of their organs as the authorities have sought to stamp out their faith.
In April 2000 the Chinese Communist Party (CCP) claimed that 98 percent of Falun Gong practitioners had abandoned their beliefs. Over the years some journalists and academics have echoed the claim that the practice of Falun Gong has been wiped out. For example, Andrew Nathan, a prominent scholar, wrote in the spring of 2010 that "the regime has been totally effective in suppressing the Falun Gong."
Paying Respect
The greetings published by Minghui contradict Prof. Nathan's claim.
Practitioners who have sent their gratitude and respect for Mr. Li on the occasion of the Chinese New Year via Minghui.org include those from the military, judiciary, universities and the education system, and from central government agencies in Beijing and agencies all over China.

Minghui has made a point of highlighting the variegated backgrounds of the practitioners sending greetings, with articles titled "Dafa disciples [another term for 'Falun Gong practitioners] in the military, judiciary, and administrative departments wish revered Master a happy new year," "Dafa disciples in the mainland education system wish revered Master a happy new year (180 locations)," "Mainland Dafa disciples in industry wish revered Master a happy new year (229 locations)," and even one from people who have recently taken up Falun Gong practice.
Falun Gong practitioners from the public security bureau in Shandong Province made a home-made greeting card for Mr. Li.
Falun Gong practitioners who work as judges in China sent the following greeting: "Benevolent and revered Teacher, we disciples will cherish the time to clarify the truth about Falun Gong and to save more people from the CCP's lies … Our gratitude to our benevolent and revered Teacher!"
Supporting Falun Gong
While practitioners have been subjected to brutal coercive measures, the rest of the populace has been subjected to propaganda demonizing the practice. In the first few years of the campaign, that propaganda was incessant.
When the judges write of their intention to "clarify the truth," they are referring to how, for 11 years, Falun Gong practitioners in China have worked to tell other Chinese about what Falun Gong is, that it is persecuted, and that the persecution is unjust.
The greetings published by Minghui are evidence that the practitioners' efforts have been working.
Tang Jinling, an attorney in Guangdong Province, wrote in his greeting to Mr. Li: "Falun Gong is the first rock that has tripped the CCP!" Mr. Tang saw it coming, too: "After 10 years of tests, apparently my prediction has come true."
Another attorney in Beijing said anonymously: "It was not until I started to represent Falun Gong practitioners that I understood the essence of Falun Gong. I would like to thank Falun Gong for its efforts to meet the Chinese people's longing for truth.
"I would like to strongly condemn the persecution that has not ended. I would like to express my respect for Mr. Li Hongzhi, the founder of Falun Gong."
Zhu Yufu from the Democratic Party says that Freegate, software developed by Falun Gong followers to break the online information blockade, is the greatest contribution that Falun Gong has made to the Chinese people.
He said, "I would like to send my new year's greetings to Mr. Li Hongzhi. I hope that our society will become a society that abides by Truthfulness-Compassion-Tolerance."
A key component of the practitioners' efforts to clarify the truth has been the Epoch Times editorial series, "Nine Commentaries on the Communist Party," which they have circulated widely in China.
An examination of hundreds of the greetings from non-Falun Gong practitioners [ Original Chinese ] shows that many of the individuals have adopted as their own the narrative of recent Chinese history presented in the "Nine Commentaries" over the official one.
One government official from the northeast writes: "I often see Falun Gong truth-clarification material. Currently, all officials at my level know that Falun Gong practitioners are all good people, and that persecuting good people is unconscionable…. This is the stupidest thing that the CCP and Jiang Zemin have done.
"Especially as more and more people read 'Nine Commentaries on the Communist Party,' and the CCP's lies are thoroughly stripped bare, and that essence of false struggle is exposed, the CCP's end day is going to arrive.
"As the traditional Chinese New Year is upon us, I represent those government officials who know the truth to wish a happy new year to Teacher Li! We all hope that this persecution of good people will soon end. We hope that Teacher Li will come back to the mainland soon and teach Falun Gong."
NOTE: In the fifth image in the slideshow, in the upper-right-hand corner is a Falun, the symbol of Falun Dafa, which includes the ancient Buddhist symbol for good fortune, the swastika or srivatsa.