At Bella Napoli, It's About Love
July 10, 2013 7:30 am Last Updated: July 10, 2013 10:30 pm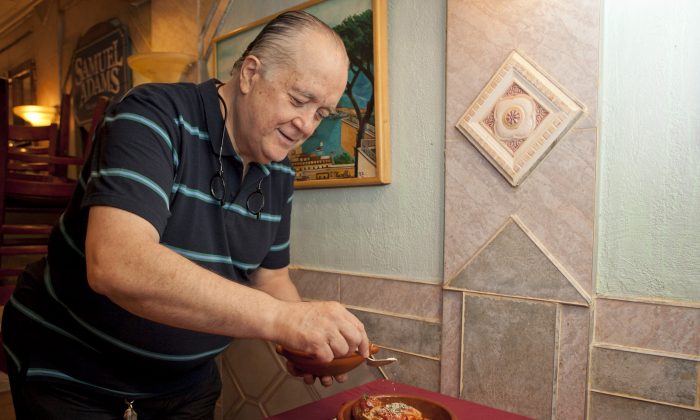 Lamberto Dominici remembers growing up in Italy and watching his mother make meatballs.
"My mother loved to cook," said Dominici. "I don't know exactly how it happened, but I was looking at the way she was doing things."
Meatballs are an important part of Italian cooking, Dominici said, and his mother's were so good he could eat them raw.
Although Dominici didn't grow up to be a chef, he would always cook. He left home when he was 16.
"I went into the Italian navy," said Dominici. There, the food was terrible.
Dominici banded with a few other men and got access to the kitchen and the refrigerator. From then on, they cooked their own meals. Today, decades later, Dominici owns Bella Napoli, but he doesn't call it a restaurant.
"In Italy you have two things," Dominici said. "You have a restaurant and you have a trattoria."
Restaurants are for dates, business lunches, and the like, while a trattoria is a family place, he said.
"When you have nothing to do and you don't want to cook, you go there just because the food is good."
These words ring true for Bella Napoli, a trattoria whose decor leans towards the simple and plain. Nestled under a green canvas awning amid towering glass skyscrapers on West 49th Street, it looks like a pizza shop at first, but a walk past the display counter reveals rows of tables: half with bare yellow tops for self-service, and half with white tablecloths for waiter service.
Besides pizza, the menu offers pasta dishes, soups, hot and cold sandwiches, and a variety of meat entrees (chicken, veal, seafood).
We sat down for an order of spaghetti and meatballs ($8.50), bruschetta for four ($9.95), and a seafood combo with spaghetti ($16.95).
The bruschetta was an instant favorite. Generous helpings of freshly cubed tomatoes are layered over toasted focaccia bread and accented with nutty olive oil, salt, black pepper, and basil for a crunchy and refreshing summer bite. Usually I'm no fan of fresh tomatoes, but these were exceptional—and I'll be coming back for more.
The meatballs had a story of their own. Dominici said that if done right, they should float in the tomato sauce. The ones served at Bella Napoli are based on a recipe from Dominici's childhood. The ingredients are simple: ground meat, milk, bread, salt and pepper, garlic, and lemon zest. The meatballs have wonderful flavor: creamy, even a little bit sweet, making for classic Italian comfort food. 
The seafood combo came with mussels, clams, shrimp, and calamari. The tomato sauce was fresh and light, combined with the seafood, and poured over steaming spaghetti, and garnished with a sprig of basil. The serving was generous and the dish hearty with a hint of an ocean breeze.
"The rule is that it's about details," Dominici said. "Take care of the details and the details will take care of the outcome."
It's About Love
"The restaurant business," Dominici said. "It is, to me, undeniably about love."
Dominici changed the waiting staff when he took over Bella Napoli three years ago. He believes that waiters are crucial to a restaurant.
"You have to genuinely want for customers to have a nice experience in a restaurant," Dominici said.
As a result, the waitstaff at Bella Napoli guide diners through the menu and help in any way they can. Dominici said that a woman once came to thank him and told him she's "never felt so taken care of."
During lunchtime on weekdays, the trattoria fills up with office workers from the towers nearby: from Fortune 500 companies, investment banks, and media firms. Tourists come for dinner and on weekends, drawn by reviews of the food online and on smartphone apps.
Many of the tourists, Dominici said, wander into Bella Napoli on their first day in the city, and come back for lunch or dinner every day after that, having found something they love.
Bella Napoli
150 W. 49th St. (btw. 6th & 7th Avenues)
212-719-2819
bellanapoli1.com
Open daily 11 a.m. to 11 p.m.