The face of an asylum-seeker who posed as a 15-year-old schoolboy but was accused of being 30 years old has been revealed for the first time. An official probe concluded he is almost certainly an adult.
The unnamed individual spent six weeks as a grade 11 student at a British school, with his presence among young pupils sparking an outcry.
Parents and students at Stoke High School in Ipswich, Suffolk, believed the man was older than the claimed 15 years of age, pressed for an investigation, and threatened a boycott.
Victoria Newby, who has a child at the school, told the BBC, "My girls will not be attending until I know for sure he's been removed."
Extremely Concerning
The East Anglian Daily Times reported that some parents claimed the man had admitted to fellow students he had lied about his age in order to obtain a General Certificate of Secondary Education (GCSE), a British academic qualification. The qualifications in his country of origin were not recognised in England.
"This is extremely concerning," a parent wishing to remain anonymous told The East Anglian Daily Times. "He has told students he has had to lie to go get into high school to complete his GCSEs."
In a statement cited by the BBC, the school said, "This is a matter for the Home Office. They are looking into this after we contacted them. We do not comment on individual cases but we have followed government and local authority policies and guidance, as we do for any asylum admissions matter."
It added the pupil "was not attending the school at this time."
Official Investigation
The British Home Office investigated the matter and on Nov. 23 the Daily Mail reported that officials concluded that the man is most likely over 18.
The man is now being treated as an adult asylum-seeker, meaning that if his claim for refugee status in the UK is rejected, he could face deportation.
One Ipswich resident said on Facebook today, "Clearly the children can do a better job of guessing an age than the officials."
The student was suspended earlier in November after a fellow student posted a Snapchat picture of him in uniform in a classroom with the caption, "How's there a 30-year-old man in our maths class?"
That photograph was shared on social media, and extensively reported on in British media, with the individual's face blurred out to protect his identity, under the supposition that he might be underage.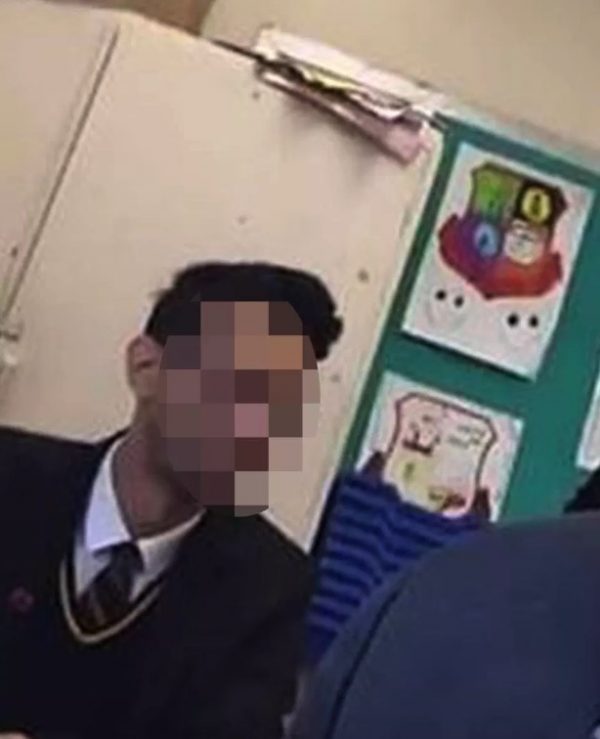 Government sources have now reportedly confirmed investigators believe the individual is over 18.
Over 60 Per Cent of 'Children' Seeking Asylum in the UK Are Adults
The man is thought to have presented himself as an unaccompanied child when he arrived in the UK from the Middle East, over the summer.
Adult asylum-seekers are known to have, on occasion, misrepresented their true age in order to increase the likelihood of qualifying for refugee status and reduce the probability of deportation.
The Home Office is currently investigating how the man's claim to be aged 15 came to be believed.
A Home Office spokesman told The Daily Mail, "We are fully committed to safeguarding children and are looking into the circumstances of this case to understand how it was handled."
"Age-disputed cases remain a challenging area of work in which no single assessment technique, or combination of techniques, is likely to determine an individual's age with precision," he said.
A British government report published earlier in 2017 revealed that 65 per cent of asylum-seekers assessed after claiming to be unaccompanied juveniles were found to be adults.
The Home Office figure for all assessed children found to be adults in 2016 (the last year for which the total number of children seeking asylum is known) is similar, at 61 per cent.
A worker in a residential home for children in care located in the British city of Kent told The Spectator that half of the children there are unaccompanied asylum-seeking children. The woman, who asked to remain anonymous, estimated that over half of them were not children, but in their twenties.
"They can be quite frightening at times," she said, according to the report. "They are aggressive and have an attitude problem. Many have no respect for women because of their culture. No one is giving consideration to the risks they pose, not just to staff but to the other children in the home. Because they are older, they have a lot of influence on the youngsters, who are very vulnerable. They introduce the children to alcohol and get them into crime like street robberies. It is a serious problem, which those in authority are not tackling."