Astronauts Arrive Back to Earth
May 13, 2013 10:16 pm Last Updated: July 18, 2015 5:20 pm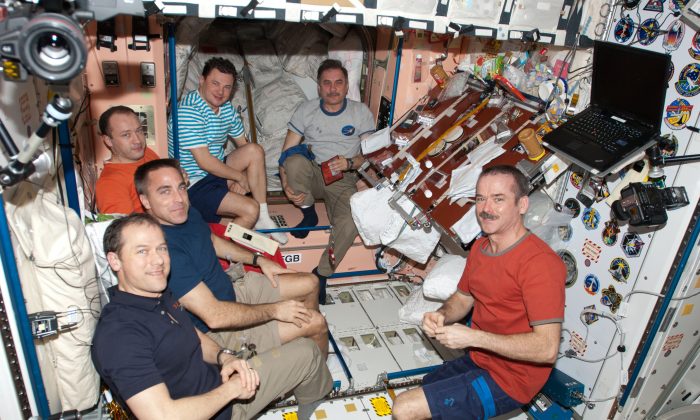 Three astronauts are back from the International Space Station after spending 144 days aboard the space outpost. They landed about 10:35 Eastern Daylight Time.
Chris Hadfield of the Canadian Space Agency, Tom Marshburn of NASA, and Russian cosmonaut Roman Romanenko boarded the Soyuz in the middle of May 13, and later landed in southern Kazakhstan. Russian helicopters flew out to pick them up in the middle of a field.
Marshburn and Hadfield will board a NASA aircraft back to Houston, and Romanenko will fly into Moscow, after they all receive a traditional Kazakh welcome. All three will reunite with their families and debrief over the coming weeks, and in six to eight weeks get back together for a joint debrief.
The three astronauts, before taking off from the Space Station, bid farewall to the three astronauts who are remaining on the station through September, Russian cosmonaut Pavel Vinogradov and flight engineers Alexander Misurkin, also a Russian, and Chris Cassidy, of NASA. 
Hadfield officially handed over command of the station to Vinogradov, head of Expedition 36.
Among the experiments the crew underwent over their time there was testing how gasses and liquids come together and seperate in space, which "may lead to improvements in the shelf-life of household products, food and medicine," according to NASA.
The astronauts tweeted out their feelings before leaving the station.
"Leaving is bittersweet," said Marshburn. "It's been an unbelievable ride. Can't wait to see what's next!"
He said the night before that it was "a little surreal" to be leaving space.
Hadfield, a prolific tweeter who has gained a mass following on the social media website, tweeted out several pictures during the flight. 
 See a farewall from Hadfield to the Space Station in the video below.