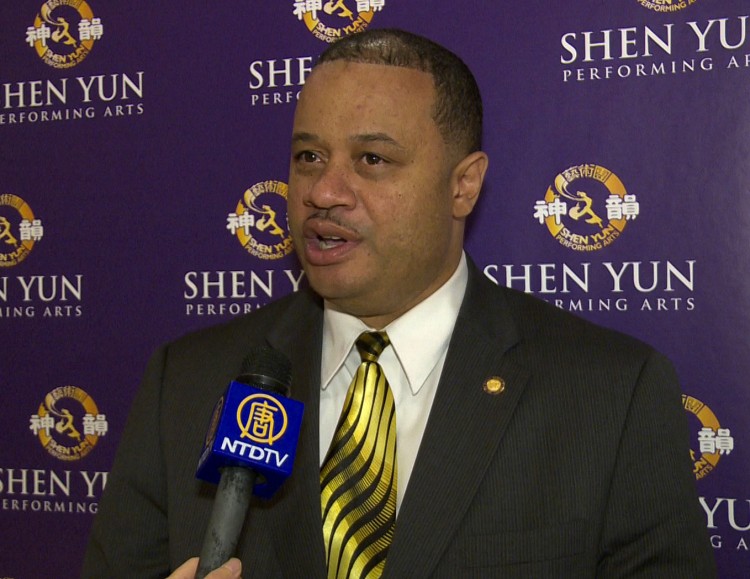 NEW YORK—State Assemblyman Eric Stevenson drew profound revelations after seeing Shen Yun Performing Arts at Lincoln Center's David H. Koch Theater on Sunday evening, April 22.
"If you haven't seen Shen Yun, make sure and hurry up and get a ticket and see it, so you can see the truth of good."
Mr. Stevenson called the performance "a wonderful opportunity" to see Chinese people demonstrate Chinese dance and culture. New York-based Shen Yun tours the world with the mission of reviving the 5,000 year-old, divinely inspired Chinese culture, according to its website. "Unfortunately, over the past 60 years, this cultural treasure has been persecuted and co-opted by the Chinese Communist Party," says the Shen Yun website. "It is outside of China that Shen Yun's artistic creators have the ability to freely express themselves and their ancient culture. Their courage to speak up is an integral part of Shen Yun's spirit."
Mr. Stevenson said, "It is a call for people to now…make a decision between good and evil. The moment has come, I think."
Classical Chinese dance, an ancient and very comprehensive dance system, is accentuated in the performance by vocalists, a unique orchestra, colorful, handmade costumes, and digital backdrops. Along with ancient legends and various ethnic dances, Shen Yun depicts representative events from the modern world, including Falun Gong cultivation stories.
"Falun Gong, also called Falun Dafa, is guided by the principles of 'Truthfulness, Compassion, and Tolerance,'" continues the website. "It has helped over a hundred million Chinese people understand and return to the essence of traditional Chinese culture—Confucian, Buddhist, and Taoist schools of thought. And yet, the Chinese Communist Party, whose regime and ideology are in stark contrast with the traditional culture of China, has targeted Falun Gong for persecution."
Mr. Stevenson believes Shen Yun demonstrates a vision for people to see truth and falsehood.
"And we are being called now to make a decision in this moment to call for the end of the persecution of the Falun Dafa people," he said.
On April 25, Mr. Stevenson, who has worked hard to improve his district in the Bronx, with other legislatures will hold a press conference to call for an end to the persecution, he said.
"I am convinced at this point that there is no other way to go, but calling for the end of the persecution," he explained.
"Falun Gong practitioners have held firm to their beliefs and have continued to expose countless injustices through peaceful means," says Shen Yun's website. "Their spirit of compassion and tolerance manifest the very essence of China's 5,000-year-old divine culture."
"I believe in the good side of life, and Falun Dafa demonstrates the good side of life," he said. "Those of like minds and of good will should now join together in the fold and we should call for the end of the persecution."
With reporting by NTD Television and Zachary Stieber.
Shen Yun Performing Arts, based in New York, has three touring companies that perform simultaneously around the world, with a mission to revive traditional Chinese culture. Upcoming performances in the United States include Chattanooga, Tennessee, on April 24, and Columbus, Ohio, on April 26 and April 27.
For more information, visit ShenYunPerformingArts.org.