Assasin's Supposed Posthumous Note Wins Wide Interest
August 12, 2008 12:47 am Last Updated: October 1, 2015 10:56 pm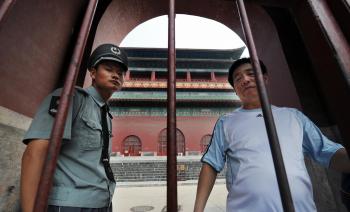 The Chinese regime has blocked a widely distributed article on the Internet, which claims to be the final words from the lone assailant who stabbed to death a relative of the U.S. men's volleyball coach.
The article titled "I received the assassin Tang Yongming's posthumous letter in my email," says Tang took the extreme action because the Olympics brought him tremendous pain.
Currently, it is impossible to verify the authenticity of Tang's letter, but the wide reverberations triggered by the article have already surpassed the importance of the letter itself.
Abuse of Police Powers Makes for Unusual Heroes
Beijing has long been blamed for abusing its police powers to safeguard its Olympic project. For many mainland Chinese, who have been forcibly evicted or arbitrarily locked in labor camps or prisons, the Olympics is just another excuse for those corrupt officials to trample on the peoples' rights at will.
Tang's action naturally caused Chinese people to remember another violent case that happened just before the Olympics.
On July 1, when the Chinese Communist Party celebrated its anniversary, Yang Jia, a 28-year-old man killed six police with a knife in a police precinct in Shanghai. He did this to vent his anger, because he was arrested for an offence he did not commit and was also rendered sterile as the result of the police beating.
Because of the regime's attitude, mainland Chinese show great sympathy for Yang, and some even praised him for killing the six police, as if he were the Chinese hero Wu Song, who killed a tiger that ate many people.
A Catalyst for Anger
China issues expert Sima Tai commented on why the regime chose to silence the discussion regarding the letter, instead of questioning its authenticity, "because no matter how the regime responds, accepting or denying it, it will become a catalyst for the spread of public anger."

Do Police Make Society Safe?
One of the Bird Nest architects, Ai Weiwei, compared the Tang and Yang cases in his blog, "The similarity is, both assassins are from highly civilized cities, both used knifes, both cases happened in places with heavy security, both assassins selected the most sensitive time and place to obtain the strongest promotional effect."
Ai continued, "People will also ask, 'We have hundreds of thousands of police and security now, does that make society a little bit safer?'"