Asia's Richest Woman Dies
May 7, 2007 12:00 am Last Updated: May 7, 2007 12:00 am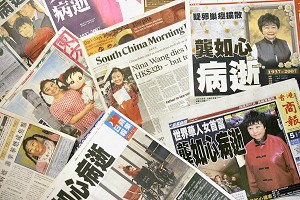 Hong Kong—Nina Wang (Kung Ru-sum), Chairwoman of the Chinachem Group and the richest woman in Asia, passed away on April 3 in the Hong Kong Sanatorium. Kung died from ovarian cancer, at the age of 70.
Kung's life was full of dramas–her husband was kidnapped twice and she fought an eight-year- lawsuit with her father-in-law over her husband's heritance. Since Kung didn't have any children, her great fortune has become the focus of at least 3 contenders.
Two different copies of the will emerged after Kung's death
Four Days after Kung passed, a mystery man claimed he had Kung's Will from October 16, 2006, and is the only beneficiary of Kung's heritance. The mystery man was Kung's feng shui master Tony Chan.
Kung's family also claimed that they had Kung's 2002 Will which ordered her money to be left to Chinachem Charitable Foundation while being supervised by special fund management formed by UN Secretary General, China's Premier, and the Chief of Hong Kong Special Administrative Region. The Will stated that Kung hoped to set up an organization in China similar to the Nobel Foundation.
Who is behind the war on Kung's heritance?
The Chinese Communist Party's (CCP) official media unanimously stressed that Kung wanted to donate her money to the CCP and ran several articles to create the image of Kung devoted and generous in charity work. People.com.cn (People's net) ran an article titled "Who should have the ownership of the heritance? Kung donates thirty million yuan to China a week before death." Chinanews.com.cn had an article "Kung Ru-sum might donate 100 billion yuan to education charity."
Charity donation involves public interest, and a pro-CCP media in HK advocated that based on similar cases in Britain and Hong Kong, the HK government needed to investigate. HK media reported that officials from the Liaison Office of the Central People's Government in HK including Director Gao Siren, Deputy Director Wang Fengchao and Guo Li all went to visit Kung in hospital to persuade her to donate her money to China through the Chinachem Charitable Foundation and asked her to sign the paperwork.
Jin Zhong, Chief Editor of HK based Open Magazine pointed out there were telltale signs showing the CCP had helped Kung fight her father-in-law Wang Tingxin in the courts to win the inheritance.
Kung won the inheritance when the CCP became involved
During the eight year inheritance lawsuit, the court first acknowledged the will provided by Wang Tinxin written in 1968. Kung's husband The-Huei Wang (Teddy Wang) found Kung cheated on him and so changed his will and left all his money to his father. Kung's version of the will, "one life one love"- written in 1990 (a month before The-Huei Wang was kidnapped), was denied by the Supreme Court of First Instance and the Court of Appeal. Police then arrested Kung for forging the Will and released her on a five million Hong Kong Dollar bail.
Kung went to the Court of Final Appeal and seven months later, without any new evidence or new witnesses, won the lawsuit and claimed ownership of the forty billion yuan (US$5 billion.)
Hong Kong Attorney Albert Ho (Ho Chun-yan) said the Court of Final Appeal claimed that there wasn't any evidence to show Kung's will was forged and believed testimony from Kung's witness, (her house keeper who was dead and wasn't present in court). Ho stressed, "Kung's version of the Will was indeed suspicious and questionable."
Open Magazine Editor-in-Chief Jin commented on this dramatic turn around, "It has provided evidence that the CCP is interfering with HK's judicial system. On the surface, it looked like two parties were fighting in the court for the money, but in actuality there were three. The CCP is also fighting for the forty billion yuan."
Kung had a close relationship with the Chinese communist regime
Kung was diagnosed with cancer a few months after she got the inheritance. Li Guikang, Vice Director of the Liaison Office of the Central People's Government in HK, is head of Kung's funeral committee and a leader from the CCP is in charge of the HK celebrity's funeral. This is unusual and explains clearly that Kungs' relationship with the CCP is extraordinarily close, said Jin.
He commented that the CCP works really hard to befriend rich foreign investors to encourage them to invest their money in China. Many pro-CCP billionaires did a lot of so called "charity" work in China. He advocates international investors should pay more attention to where Kung's fortune finally rests.