Bright Light May Have Blinded Asiana Pilot, Leading to Crash: US Officials
July 11, 2013 3:28 pm Last Updated: July 11, 2013 6:29 pm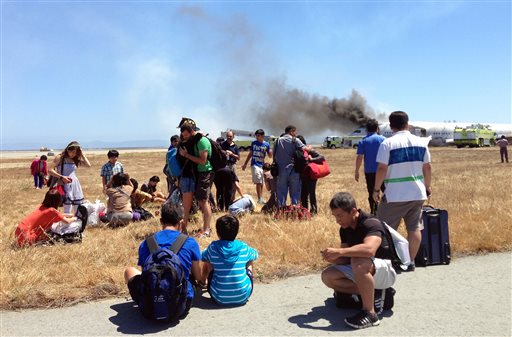 The Asiana pilot who was involved in a fatal plane crash on Saturday in San Francisco might have been blinded by a bright light before the landing, U.S. officials said this week.
National Transportation Safety Board Chairman Deborah Hersman said that the pilot trainee flying the Boeing 777 that crashed at San Francisco International Airport was blinded by a bright light at around 500 feet.
That would have been approximately 34 seconds the before the landing, and before the plane's speed dangerously dropped to as low as 104 knots, she said.
Hersman said that lasers have not yet been ruled out but it is unclear where the flash came from.
"We really don't know what it could have been," Hersman said during an investigation update on July 10. "We need to look into it. We need to understand what he's talking about."
The pilot, Lee Kang Kuk, was making his first landing at the airport. He had 35 hours of experience flying 777s and needed 10 more flights before getting his initial operating experience with the planes. He was overseen by an instructor pilot.
Hersman told the Associated Press that a third pilot in the jump seat of the cockpit, who was one of two relief pilots, told NTSB investigators that the pilot was approaching the runway too slowly.
Asiana Airlines Flight 214 crash-landed when it came in too low and too slow to the SFO runway. Two passengers were killed and dozens were injured. Officials are still looking into whether one of the victims, a teenage Chinese girl, may have been run over by rescue workers.
 Some passengers said that not enough help arrived and they were doing their utmost to keep the injured alive.
"We've been on the ground, I don't know, 20 minutes, a half hour," one woman said in a 911 call that was released late Wednesday by the California Highway Patrol, according to AP. "There are people laying on the tarmac with critical injuries, head injuries. We're almost losing a woman here. We're trying to keep her alive."
READ MORE: NTSB: Evacuation From Crashed Plane Was Delayed After SF Crash
Said another caller: "There's not enough medics out here. There is a woman out here on the street, on the runway, who is pretty much burned very severely on the head and we don't know what to do."
The dispatcher responded: "We are working on getting additional ambulances to you."
However, Hersman said that the first emergency vehicle arrived on the scene two minutes after the crash, and the first extinguishing agent was applied a minute later.
Officials later said that ambulances could not get close to the plane because of the fear it might explode. 
Hersman also said that the pilots were well-rested, with about eight hours of sleep each the night prior.