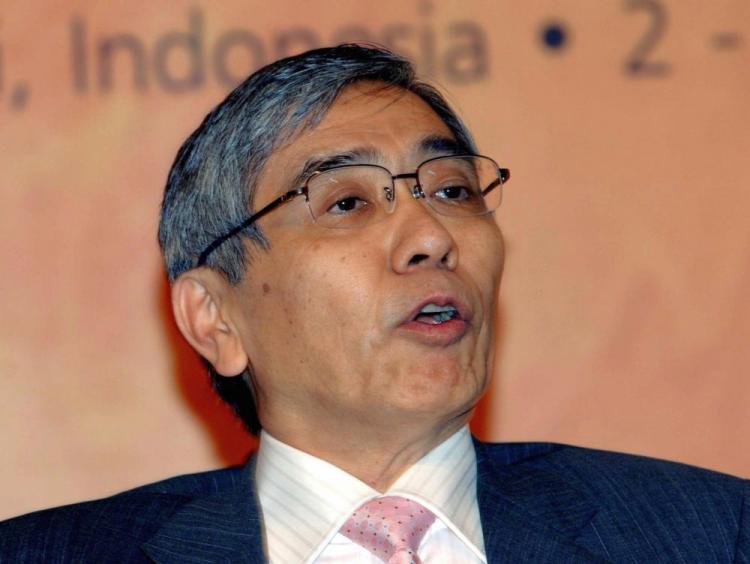 Asian countries need to reduce their dependence on exports and invest in social development as the global economy seeks to find its footing, Asian leaders said during the annual Asia Development Bank (ADB) summit this weekend in Bali, Indonesia.
ADB President Haruhiko Kuroda said that Asian governments have generally responded to the crisis with financial, monetary and fiscal policies—yet the impact on regional financial stability has been limited.
"This grave situation needs more vigorous and concerted efforts by all concerned to bring growth in the region back to its higher trajectory and support the global recovery," Kuroda said in an ADB statement.
Kuroda noted that the global economic downturn has hit many developing Asian nations hard, mainly due to their overreliance on exports—a growth engine for Asia over the last two decades. Asia is a manufacturing hotbed for American and European firms looking for inexpensive labor. But as consumer spending weakened over the last year, demand for Asian products has seen a steep decline.
"Developing Asia is starting the process of rebalancing growth from excessive dependence on external demand to greater reliance on both domestic consumption and investment," Kuroda said. "Already there are signs that domestic consumption is remaining strong and Asia may well lead the way out of this downturn."
Boosting Social Development
While the United States and many European countries have injected a large amount of capital into their economies to offset the downturn, many Asian countries—excluding Japan, Korea, and China—have not established an economic stimulus.
Most of the stimulus in the West will be spent in infrastructure spending. ADB officials believe that in Asia, social development such as healthcare and education are of paramount importance.
"Development is only meaningful if it is inclusive and sustainable," said Dr. Noeleen Heyzer, Under-Secretary-General of the United Nations and Executive Secretary of the Economic and Social Commission for Asia and the Pacific, in an ABD statement. "[We need to ensure] fiscal stimulus and policy reforms being developed now are used to address these challenges."
To that end, Japan will set up a 6 trillion yen ($60.5 billion) Japanese yen currency swap program to give countries with weaker currencies access to the yen in a funding crisis.
In addition, a $120 billion emergency funding pool will be established to lend money to developing Asian nations. Japan, Korea, and China will contribute 80 percent of the funding needed.
Tackling Climate Change
"Climate change impacts threaten to reverse decades of progress in poverty reduction in Asia and the Pacific," said Ursula Schaefer-Preuss, ADB Vice-President for Knowledge Management and Sustainable Development, in a statement.
"There is a need to manage the impacts of climate change and integrate adaptation within the development process," she added.
Greenhouse gas emissions in Asia—and especially in China—are growing at twice the rate of growth found in other regions in the world. Climate change is threatening the livelihoods of millions of people in low-lying areas vulnerable to rising sea level.
Schaefer-Preuss said that many of the countries that are most susceptible to the economic impacts of climate change are also the least equipped to afford the costs associated with adaptation.
"There is an urgent need to develop, scale-up and replicate adaptation technologies, methods, and finances," she added.
Critics Sound Off
Some experts and NGOs say that while ADB's mission is sound, its actions fail to live up to its rhetoric.
ADB is frequently accused of shoddy execution of its aid projects, especially its communication to those in need of aid.
"The lack of attention to access to information by affected people is confirmed by the ADB's own assessment of the implementation of its Public Communications Policy for 2008," said Tea Soentoro, advocacy coordinator of the NGO Forum on ADB, an international watchdog.
"There is a gaping hole with respect to access to information by people affected by ADB projects… The assessment also admits that the joint development of communication plans for project-affected people by the ADB and borrowing governments was not emphasized in 2008," said Soentoro.
Some local communities in Asia say that projects run by the ADB—an international organization based in the Philippines—are insensitive of the needs of local communities and the effects of sudden change.
"Many indigenous Bote fisher folk families (one of the indigenous Nepali Communities) were given a month to shift and after six years the [ADB] project finally built houses for us. Only that, it was two families per house and in no time the houses developed cracks and leakages," according to testimony on the Web site of Peoples Forum Against ADB.
A recent Wall Street Journal editorial said the bank "needs a rethink more than it needs cash." A Washington Post report said that the two biggest recipients of ABD loans—China and Indonesia—are probably the least in need of subsidized loans.
The ABD is a multilateral development bank set up in 1966 to fund developments in the Asian Pacific region to promote economic and social development. The bank currently has 67 member countries.