Commentary
Fifty years ago, my father made a momentous decision. He decided to become an Australian citizen.
This decision was all the more difficult since, back then, if one wanted to do so, he or she had to renounce allegiance to his or her country of origin. Australia did not legislate for dual-citizenship until 1992.
While becoming an Australian didn't mean my father could no longer support Italy in football, given it was the place he spent his childhood (my father came to Australia as a teenager), the decision would have been gut-wrenching. But, after years of struggle that would be familiar to all post-World War II migrants, my father reasoned that as a recently married man, his future, even though he would always love il Belpaese, lay here.
In fact, he once told us that, as soon as he got here, he thought he would like Australia. He still proudly has the Bible that was presented to him at his naturalisation ceremony, with a picture of Her Majesty the Queen on the inside cover. The rule of law, freedom, opportunity—that is what Australia represented to him.
Some 50 years later my father, and this correspondent, feel betrayed. Australia has turned its back on the rule of law and freedom and has become a country of people who love nothing better to meddle in our private lives and our opinions.
Now that Novak Djokovic's visa has been cancelled and he has been expelled from this country, Australia's humiliation is complete, and its position as an international pariah is assured. He has been expelled from this country under a law that is used to expel terrorists, murderers, and rapists.

As Steve Waterson wrote so candidly in The Australian:
Lawyers say hard cases make bad laws; but bad laws also make hard cases. So if those who have opposed the country's brutal border closure now adopt Prime Minister Scott Morrison's "rules are rules" platitude (as though the rules were dropped here from outer space, rather than born of his own unseemly and unending panic), we are valuing the internal coherence of a bad system over our desire to see a measured, reasonable response to an unvaccinated person seeking entry to a country where almost everyone is vaccinated.

The "Gotcha!" reaction to a couple of trivial form-filling errors and the embarrassing interview process he was subjected to show how thoroughly COVID paranoia has penetrated our institutions.

A "threat to public order and public health" were the reasons Immigration Minister Alex Hawke gave for cancelling Djokovic's visa, and that his presence might cause "civil unrest."
Give me a break!
As Waterson wrote:
Anyone who believed Djokovic was more of a threat to public health than any of the thousands who would pay to watch him play is an idiot. He doesn't dive into Young & Jackson (the famous Melbourne pub which is a short walk from Rod Laver Arena) for a post-game beer during the tournament; and, more importantly, he doesn't have any COVID to transmit.
Australian tennis player Nick Kyrgios' intervention, is also telling. He has had regular spats with Djokovic, but he makes absolute sense on this farce, calling it "embarrassing."
I'm waking up and it's just reading the media and there's something new every day. I feel like we're just trying to fight things that aren't right, it's not about the vaccination any more, it's just about him not being here on the right visa or his visa being cancelled.

I feel like if it's not that, it's something else. I just think it's crazy. I feel so sorry for him.

He's here to play tennis, he's not doing anything to anyone.

The mistreatment of people in Melbourne has been atrocious in the last two years. I understand the anger towards him for not being vaccinated and getting a medical exemption, but if you look at it on face value, he's got his paperwork.
When Kygios makes more sense than the government, it is clear we have a problem.
The fact is this farce would never have happened prior to Wimbledon, the U.S. Open or the French. Indeed, the French Sports Minister Roxana Maracineanu stated that there would be protocols in place to permit him to enter the country for a major sporting event.
French tennis writer Carole Bouchard made some perceptive observations: "He's being deported for a sentiment he might create in others.
"He is not a threat to Australia. He didn't come here to excite any unvaxxed movement whatsoever. They perfectly know it," Bouchard wrote.
"The extremities they've gone to avoid losing face are shocking. But for a government that has prevented its own people from returning to their country during a freaking pandemic, I guess nothing should be surprising anymore."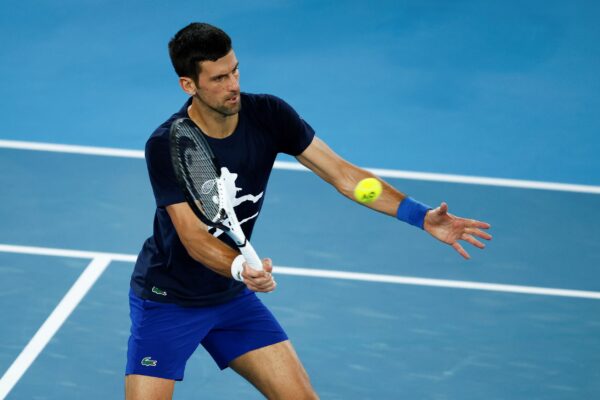 This fiasco has led me to become ashamed of being an Australian citizen. It is a feeling that has been growing over the last two years, and what has happened to Djokovic has only confirmed it.
And it's not just our governments, state and federal, that I am ashamed to be associated with. It is, sadly, the attitude of the people of this country over the last two years.
Several polls taken over the last week showed a vast majority agreed that Djokovic should be deported. That the government indulged the mob howling for the expulsion of the world's No.1 tennis player from what may be the only globally significant sporting event we will host this year is despicable.
But what is even more damning is that Djokovic, a Serbian, had the courage to take on a fight the vast majority of Australians have been too gutless to take on.
That is what really makes me ashamed to be an Australian.
Views expressed in this article are the opinions of the author and do not necessarily reflect the views of The Epoch Times.