Australian authorities remain unconcerned about Beijing's overseas police stations on the country's soil, while the United States and Canada are taking action.
In late 2022, two Chinese police stations identified in Australia by the international human rights group Safeguard Defenders drew wide public concern.
The stations, under the name of "service centres," are among 102 Chinese Communist Party (CCP)-operated illegal police outputs in 53 countries that have been publicized by the Spain-based human rights NGO.
While these stations are said to serve administrative purposes such as extending Chinese driver's licenses and processing official documents, they also have a "more sinister goal" of "collaborating with Chinese police in carrying out policing operations on foreign soil," according to the report.
They can also be used by the communist regime to "harass, threaten, intimidate, and force targets to return to China for persecution."
From April 2021 to July 2022, an estimated 230,000 overseas Chinese nationals have been "persuaded to return" to China to face criminal charges.

In December 2022, The Epoch Times reported that a location in Eastwood in Sydney had been listed as an overseas police outpost by a regional Chinese police bureau in July 2020.
Eastwood is home to a large migrant Chinese community, including Chinese dissidents who have raised profound concerns about the potential outpost, especially since many have experienced interference in their daily activities.
Two Men Arrested in U.S. Over CCP Police Station
Two people were arrested by the FBI in the US in April on charges of operating a secret police station for the CCP in New York City.
Lu Jianwang, 61, and Chen Jinping, 59, conspired to work as Chinese agents and took orders from the communist regime to track down and silence Chinese dissidents living in the United States, prosecutors said.
The two defendants established the secret police station in New York at the behest of the CCP and conducted transnational repression schemes in coordination with the regime's Ministry of Public Security, according to U.S. District Attorney Breon Peace.
"This prosecution reveals the Chinese government's flagrant violation of our nation's sovereignty by establishing a secret police station in the middle of New York City," Peace said at a news conference in Brooklyn.
"Just imagine the NYPD opening an undeclared secret police station in Beijing."
In addition, the Justice Department (DOJ) also announced that it was charging 40 Chinese officials and police with conducting a coordinated harassment campaign against Chinese people living in New York City and elsewhere in the United States.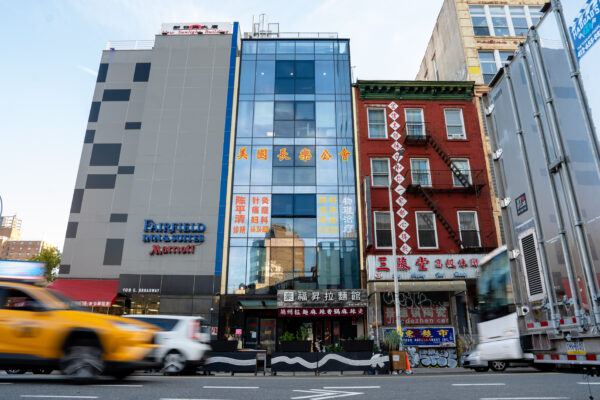 Canada Police Close CCP Police Station and Keep Investigating
In Canada, the Royal Canadian Mounted Police (RCMP) has closed down several of the CCP's police stations that were operating in various locations across the country and it plans to keep investigating the issue.
"The RCMP have taken decisive action to shut down the so-called police stations," Public Safety Minister Marco Mendicino said while testifying on April 27 before the House of Commons Procedure and House Affairs Committee.
"Canada's among the strongest voices when it comes to rebuking any authoritarian regime and anyone that stands against human rights."
Mendicio said the RCMP will take further action to close any new police stations if they are found.
"Our expectation is that if those activities manifest if there is foreign interference, that yes, the RCMP will take decisive action as they have in the past," he said.
The RCMP confirmed to The Epoch Times on April 28 that it "continues to actively investigate reports nationally of criminal activity in relation to the so-called 'police' stations."
This comes as Canada's Foreign Affairs Ministry declared Chinese diplomat Zhao Wei, who has reportedly been involved in targeting an MP and threatening his family members in Hong Kong, persona non grata. While Beijing soon retaliated by expelling a Canadian diplomat from China, a Liberal MP said he was expecting more Chinese diplomats to be expelled from Canada.

Australian Authorities Remain Not Concerned
In comparison, the Australian Federal Police (AFP) has said it does not bother to look into the issue in the country.
When asked about the CCP's police stations in Australia by Senator James Paterson, Shadow Minister for Countering Foreign Interference, during a Senate estimates hearing in late 2022, Ian McCartney, Deputy Commissioner for the AFP, said while he was aware of the report, he did not have any concerns about the Sydney contact point.
"I don't believe it's active," he told the committee.
This response has remained unchanged, with the AFP telling The Epoch Times it still remains not concerned about the issue despite other countries taking action.
"The AFP has no comment [on] the actions of international authorities," a spokesperson told The Epoch Times in an email statement on May. 16.
"The AFP and other Australian agencies have been asked questions previously about whether there are concerns about similar activities in Australia.
"The media is directed to Budget estimates' transcripts, which outline the AFP has no concerns about this matter. This position remains unchanged."
Other domestic security agencies and political representatives also had a soft response, the Department of Home Affairs telling The Epoch Times in an email, "This is not a matter for Home Affairs—you may wish to consider getting in touch with AFP."
Meanwhile, Jerome Laxale, the Labor MP for the Bennelong electorate, which covers Eastwood, did not reply to media inquiries made by The Epoch Times about the police station.
The Australian Security Intelligence Organisation (ASIO) also told The Epoch Times on May. 17 that it has no comment on the matter.

The stance has sparked harsh criticism from some China experts.
"[They're] babes in the wood. Simply ignorant," Chin Jin, Sydney-based Chair of the Federation For A Democratic China, said. "Beijing has been infiltrating the West in a silent manner."
Chin, also criticized the AFP for its naivety.
"This Australian deputy commissioner only knows about Australian police, not Chinese police, not China, let alone politics."
"The truth of it being active won't be seen by the deputy commissioner. What can be seen by him is a bland illusion."
Expert: Chinese Police Presence in Australia Unacceptable
Michael Shoebridge, Director and CEO of Strategic Analysis Australia, said the AFP having "no concerns" over Beijing's overseas police stations in Australia does not reassure him.
"It's very credible that such police centres are being operated by Chinese police in Australia and that these have the effect of intimidating and surveilling Chinese nationals here along with Australian citizens," he said.
"There is a risk that AFP is putting too high a value on the police-to-police relationship they have with China's Ministry of Public Security and are reluctant to act or speak in ways that might risk that cooperation.
"Chinese police use methods that are simply unacceptable in Australia, and they also operate as a key, close arm of Xi's repressive authoritarian regime, as we saw graphically with the Hong Kong takeover.
"That just doesn't sit well with the way police in Australia operate—within a system of democracy, personal freedom, and the rule of law."
Meanwhile, Kevin Carrico, a senior lecturer in Chinese Studies at Monash University, has called on the Australian Government to respond with "decisiveness and determination."
"The only response that the Australian Government can plausibly have that would both defend the country's sovereignty and defend us citizens and residents' rights would be to ensure that the station is closed, to ensure that anyone associated with it is either convicted or tried for crimes associated with this extra-legal institution, whether we're talking about espionage or harassment," he previously told The Epoch Times.
"There needs to be a very thorough investigation into this situation to see what other forms of intimidation and export of controls exist in Australia."