As Paid Sick Leave Goes Into Effect, Paid Vacation Pay Bill Introduced
After paid sick leave laws go into effect, councilman starts next conversation
April 2, 2014 7:28 am Last Updated: April 2, 2014 7:30 am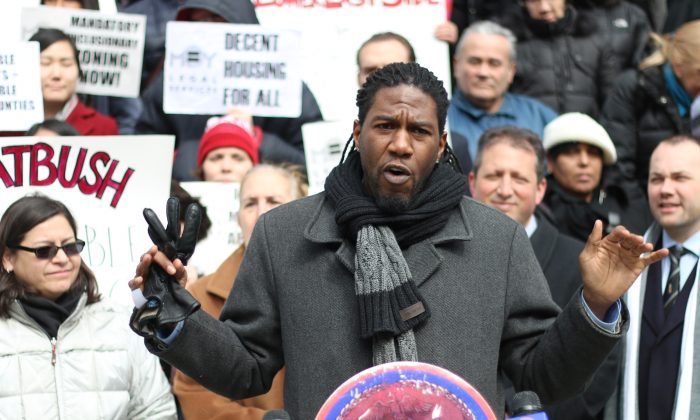 NEW YORK—Council member Jumaane Williams has introduced a bill that would require businesses to pay their employees for vacation time, something many New Yorkers don't currently have.
"The legislation is meant to be a conversation starter about those Americans who are not currently entitled to paid vacation—as so many people work nearly 365 days a year without vacation leave," said Williams in an emailed statement.
New York City's paid sick leave bill went into effect Tuesday, requiring businesses with five or more employees to pay for at least five days of sick leave a year.
Small and large business owners have grumbled about the toll this bill will take, saying it piles on yet another operating cost in New York City's already expensive business culture.
"Restaurant owners with the best intentions are fearful about being able to afford and comply with the new paid sick leave law, so the introduction of paid vacation leave is now really leaving small-business owners in a state of disbelief," said Andrew Rigie, executive director of the New York City Hospitality Alliance.
Williams is aware of that, which is possibly why there was no fanfare around the bill's introduction.
"Moving forward, the issue is whether the legislation strikes the right balance between making sure that the American workforce is as productive as possible, while allowing the private sector to maximize their profits," said Williams. "I believe that it does, however I am choosing a 'wait and see' approach on paid sick leave and how acclimated businesses become with it before any push on this occurs."
The paid vacation bill would only apply to businesses that have 10 or more employees and would only take effect after six months of employment.
Workers would be entitled to one week of vacation in the first year following the initial six-month period. The one week would gradually increase to three weeks after 5 years of employment, and vacation days would be allowed to roll over to the next year if not used.
Companies that fail to comply would face a maximum fine of $500.
Paid Vacation Normal
The United States is one of the only developed nations in the world that does not have statutory paid vacations. Europe, the U.K., Japan, Australia, and Canada all have paid vacation minimums, and some have mandatory paid holidays as well.
"I get 25 days plus bank holidays, of which there are eight," said Allison Tucker, a project manager for Health Care Company in the U.K.
Many less affluent countries like Taiwan, South Korea, Russia, and Brazil also have mandatory paid vacation time, so why not the United States?
"I think it's a two-edged sword. It might affect employers from hiring new employees," said Laurie, a full-time student studying human services at TCI College of Technology.
While the argument that it hurts business is compelling, it overlooks a growing body of research that shows a correlation between increased productivity and time off.
In 2006, Ernest and Young did an internal study of its employees and found that for every additional 10 hours employees took off, their performance reviews were 8 percent higher the following year.
"It's only right, you know, you're not a machine, you don't want to work nonstop," said Martin Silverman, a retired Letter Carrier for USPS.
"There are times when you do need to take off and be compensated, especially if there are children involved," said Noel, an MTA employee who does receive paid vacation time.
The bill is currently being reviewed by the Committee on Civil Service and Labor and has no co-sponsors.
Holly Kellum is a special correspondent in New York.