IRVINE, Calif.—Innovation is the name of the game for independent Orange County businesses getting hammered by COVID-19 restrictions.
Orange County fell to the purple—most restrictive—level of California's pandemic tier system on Nov. 16, forcing the closure of indoor gyms and cinemas. Restrictions are also being imposed on retailers and restaurants, which are now prohibited from offering indoor dining. 
No additional deaths were attributed to the virus in Orange County on Nov. 17, but 352 positive cases were reported.
Some local businesses told The Epoch Times they hope to weather this new wave of restrictions with the same innovative work-arounds they've found to get through the pandemic thus far.
Plot Twist
For small businesses, such as The Frida Cinema in Santa Ana, heightened safety regulations only highlight the importance of adaptability. It offered its last in-house showing on March 13.
"We would be out of business right now if we were just sitting around," Trevor Dillon, the cinema's special events coordinator, told The Epoch Times. "We would have been out of business four months ago, probably."
Instead, Frida Cinema—Orange County's only nonprofit art house—got to work drafting Plan B. It partnered with independent distributors to offer cinema streaming on its website. The cinema split proceeds 50-50 with distributors.  It continues to upload two or three independent films to its website per week.
Streaming alone wasn't enough to keep the cinema afloat, so its employees began using its equipment to offer outdoor entertainment throughout Orange County.
"I'm sure you've heard that drive-in screenings have had a massive comeback," Dillon said.  "We've had a huge amount of success with these popup drive-in screenings."
The cinema has hosted more than 65 popup drive-in screenings throughout Orange County, and Dillon said they've been tremendously successful.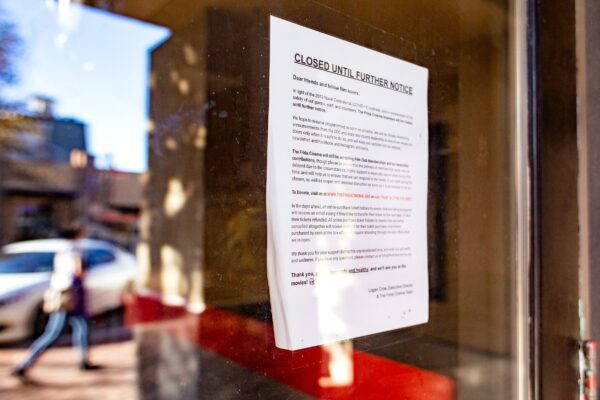 "The Frida Cinema is weathering the storm," he said. "The innovation is the thing I'm most proud of. We're going out to the communities, still bringing them safe entertainment, and keeping our theater alive."
Take It Outside
Prior to the pandemic, hundreds of people were turning up daily to squeeze in a workout at Motion Fitness Group in Irvine, California. But the treadmills came to a stop in mid-March, when Gov. Gavin Newsom announced a state-wide lockdown. All gyms were ordered shut.
With lingering uncertainty about how long the lockdown would last, it took the gym owners time to formulate a plan. They initially began offering free classes on social media; later, the classes became available only to active members. 
California's gyms were allowed to briefly reopen in June, when COVID-19 cases dropped. But as Motion Fitness Group partner Kenny Nguyen watched the numbers, he knew a second closure was inevitable. He was right: gyms were ordered closed again in July.
Luckily, he had already begun working on a plan to bring Motion Fitness Group outside, and with his landlord's approval, spent about $60,000 transforming a neighboring vacant space into an outdoor fitness center. Motion Fitness Group's outdoor gym opened two days after the second lockdown.
The move paid off. Soon, the gym was hosting eight to nine classes a day with more members than ever. Nguyen said Motion Fitness was the first gym in Orange County to move outdoors, which attracted fitness enthusiasts eager to resume their workouts.
"We were seeing people outdoors in the open air and they loved it," Nguyen told The Epoch Times. "They loved the fact that they were working out in general, but the fact that it was outdoors [was ideal]."
Scaling Back
For other local businesses, such as Laguna Canyon Winery in Laguna Beach, staying alive has come at a human expense. The facility, once a bustling boutique winery with a staff of six, is now down to its last employee: owner Marlowe J.J. Huber.
"I am the lone ranger keeping the winery going," he told The Epoch Times via email. "I am doing everything myself."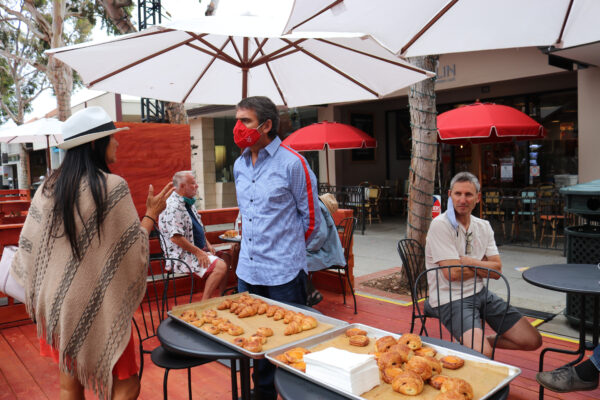 Aside from being a winemaker, Huber is now managing the tasting room, marketing, finances and more. To scale back on expenses, he eliminated a neighboring warehouse. He no longer hosts monthly winery events.
He believes the state-imposed restrictions have gone too far.
"Purple seems extreme to me," Huber said. "I wear my mask constantly, and I keep my guests separated completely, which offers a safe wine experience."