Some 14,000 Hondurans are currently heading north to the United States, spread across multiple migrant caravans, officials in Mexico told El Universal.
Municipal authorities, Tepachula's diocese, and the National Migration Institute told the agency that the Hondurans are partially in the main caravan, which was in southern Mexico and heading north.
The authorities said on Oct. 22 that the main caravan is composed of 7,333, reported El Universal. The original sources could not be independently verified. The United Nations said Monday that around 7,200 people were in the caravan.
The Mexican government said in a statement on Wednesday that there was only 3,630 people in the caravan, the lowest estimate published since the group crossed mostly illegally from Guatemala into Mexico.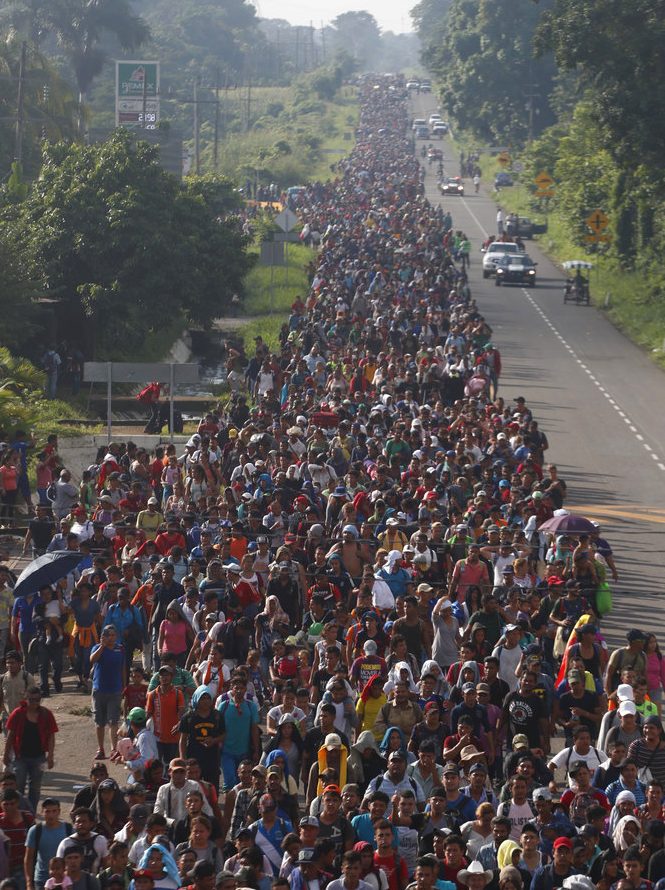 The government said more than 1,000 people have chosen to apply for asylum in Mexico versus trying to continue to the United States, and a few hundred others decided to return to Honduras, causing the group's size to dwindle.
But Alex Mensing, a U.S.-based organizer with the group, Pueblo Sin Fronteras, told the Arizona Republic on Wednesday that the main caravan consists of at least 8,500 people including some 7,000 from Honduras and has grown in recent days.
The estimates reported by El Universal also included some 3,000 people, mostly Hondurans, that were on the Ciudad Hidalgo international bridge that connects Guatemala and Mexico. Those migrants were trying to enter Mexico through the proper channels with appropriate documents, some provided by the National Migration Institute.
Another 3,000 to 4,000 people were in two large caravans in Guatemala after crossing into the country from Honduras, El Universal reported. Casa del Migrante, a migrant shelter in Guatemala City, said that more than 1,000 people who started in Honduras were moving through Guatemala toward the Mexican border.

The main caravan originally started in northern Honduras with around 120 people.
It's been said there are no organizers behind the caravan and that word of mouth has spurred the immense growth, but organizers with Pueblo Sin Fronteras have been traveling with the caravan and representatives from the group are often quoted by media outlets as the presumed leaders, noted USA Today.
"There's no one in charge of this thing," Alex Mensing, an organizer for Pueblo Sin Fronteras told the outlet. "It's a mass exodus."
Intelligence received by Guatemalan President Jimmy Morales indicated that the group was being financed by Venezuela, according to U.S. Vice President Mike Pence.
"He told me that the caravan that's now making its way through Mexico headed for the southern border was organized by leftist organizations and financed by Venezuela," Pence said on Oct. 23 to reporters at the White House.
The group was "sent north to challenge our sovereignty and challenge our border," he added.
From NTD.tv