As J.C. Penney Stock Crashes, Company Tries to Ease Concerns
September 26, 2013 4:15 pm Last Updated: September 26, 2013 4:15 pm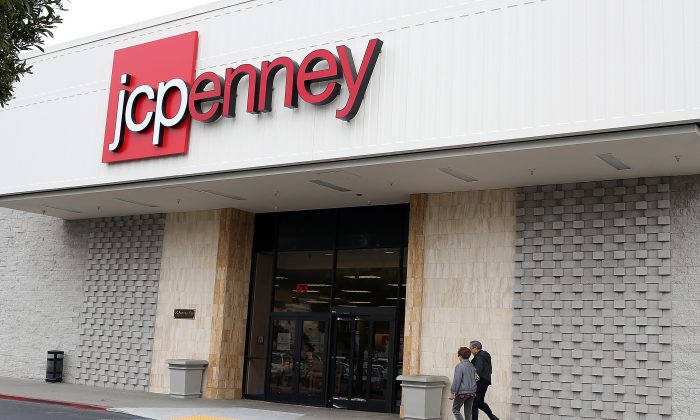 Despite an almost 20 percent drop in its share price since last Friday's close, J. C. Penney Company Inc. optimistically announced Thursday it was starting to see improvements in its turnaround effort.
"In response to inquiries, J.C. Penney said today that it is pleased with its progress thus far in the Company's turnaround efforts and the traction its initiatives are starting to achieve," the company stated. J.C. Penney is anticipating positive trends in the third and fourth quarters of 2013 as well.
The announcement put a floor underneath the share price, which rallied from its low of $9.59 to close at $10.42 Thursday.
The company felt compelled to respond to rumors J.C. Penney was seeking more financing and the company's stock started to crash this Monday. 
The company's stock price has dropped over 40 percent this year, and there are analysts who say the company might file for bankruptcy.
Goldman Sachs was advising J.C. Penney last Friday, about raising capital, which worried investors who already saw the company take a $2.25 billion loan from the bank in May. J.C. Penney borrowed a total of $3 billion this year, and is $5.8 billion in debt. 
The loan was supposed to get J.C. Penney through the holiday season, but likely won't last that long. In August, J.C. Penney announced it had already spent over $700 million of the Goldman Sachs loan, faster than analysts' expectations. 
Should J.C. Penney seek additional financing, the company doesn't have many options. Goldman Sachs took all the company's real estate as collateral, totaling $4 billion including stores, distribution centers, and home office assets. 
Last month, hedge fund manager Bill Ackman sold the 39.1 million shares of J.C. Penney he held for an average of $12.60 per share. Ackman was J.C. Penney's biggest investor with an 18 percent stake, but sold it to Citigroup after he lost confidence in the company and its board. Ackman wrote a public letter to the board addressing his concerns with management early August.
Steven Roth of Vornado Realty Trust previously held 6.1 percent stake and joined J.C. Penney's board around the same time as Ackman. Roth resigned from the board earlier this month. He had already sold about 40 percent of his shares in March and announced plans to sell the rest.
Ackman joined J.C. Penney's board February 2011 and urged the company to hire Ron Johnson, former senior vice president of retail operations at Apple Inc., as CEO. Johnson pushed to make the department chain store trendier and with lower prices overall instead of periodic sales, but the company had nearly $1 billion in losses that fiscal year. 
A week after Ackman's exit two hedge funds then bought into J.C. Penney and some others still support it. Glenview Capital Management has a 9.1 percent stake and J. Kyle Bass' Hayman Capital Management holds 5.2 percent, disclosed in a Securities and Exchange Commission filing. Richard Perry, who owns Barney's New York, and his Perry Corp. added 3 million shares and has an 8.9 percent stake. George Soros of Soros Fund Management added 2 million shares last month increasing his stake to 7.9 percent.
Mike Ullman, who served as CEO before Johnson, was rehired in April on an interim basis. Ullman brought back sales, and this change in strategy was highlighted in the company's Thursday statement.
"Overall sales on jcp.com continue to trend double digits ahead of last year," J.C. Penney stated. "The Company continues to be encouraged by improvements in purchase conversion both in store and on jcp.com." 
The company attributes the growth to the increased stock they now carry, and the return of sales. However, a CALL7 hidden-camera investigation found this week that the in-store markdowns are not as steep as they seem to be at J.C. Penney. 
The prices on tags were marked up first, so the items could be placed on "sale" without being sold any lower than its original price. In some cases the "sale" price was higher than the original price, CALL7 investigators found around Denver, Colo.