Toronto resident Tianxiao Zhang knew her sister Yunhe was being illegally held in a Chinese detention centre, but every time she contacted the facility she got the same answer: there's "no such person here" or "wrong number."
As time passed, the answer changed to " Yunhe Zhang is against the Party and socialism." Once an officer advised her, "don't call any more, don't waste your money." 
Yunhe disappeared in February 2002. Zhang heard rumours that she had been arrested and taken to a detention centre in Qingdao City for distributing flyers raising awareness about the persecution campaign against Falun Gong adherents,  after her husband was tortured to death in a nearby labour camp for refusing to give up the spiritual practice. 
For the past 18 years, Zhang and her family have attempted to find out what happened to Yunhe. They have never received any official notice about her arrest, detention, or imprisonment.

Yunhe's disappearance and her husband's death meant the couple's 2-year-old daughter Rongrong was orphaned, and as a result was shuttled between various family members and babysitters in China. 
"Whenever she missed her loved ones, she stepped up on a little stool, and reached up to kiss her daddy's box of ashes," Zhang recalled. "Sometimes she told others that her daddy is in heaven."
The high-profile case of Canadians Michael Kovrig and Michael Spavor being arbitrarily detained in China has brought awareness in Canada of the true nature of China's dangerous police state under the communist regime. But this reality is something Falun Gong practitioners and their families have faced for decades. 
Just last month Sun Qian, a resident of Vancouver, was sentenced to eight years in prison for being a Falun Gong practitioner—one of several Canadians who have family members in China impacted by the ongoing persecution of the spiritual discipline that was launched in July 1999. 
A Canadian citizen and the co-owner of a multimillion-dollar company, Qian was arrested at her Beijing residence in February 2017 and held in custody ever since. She was sentenced on June 30 by a Beijing court—just days after Prime Minister Justin Trudeau rejected calls to release Meng Wanzhou, the Huawei CFO arrested in Canada on a U.S. extradition request.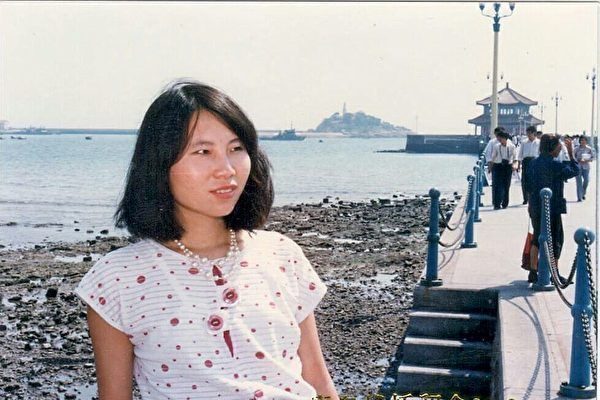 Qian had endured abuse, torture, and intense brainwashing sessions at the Beijing detention centre where she was held, reports say, with the aim of forcing her to renounce her faith in Falun Gong (also known as Falun Dafa).
Falun Gong is a practice of meditation and exercises handed down from ancient China that includes teachings based on the universal principles of truthfulness, compassion, and tolerance. Practitioners have suffered persecution in China since July 1999, when the Chinese Communist Party launched a campaign of violence and hatred to "eradicate" the spiritual discipline.
Family Members Seek Answers
In addition to Tianxiao Zhang and Sun Qian, there are at least seven more Canadian families who have relatives currently detained in China for their beliefs.
One is Tan Fengjiang, a truck mechanic from Yichun city and the nephew of Wenhua Pei, a Canadian citizen living in Toronto.
Tan was arrested for the second time in April 2006 after police found Falun Gong materials in his home. He was imprisoned for seven years, during which time he was subjected to horrific torture—relentless beatings with belts and electric batons, forcefeeding with salt water, forced labour, brainwashing sessions, and sleep deprivation.
Tan was finally released in 2013 only to be kidnapped by police in 2016 while trying to apply for a bank card. He was sentenced to nine more years in a Harbin prison after a show trial, where he remains.
According to data collected by Minghui.org, which compiles information and statistics on the persecution campaign, at least 27 Falun Gong practitioners have been persecuted to death between January and May this year. Ten of them died during detention at a local police station or prison.
Two family members of Canadians have been arrested just in the past few months.  
A 74-year-old Shanghai resident, Lin Qiupeng, was arrested on May 29 when eight policemen broke into her home and forcibly detained her without a search or arrest warrant. She is being held in the Changning Detention Center but her family knows little else about her condition as they are not allowed to visit her. Her sister, Shenli Lin, is a Canadian citizen living in Toronto.

Falun Gong adherent Yanqing Li, the sister of Toronto resident Yanjie Li, was arrested for practising Falun Gong on April 8 and sent to a detention centre near Harbin City. She was detained along with several other practitioners from the area, and has not been permitted family visits. 
Like Yanjie Li, many family members are told little about their relative's arrest and are often prohibited from visiting or even knowing basic facts about their well-being. Sometimes practitioners in China simply disappear without a trace, leaving their family to fear the worst.

Toronto resident Paul Li has been asking the Canadian government for help to release his father from a Chinese detention centre since 2014. 
Paul and his father, Li Xiaobo, were arrested together in April 2014 in Chengdu for distributing literature exposing the persecution of Falun Gong. Paul was released because of his Canadian citizenship, but his father was sentenced to eight years in prison in April 2015 after a show trial.
"His moral courage is an inspiration to me, but I worry every day whether or not I will ever see him again," said Li.
Li Xiaobo was also previously imprisoned for eight years between 2005 and 2012 for writing articles to clarify the facts about the persecution to the public. Due to the harsh conditions and severe torture he suffered in custody, by the time he was released in the spring of 2012, he had lost most of his teeth and was almost blind.

July 20: A Grim Anniversary
On July 20, across Canada and around the world, Falun Gong adherents and supporters will mark 21 years since the Chinese Communist Party launched its violent campaign against those who embrace the meditation practice.
In Canada, lawmakers, lawyers, and human rights advocates will join in an online rally on July 20, to stand in solidarity with practitioners and call for an end to the persecution and the release of all Falun Gong prisoners of conscience in China. 
On July 20, 1999, the Chinese regime launched the persecution coupled with an extensive hate propaganda campaign against Falun Gong due to the rapidly growing popularity of the practice.
A government survey at the time found 70 million to 100 million people had taken up the practice—more than the number of Party members—causing concern for the legitimacy of the atheist, totalitarian regime.
According to human rights researchers, millions of Falun Gong practitioners have since been rounded up and thrown into detention centers, forced labour camps, and brainwashing centres, where they are routinely tortured and subjected to other abuse.
Falun Gong adherents are also the main source of organs to supply China's lucrative state-sanctioned transplant industry, an independent people's tribunal concluded last year.
Over 4,300 Falun Gong adherents have been killed in the persecution in China, according to Minghui.org. The actual number of deaths is thought to be much higher as thousands of cases remain unconfirmed due to the CCP's "tight-fisted control over details of the persecution."