News Analysis
As Beijing continues its pressure tactics against Canada that began after the arrest of Huawei CFO Meng Wanzhou in Vancouver last year, a second Canadian is now facing the death penalty in China and more Canadian exports are facing obstacles entering the Chinese market.
While the federal government says it is using "diplomatic efforts" to resolve the situation, two former ambassadors to China and other officials believe that maintaining the current course isn't working and that a hard-hitting approach would be much more effective.
On April 30, a Chinese court sentenced Canadian citizen Fan Wei to death for drug-trafficking charges. Another Canadian citizen, Robert Schellenberg, received a similar sentence earlier this year after a one-day retrial of his drug-smuggling case. He was previously sentenced to 15 years in prison but when he appealed he was told his sentence was in fact too lenient.
Two other Canadian citizens, Michael Kovrig and Michael Spavor, have been held in detention since Dec. 10, shortly after Meng's arrest on Dec. 1. The Chinese regime charged the Canadians with stealing state secrets in early March, just days after Canada allowed extradition hearings against Meng to proceed.
Over the past few months, Beijing has also suspended the licences of two of Canada's biggest canola producers and blocked Canadian canola shipments. Reports emerged this week that the regime has suspended the permits of two Canadian pork exporters, and more Canadian products, including soybeans and peas, are facing obstacles entering China as well.
Former Canadian ambassador to China Guy Saint-Jacques reports that Beijing has asked regional authorities to create a list of Canadian businesses that deal with China, the aim being to widen the choice of tactics that can be used to pressure Canada.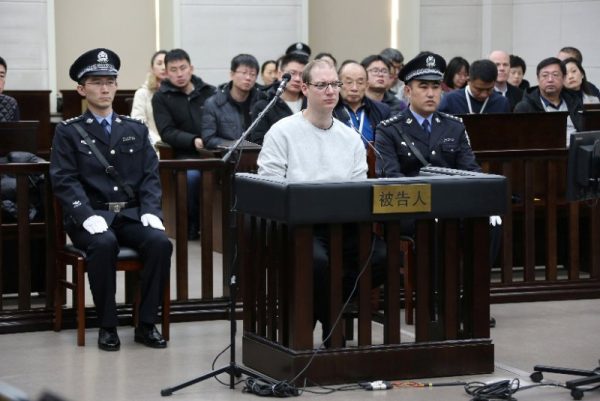 "We know it's the usual playbook of China. When they are angry at a country they will take all kinds of measures to penalize this country, and of course, it's very easy for them to request such information from companies," Saint-Jacques told CBC News. "I think we are at the stage where we have to be firm because this is the only language that China understands."
Canada has sought the support of allies to request the release of Spavor and Kovrig and called the death sentences of Fan Wei and Schellenberg "cruel and inhumane." As for the export bans, Ottawa asked China to allow Canadian inspectors to examine the products—a request that was denied. The government has also said it is trying to find other markets for Canadian canola and this week promised financial help to farmers affected by the bans.
Former Canadian ambassador to China David Mulroney says now that lives are at stake, Canada should change course on how it deals with China.
"The natural inclination of every bureaucracy in times of crisis is to restore the status quo ante," Mulroney said in an op-ed in The Globe and Mail. "But we're also still in the grips of a misguided vision of China, one especially dear to the Canadian governing and business classes, that naively embraces almost everything that Beijing has on offer."
According to Mulroney, flaws in Canada's China policy can be proven by the "enduring gullibility" on two important counts. The first one is the belief that Canada's Chinese community is a "shared bilateral resource" with China and therefore responsible for helping Canada better understand China.
"This fits hand-in-glove with the Canadian penchant for diaspora politics and opens the door to Chinese interference," Mulroney said.
The second myth, he said, is that China is so sensitive that any reaction besides silence could be counterproductive. "This has contributed to persistent Canadian passivity in the face of outrageous behaviour."
When it comes to Canada's relation with China, "smarter is better than comprehensive—and less is almost certainly better than more," Mulroney said.
Canada Needs Stronger Measures
Paul H. Chapin, a former Canadian diplomat whose past postings included Moscow and Washington, says simply expressing that China should respect the rule of law doesn't carry much weight with that country's one-party regime.
"In fact, it is taken as a sign of weakness that typically leads to submission," Chapin said in a Globe and Mail op-ed.
Chapin said Canada should take lessons from past dealings with another totalitarian state, the Soviet Union. He suggests Canada reciprocate by arresting Chinese diplomats on espionage charges, and if prisoners aren't exchanged, then escalate the situation by expelling Chinese officials known or suspected to be engaged in espionage. Canada can also close down consulates in China and ban Huawei from doing business in Canada.
"These measures would kick-start a process to free the two Canadians. Canada would no longer be seen as helpless but rather as an equal with China in resolving the issue," he said.
Earlier this week, Conservative Party of Canada Leader Andrew Scheer said Canada should pull a promised $256 million to China's Asian Infrastructure Investment Bank, which is a World Bank-type organization that aims to support the building of infrastructure in the Asia-Pacific region. In addition, he called on the federal government to launch a complaint about the canola ban with the World Trade Organization and to assign a new ambassador to China. Former ambassador John McCallum was fired in January for speaking out of line on the Meng file.
"That is $256 million of taxpayers' money to curry favour with a government that has jailed Canadians for political reasons and is in violation of international trade rules," Scheer said during the April 30 question period in the House of Commons.
Prime Minister Justin Trudeau was defiant in his response, saying the bank is supporting "lean, clean, green infrastructure investments throughout Asia."
In a paper published by the Macdonald-Laurier Institute (MLI), lawyers Gary Caroline and Chris MacLeod and MLI senior fellow Marcus Kolga said it's time for Canada to use targeted sanctions against specific individuals responsible for the unjust plight of Canadians in China and other places in the world now that the Magnitsky Act has been passed into law.
"Still, after four months of what we can only presume have been Canada's best efforts through traditional diplomatic means, it seems little progress has been made in securing the Canadians' [Kovrig and Spavor] release," they wrote. "If Ottawa hasn't already done so, it may be time to consider digging a bit deeper into the diplomatic tool kit."
In a past interview with The Epoch Times, Jacob Kovalio, an associate professor at Carleton University's Department of History, said Canada should expel Chinese Ambassador Lu Shaye, who suggested in an op-ed about Meng's arrest that Canada and its allies are white supremacists.
"The kind of neo-fascist regime that Beijing is today is never going to change its attitude and give us the respect that we amply deserve, until the moment we react to them in a way that should be unequivocal," Kovalio said.
Nik Nanos, chair of Nanos Research, said all Canadian parties need to come up with policies on how to deal with China on trade, Huawei, and 5G development in Canada as Canada heads into an election later this year.
"Canadians have had a clear indication of what China's really like, based on how it's lashed out on the canola file, based on the rhetoric that is put out there related to the detaining of the Huawei executive," Nanos told the Toronto Star. "It's put more of a real face on how China operates and what they think of Canada."
A spokesperson at Global Affairs Canada said the government is "very concerned about the arbitrary detentions of Canadians in China."
"We will continue to defend our values and interests while pursuing a comprehensive relationship built on trust and mutual benefit," Guillaume Berube wrote in an email.