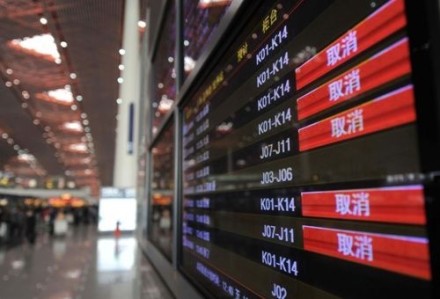 Last Sunday morning, Han Song, a journalist and blogger, should have been on a plane to Japan to attend a friendly meeting between Chinese and Japanese writers. But the Chinese side canceled it, and instead he was in the office editing articles attacking Japan.
Han detailed the experience on his Sina blog on Sept. 16, after he became one of the tens of thousands of Chinese who over the last couple of weeks have canceled—or had canceled for them—their trips to Japan. 
"We'd been preparing for months, and many people had spent so much energy, care, and money," he said. "At key moments, face-to-face relations are so important between the two countries."
But as tensions between the two nations over a disputed set of rocky islands in the East China Sea increase, Chinese tourist agents and travelers are scaling back their plans, on a massive scale. 
One of the largest travel agencies in China, Kanghui, recently terminated plans to send 50,000 Chinese tourists to Japan this year in celebration of 40 years of normalized diplomatic relations between the two countries.
It has also notified 5,500 branches across China to take Japan tours off the menu.
Japan Airlines has so far seen the cancellation of 12,000 tickets from customers traveling to and from China, according to Japan's Nihon Keizai Shimbun, a large financial newpaper.
China Eastern Airlines has canceled plans to open a new route from Shanghai, in China's south, to Sendai in Japan. 
China Southern Airlines cut back on flights for the next two months, and Hainan Airlines suspended its Okinawa route, according to Hangzhou Daily, a Chinese newspaper.
Air China downgraded plane models for 34 routes including Beijing to Tokyo and Beijing to Nagoya, as well as Shanghai to Osaka and Tokyo routes. 
In addition, 36 flights running these routes have been canceled. Air China estimates that even with the cancellations and adjustments, attendance of these flights will only be 60 percent over at least the next few weeks. 
Read the original Chinese article.
The Epoch Times publishes in 35 countries and in 19 languages. Subscribe to our e-newsletter.
Click www.ept.ms/ccp-crisis to read about the most recent developments in the ongoing crisis within the Chinese communist regime. In this special topic, we provide readers with the necessary context to understand the situation. Get the RSS feed. Who are the Major Players?