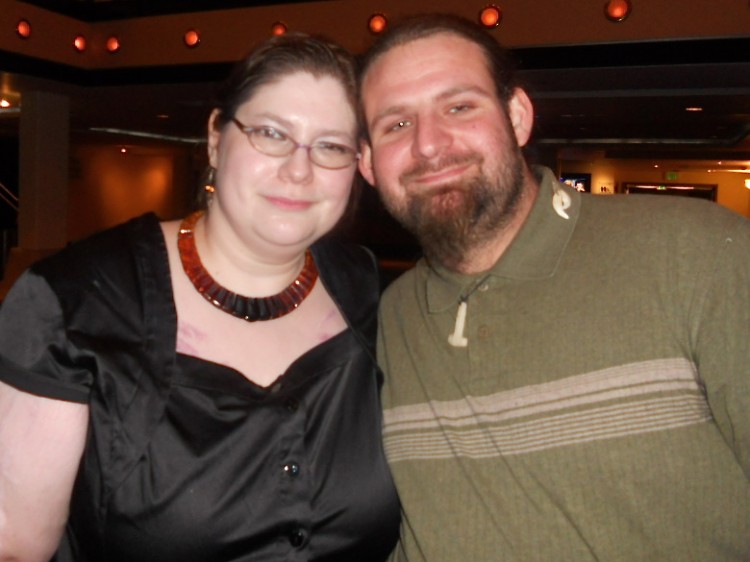 ST. PETERSBURG, Fla.—Shen Yun Performing Arts International Company played its second performance at the Mahaffey Theater on May 5, leaving audience members in awe.
In their midst were artists Doc Odinkar and his wife Ca-Lee Long, who was the reason they came, her husband said.
However, Mr. Odinkar was hooked. "Mind blowing, it's hard to talk about it without tearing up," he said. "He was crying. We both were," his wife added.
Shen Yun was created in New York in 2006 by a group of top artists with a passion to revive China's divinely-bestowed heritage, almost destroyed after more than 60 years of communist rule, the company website says. Legends from Chinese folklore together with themes of modern-day China are dramatized through classical Chinese dance, vocalists, solo musicians and the Shen Yun Orchestra.
Each stroke of the conductor's baton was perfectly timed with a dance at hand, each note producing a mood—be it excitement, despair or joy—in a harmonious blend of classical Chinese and Western instrumentals that Mr. Odinkar appreciated.
Ms. Long was moved by the entire performance, saying that even without the translations of the Chinese lyrics into English and descriptions in the program book, she was touched deeply.
"You wouldn't need anything, because such a strong message conveyed through the music, emotion and the happiness of the dancers, the passion of the orchestra and everyone, even the people behind the scenes, you could tell, comes through," she said.
"There was that sense from the beginning, from the divine battle, An Era Begins there was that spark that gave you the sense that everybody had the divine in them, and everybody could be that divine."
In ancient Chinese culture, it is believed that in order to create true art, there must first be inner beauty and purity, according to Shen Yun's website. Today, Shen Yun's artists follow in this noble tradition, bringing an unusual depth to their work, something Ms. Long could sense.
"When they did that first song "Breaking the Delusion" that was the most apropos beginning," she said. "It was breathtaking to see people being so happy in their culture and taking pride in that. I'm part-native American and its [culture is] lost, gone. And to see this, the happiness of everybody involved, to be proud to be there and to be honored. You can feel that, and you just wanted to be happy with them," she said.
When she heard the songs sung by the solo vocalists, using the bel canto-style, she said, "There were tears, but they were happy tears."
"That was the best way to … walk away with this happiness in your heart … The music, everything about it, you could tell the passion and the love. From the finest detail of the costumes to the dance. Everybody had put their mind, body and soul—the choreographer, everybody."
Ms. Long paints in oils and also makes costumes and jewellery for Renaissance events. She is also a poet of many years and has been published under a pen name on the internet. Ms. Long played the harp for seven years while attending a music conservatory.
She admired the Shen Yun artists' commitment, saying the artists gave 110 per cent of themselves.
"You couldn't do that if you didn't totally believe; even with that other part of the divine, if you didn't believe in that something extra, you couldn't be a part of something like that, especially with the premise of the divine battle," she said.
With a keen awareness of the divine, Ms. Long said, "They [gods] want to help, intercede and protect, but if you go and shun them and turn a blind eye, even if they're standing right there in front of you—if Buddha is right there, you will not recognize the falling leaf, you won't recognize it."
Mr. Odinkar, whose passion is to temper swords, knives, armor and the like, into traditional art, believes there is a divine creator who "can speak through everyone and initiate that spark that makes us want to help one another."
He said he has "always been fascinated with the Chinese culture over all other cultures because, to me, all other cultures seem to spark from the Chinese culture."
Ms. Long said her hope would be, one day, to have these ancient moral principles expressed by Shen Yun to be mandatory in schools.
Reporting by Edie Bassen and Raiatea Tahana-Reese.
Shen Yun Performing Arts, based in New York, has three touring companies that perform simultaneously around the world, with a mission to revive traditional Chinese culture. The season concludes this month with performances in Philadelphia, Honolulu, San Antonio, and Buffalo.
For more information, visit ShenYunPerformingArts.org.
The Epoch Times publishes in 35 countries and in 19 languages. Subscribe to our e-newsletter.