Indigenous rangers and scientists utilising Artificial Intelligence (AI) to protect endangered sea turtles along the west coast of Queensland's Cape York from predators have found that it is playing a vital role in stabilising the ecosystem.
CSIRO research scientist Dr Justin Perry, the project leader, is combining cloud and AI technology with traditional knowledge of the land to monitor the nesting grounds of endangered sea turtles. The project is a National Environmental Science Program (NESP) collaboration between CSIRO, Aak Puul Ngantam (APN) Cape York Indigenous Rangers and Microsoft.
Three of the seven marine turtle species, the Hawksbill, the Flatback and the Olive Ridley, nest on the west coast of Cape York in Northern Queensland and can lay up to 100 eggs in the sand at a time. After the eggs are laid, the mother will return to the sea, leaving the eggs and the potential hatchlings to survive on their own. But feral pigs, introduced by the early European settlers, pose a large threat to these turtle species' survival as they eat all the laid eggs.
Biodiversity and fire program manager at Cape York Natural Resource Management, Kerri Woodcock says the project is crucial to the turtle species' survival. "Without intervention, there can be zero survival of the baby turtles," Woodcock says.
But monitoring the vast and remote regions is difficult and time-consuming with rangers often arriving too late to save the eggs.
The eggs are most vulnerable during the first few days they are laid as the mother's tracks are still visible to the predators and the scent of the eggs are still strong.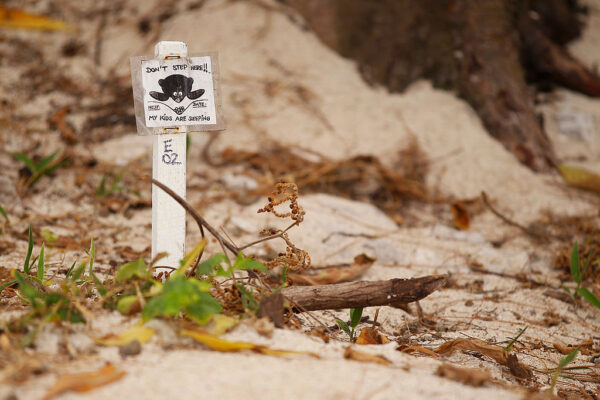 Now scientists and indigenous rangers are using drones to photograph the 100 km (62 miles) stretch of remote beach, allowing them to detect areas of interest quickly.
The footage is uploaded to the Azure cloud service where Microsoft AI begins its automated analysis to locate nesting grounds and predator tracks. The AI uses algorithms that can detect predators and objects and classify terrain with over 90 percent accuracy. This real-time, on the ground monitoring, enables rangers to act more quickly to protect the nests and deter predators.
"We can now monitor twice the length of the coastline in two hours instead of a month," said Perry. "This work has seen 20,000 hatchlings make it to the ocean every season. An entire ecosystem is being stabilised. New technology, like AI, is playing a vital role to bring turtles back from the brink of extinction."
Minister for Environment, the Hon. Sussan Ley has expressed support for the combined approach of traditional knowledge and modern technology to tackle the environmental problems.
"This project is just one of many examples of how the Australian government's $294 million National Environmental Science Program is continuing to support science-based solutions to environmental issues," Ley said.