Dr. Anthony Fauci, director of the National Institute of Allergy and Infectious Diseases, assured Sunday that the vaccinations against the CCP virus in the United States will be safe, and that its scientific integrity has not been "compromised" by its process of development.
In an interview with ABC News' "This Week," the nation's leading expert on infectious disease sought to remove any uncertainties Americans may have about receiving a shot for COVID-19, as the United States prepares to begin vaccinations next month.
"We've got to be able to get out there, get community people—who the community trusts—to show two things: the process of the development of this vaccine has been one that has been scientifically sound, safety has not been compromised, scientific integrity has not been compromised," Fauci said.
"And the process of determining whether it works, whether it's safe and effective has been independent, by independent bodies and transparent. We've got to get the community, the broad community of the United States, to see that and appreciate that," he added.
Both Moderna and Pfizer recently announced that their trials for the CCP virus vaccine were successful and they have more than a 90 percent efficacy rate.
"We need to put to rest any concept that this was rushed in an inappropriate way," Fauci
said
in a separate update by the White House Coronavirus Task Force last week. "This is really solid. Help is on the way."
Fauci's remarks followed comments made last week by Dr. Moncef Slaoui, chief scientific adviser for the Trump administration's Operation Warp Speed, who last week announced that vaccinations against the
CCP (Chinese Communist Party) virus
in the United States will "hopefully" begin in the coming weeks.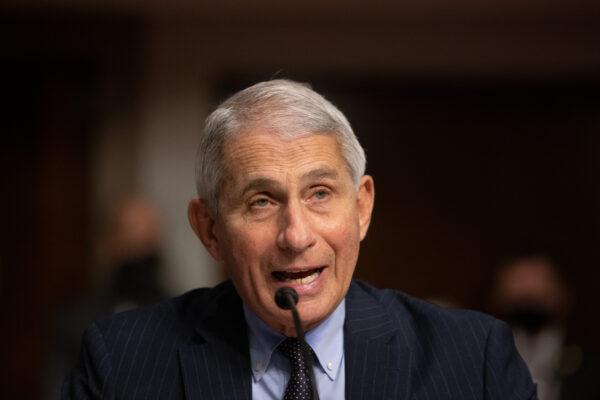 Slaoui said that by mid-December, the Food and Drug Administration (FDA) would likely grant approval for distribution of the vaccine produced by Pfizer and German partner BioNTech.
An FDA vaccine advisory committee is expected to meet on Dec. 10.
Fauci previously told CBS' "Face the Nation" that he believes herd immunity could be achieved if enough people are vaccinated against COVID-19. He added, however, that he doesn't think the scenario would be possible until May.
Herd immunity refers
to when a population becomes immune to an infectious disease. Doctors say it will eventually be reached for all populations, and can be assisted by, but is not dependent upon, a vaccine.
The Trump administration on Nov. 12 struck a
deal with pharmacies
across the United States for them to help distribute the vaccine "as quickly as possible with no out-of-pocket costs."
On Thursday, the Department of Health and Human Services (HHS) said that the plan—supported by Operation Warp Speed—would involve both large chain pharmacies and networks representing independent pharmacies and regional chains.
Partnership with pharmacy chains covers around 60 percent of pharmacies in all 50 states, the District of Columbia, Puerto Rico, and the U.S. Virgin Islands. These include names like Albertsons, Costco, CVS, Publix, Walgreens, and Walmart, with a complete list available in the
HHS release
.
"There is light at the end of the tunnel because we will really be seeing vaccines soon. We likely, almost certainly, are going to be vaccinating a portion of the individuals in the first priority before the end of December. And then, as we get into January and February and March, more and more," Fauci told NBC's "Meet the Press" on Sunday.
"So, if we can hang together as a country and do these kinds of things to blunt these surges until we get a substantial proportion of the population vaccinated, we can get through this. There really is light at the end of the tunnel," he added.