Democratic presidential nominee, former Vice President Joe Biden late Friday said that he believes he will win the race to the White House, telling Americans to "be civil to one another."
"We're on track for over 300 Electoral College votes," Biden told the nation. "We don't have a final declaration of victory yet, but the numbers tell us it's clear—tell us a clear and convincing story: We are going to win this race."
He later spoke as though he had won the presidency, saying: "My responsibility as president will be to represent the whole nation. And I want you to know that I will work as hard for those who voted against me as for those who voted for me."
The 77-year-old said late Friday that within the prior 24 hours, Pennsylvania and Georgia flipped blue after he had been trailing in the two states. He also asserted confidence in Arizona and Nevada where data from The Associated Press shows he is in the lead.
"We've gotten over 74 million votes. Let me repeat that: 74 million votes. That's more than any presidential ticket has ever gotten in the history of the United States of America," Biden said.
"We are going to be the first Democrat to win Arizona in 24 years. We are going to be the first Democrat to win Georgia in 28 years. And we rebuilt the blue wall in the middle of the country that crumbled just four years ago: Pennsylvania, Michigan, Wisconsin—the heartland of this nation," he continued.
Americans have been waiting longer than in any presidential election since 2000 to learn the winner, as officials count a record number of mail-in ballots, which were prompted in part by the
CCP (Chinese Communist Party) virus
pandemic. With thousands of votes still to count, it was not clear when the contest would conclude.
'Mandate for Action'
Biden said that "the tallies aren't just numbers," and that the figures show that Americans had given him a "mandate for action on COVID, the economy, climate change, systemic racism."
He said that he and his running mate Sen. Kamala Harris (D-Calif.) yesterday held meetings with groups of experts on public health and economic crises facing the country.
"I want everyone to know on day one we are going to put our plan to control this virus into action," he said, later adding, "Our economic plan will put a focus on a path to a strong recovery."
He called on Americans to remember to "remain calm, patient, and let the process work out as we count all the votes," while acknowledging that he and Harris "both know tensions can be high after a tough election."
"But we have to remember: the purpose of our politics isn't total, unrelenting, unending warfare," he said. "No. The purpose of our politics, the work of the nation, isn't to fan the flames of conflict, but to solve problems, to guarantee justice, to give everybody a fair shot, to improve the lives of our people. We may be opponents—but we are not enemies. We are Americans."
"No matter who you voted for, I'm certain of one thing: The vast majority of the 150 million Americans, they want to get the vitriol out of our politics. We're certainly not going to agree on a lot of the issues, but we can at least agree to be civil to one another," he said. "Let's put the anger and the demonization behind us. It's time for us to come together as a nation and heal. It's not gonna be easy, but we have to try."
Biden said he hoped to address Americans again on Saturday.
The speech in Biden's home state of Delaware was originally planned as a victory celebration, but he changed his approach in the absence of an official call from television networks and other election forecasters, reported Reuters.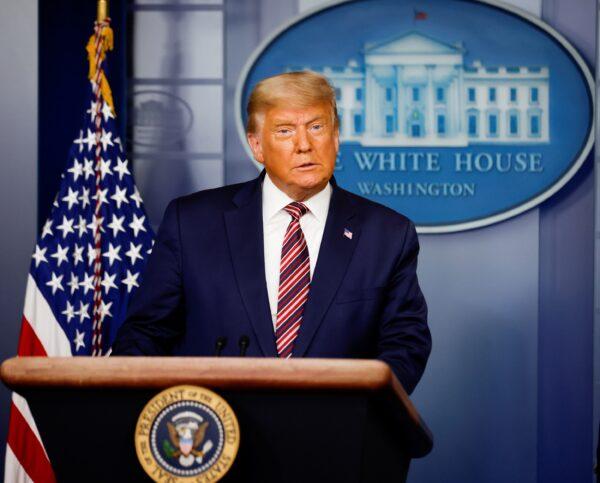 President Donald Trump kept largely out of view on Friday. He signaled that he would not concede, writing on
Twitter
: "Joe Biden should not wrongfully claim the office of the President. I could make that claim also. Legal proceedings are just now beginning!"
The Trump campaign has launched lawsuits in a number of states, including Arizona, Nevada, Georgia, Pennsylvania, and Michigan over different aspects of the voting process. The campaign has also requested a recount of votes in Wisconsin and Georgia. Georgia's secretary of state on Nov. 5 announced that the state will have a recount.
The Republican National Committee late Friday
announced
it had set up legal teams in Arizona, Georgia, Michigan, and Pennsylvania, where it alleged there have been "clear irregularities" in the vote counts for the general election.
Trump
issued a written statement
regarding election integrity on Friday. "We believe the American people deserve to have full transparency into all vote counting and election certification, and that this is no longer about any single election. This is about the integrity of our entire election process," he said.
"From the beginning we have said that all legal ballots must be counted and all illegal ballots should not be counted, yet we have met resistance to this basic principle by Democrats at every turn. We will pursue this process through every aspect of the law to guarantee that the American people have confidence in our government. I will never give up fighting for you and our nation," he added.
The Epoch Times Editorial Board 
will not declare a winner
 for the 2020 presidential election until all results are certified and any legal challenges are resolved across the country.
Reuters contributed to this report.